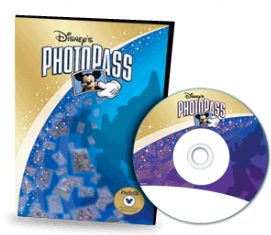 Disney PhotoPass Photographers are poised throughout the Walt Disney World Resort – at the parks, resorts, and even some restaurants.  Easy to spot in their standard garb of blue pants/shorts, a white shirt, and khaki photographer's vest (unless found in a hotel lobby) –  they are ready to capture those happy memories for you … with everyone included in the picture!  Locations are strategically selected – typically iconic places, with ideal backgrounds for framing your special moment.
For more information on the logistics of the program, check out the scoop from allears.net's article on Disney's PhotoPass.  But I'm here to answer the question:  is buying the PhotoPass CD worth the cost?  
Prepurchase the Disney PhotoPass CD Before Your Trip
Well, first of all – let's think in terms of pre-purchasing the CD before your trip, for $119.95.   The regular, post trip price for all of your PhotoPass pictures sent to you on a CD is $169.95.  If you are considering a CD, save and use this link to the Disney PhotoCD Pre-Arrival Savings Offer.   Oftentimes you cannot find this by browsing their website, or even on their Special Offers page.  Yet I have found that it continues to be a valid promotion … IF you know where to find it!
You absolutely cannot go wrong with this option.  They state clearly that if after returning from your trip you are not happy with the photos, or perhaps decide you don't have enough shots to make it worth the cost – you can receive a refund of the pre-purchase price you paid.   So there's really no reason not to try it.
Disney PhotoPass CD – Worth the Cost?
On our vacation to Walt Disney World this past Fall, I tried out the pre-purchase of the CD for $99 (see price increase note at bottom of post) for the first time.  I went in with the mind set that I was determined to get my money's worth, and try to take advantage of as many PhotoPass photographer locations as we could.  
I feel it was well worth it.  I've never taken a trip where we came home with so many pictures of the entire family together.  My family did get a little tired of me dragging them over to every photographer we'd see, but my daughter got excited at the thought of seeing what mystery image would appear on the "magic shots", so that was an incentive.
He's a natural. You gotta love the baby playing along with a magic shot. (See the tiny Tink?)
Yes, "magic shots".  As if your Disney vacation pictures aren't magical enough on their own, right?  At certain locations (typically at the park entrance areas) photographers have the ability to add a mystery character to your shot … queuing you up in an applicable pose, so your guest will fit in just the right spot.
Disney PhotoPass Photographers
Since we interacted with the PhotoPass photographers much more than ever before, I will say I was a little surprised to find that some of them didn't seem to enjoy their job very much.  MOST were great – friendly, helpful, tried to get great shots. Maybe the heat was getting to the rushed, crabby ones – I don't know.  So that was a little disappointing, but not a show stopper, by any means.
If you plan on doing any extra experiences, the PhotoPass photographers will likely be on hand to capture some great candid pictures.   How in the world do they keep track of it all?  Well, once in awhile you may notice a missing picture.  But even this proved to be a positive experience for us.  
Missing Photos From Your Disney PhotoPass CD?
When we reviewed our shots online after the trip, my husband noticed the "big reveal" shots were missing from my daughter's first makeover at the Bibbidi Bobbidi Boutique.  The reveal shots are when they finally turn your princess around to see the final results in the mirror.  (Funny that he was the one to remember, and miss, those pictures – not me.)
In situations like this, PhotoPass has an online form you can fill out.  They will then try and track down your pictures.   Quite a task for them, I'm sure … but lo and behold – I filled out the search form, and they found them!  They added them to our account, and now we have that precious expression captured. 
Example of the fun, souvenir type borders you can add to your pictures.
Borders & Fun Options on the Disney PhotoPass Website
After you are home, you can use the Disney PhotoPass website to edit your photos, adding as many fun borders as you'd like.  There is supposedly no limit on the number of pictures they will include for the $99 CD.  I tested this theory out, and packed over 350 pictures onto our CD!  Half of those were 'originals', half were ones I had played with and added fun borders to.
One last money saving tip.  If you can't swing the price of the CD, be sure to still stop and get your picture taken by some of the PhotoPass photographers.  Just hand them your personal camera, and they'll be happy to use it to take the shot – people do this all the time.
I hope this was helpful.  Enjoy your trip!
UPDATE:  When we utilized this offer in Sept 2011, the Disney's PhotoCD price was $149.99, and pre-arrival purchase price was $99.99.  As of March 21, 2012, these prices were increased to the $169.95/$119.95 prices quoted in this article.