Weekly series!
Welcome to a great new way to compare notes, pick up some helpful tips for your next Disney visit, and discover some fantastic Disney bloggers! Each week I will be highlighting an interview with a certified, pixie dusted fan of The Mouse.
WARNING: Their enthusiasm for all things Disney is, in fact, quite contagious! So come along for the ride with us … you may learn something new, and it's sure to put a smile on your face as you read about the good, the really really good, and the "you absolutely can't miss this…."!
*o*  *o*  *o*
This week:  Capturing Magical Memories' Mary!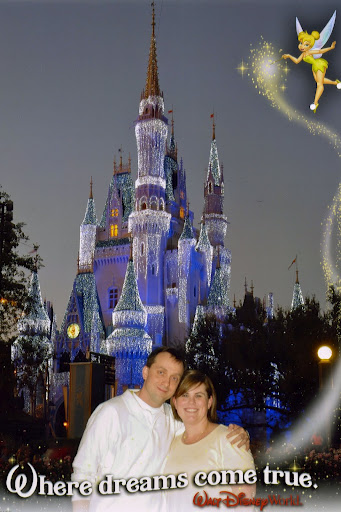 Tell us a little about you, and your website (blog).
I am a Lean Sigma Black Belt (think process improvement) in deepwater drilling for a large oil company in Houston, TX by day and a compulsive blogger and budding graphic designer at night. I met my husband through DisBoards and our first date was at Disney World Baseball Spring Training. We now have 2 boys (15 and 2), own DVC, and try to get to the World as often as possible.
My blog is a work in progress but my main focus is scrapbooking. You don't need to scrapbook to enjoy the blog but I want to inspire everyone to get their photos into albums – no matter what kind. It's all about the memories.
At the end of last year I also began designing my own content. I could not find Disney scrapbooking kits out there I likes so I began making them myself. They response has been fantastic and it is an awesome feeling knowing I am a part of so many albums.
 Which is your favorite Disney Park, and why?
I may be in the minority here but my favorite pare (right now) is Animal Kingdom. I love the theme of the park and the attention to detail. I can wander all day long just exploring and taking photos. It's beautiful.
Top 3 characters you'd like to meet on an ideal day at Disney:
Donald Duck in frontier attire
Donald Duck in safari attire
Donald Duck in Christmas attire
(get the picture – I love to get pictures of Donald in any new outfit)
Your 3 favorite Disney attractions, and why you love them.
Haunted Mansion – To me this is my classic ride, I love to go through it and try to find something new. I also like the creepy back story.
Expedition Everest – This is a fantastic ride but the reason I like it is more sentimental. I seem to always meet people in line for this ride that are scared and I love when they come away running to get back in line.
Listen to the Land – This one shows my age, but I do love to learn what is going on behind the scenes and seeing the pumpkins 'Earning their Ears'
Favorite time of the year to visit?
Christmas time is my favorite. I love all of the decorations and the Candleight Processional is so moving.
The Park snack your day is not complete without.
Warm nuts! We always have to get some of the candied almonds on our trip.
Favorite Character Meal?
Crystal Palace. We always eat there our first morning at Disney. We love getting that early morning reservation and entering the park before it is open.
And my husband always has to apologize to Piglet for eating the bacon. (try it – you will get a fun response)
Top 3 Disney Property restaurants you like to eat at.
Jiko – We always eat there for special occasion and request Jeff as our server. It's like coming home.
Via Napoli – Yummm!
The Mara – I know this is not a restaurant but a quick service. But my favorite thing in Disney is their butternut squash soup. I have to have it each trip.
How do you keep the Pixie Dust flying at home, in between trips?
Blogging and scrapbooking. I actually get sad when I don't have any pages to work on. My boys can also be found thumbing through our older albums. It fun to hear them relive past trips.
Any tips for people planning their 1st trip to Disney?
Use a travel agent. I really mean that. Those of us that go all the time scour other sites and have our game plans ready. Unfortunately we also like to tell other people how they should do it.
My husband recently became a Disney travel agent and I now see how it should be. He listens to them and helps them create their perfect trip – not ours. An agent can also create plans for them, arrange travel, educate them on the parks, make dining reservations, etc. Their job is to make sure a 1st timer has fun and does not stress about what they might be missing our doing wrong.
How long have you been blogging about Disney?
Less than a year even though it seems longer.
Do you take your own pictures, and if so – any tips for getting good shots?
Yes, I take my own photos. Add that to my list of hobbies. I am in the process of improving my skills and actually taking a solo trip to Disney this week to just take pictures.
My tips would just be take a lot of photos and remember to take pictures of people too. I always forget to take photos of my family. Good shots are not as important as the ones with good memories.
Where do you find inspiration for blog topics to feature?
Wow, that's a hard one. I am lucky as I am a member of Magical Blogorail and The Disney Moms. So they give me topics once a month. That usually inspires at least one other article.
But most of the time it stems from what I am scrapping for my personal album. My readers are getting to see my albums as it is created.
What is your motivation to keep blogging – or any final advice to share?
The Disney community. The blogging community is one of the most supportive groups I have ever had the pleasure to know. When you lose that inspiration, I just look to them and their blogs and suddenly I am back.
*o*    *o*    *o*
Thank you, Mary!  You can find Mary here for more inspiration (and to check out her scrapbooking creativity and ideas!)  Pictured throughout have been some of Mary's fantastic scrapbook creations!
Shop at MC Digital Designs: http://www.etsy.com/shop/MCDigitaldesigns
Capturing Magical Memories Blog: www.capturingmagicalmemories.com
Capturing Magical Memories Facebook Page: https://www.facebook.com/Capturingmagicalmemories
Twitter: @MaryD73

*o*    *o*    *o*
Enjoy this post?  Catch up on the others in the series…
Disney Fan In Colorado ~ Holly
A Disney Mom's Thoughts ~ Beth
Disney Blue Fairy Shares ~ Ariel