This week's theme:  Hats, Caps, Bonnets, and Bows
*o*     *o*     *o*
I definitely have a favorite place at the Magic Kingdom to take in a delightful array of hats from around the world…
"it's a small world"!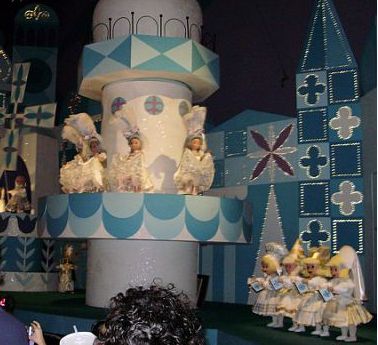 The photography pros are cringing at this picture, I know… but it's the best this rookie can do!  At least it captures some of the essence.  I love this ride, and I have to at least try to take the memory home.  (Can I at least get bonus points for including 5 different hat types in one shot?)
It's simple, beautiful message is why I love it:
There is just one moon and one golden sun
And a smile means friendship to everyone.
Though the mountains divide
And the oceans are wide
It's a small, small world
So please give a smile of friendship to a random stranger today!
You don't have to thank me for planting the song in your head for the next several hours.
*o*     *o*     *o*
Check out more great photos on this week's Disney Wordless Wednesday blog hop!  Thanks as always goes to Deb, for hosting us weekly, and coming up with such fun themes.