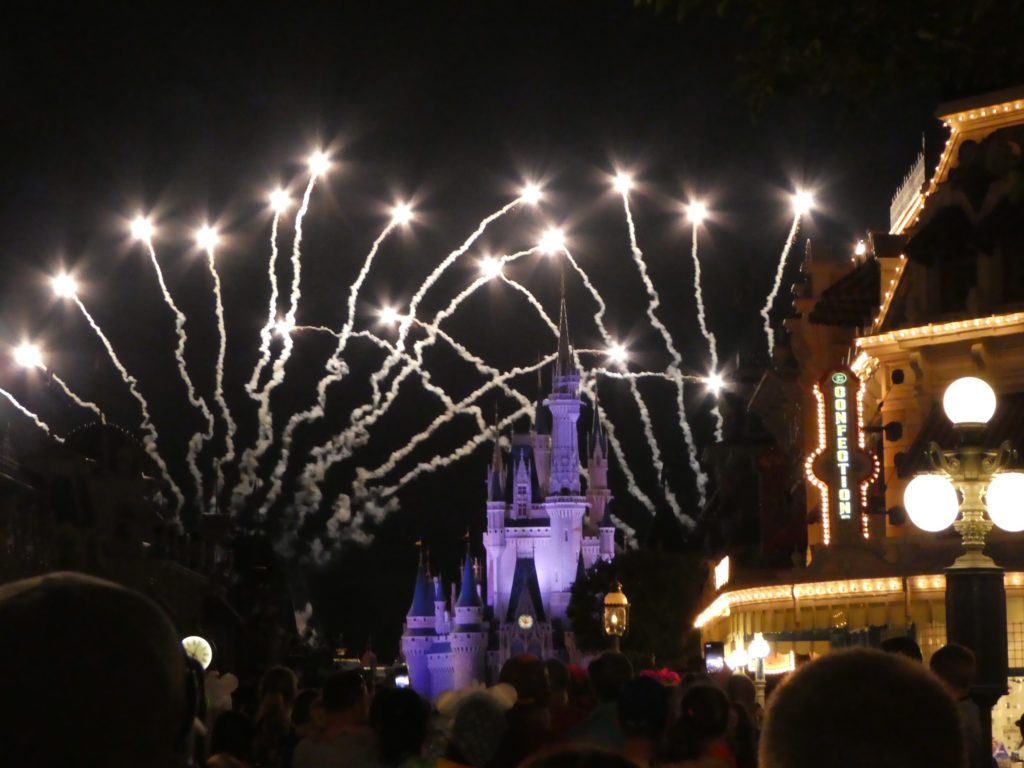 For many, a trip to Walt Disney World may likely be a once-in-a-lifetime trip.
Maybe it's a place you're saving up for, and long to take your kids to someday.  Maybe you're all grown up, have never been, and would just like to cross it off of your Bucket List.
It is especially in cases like this – a Magical, one time only experience – when I so highly recommend staying on property during your Disney trip.
Cost Savings of Staying at a Disney Resort
If you assume that staying at a Disney Resort will cost you more than staying off site, that may not necessarily be the case.
Consider this:
There are different levels of Disney Resorts, with varying prices and amenities.  The Value Resorts are loads of fun, more than adequate to serve your lodging needs, and can often be the same price as surrounding (off site) hotels.
If you stay on property, you do not have to pay to park at the Parks.  This adds up considerably.  At my last check, the parking rate was $14 per day.
Disney runs some fantastic, money saving Special Offers on their site.  These range from hotel discounts, to free dining, to kids stay and play free, to the infamous "Buy 4, Get 3 Free" (hotel, tickets, & dining! My personal favorite) offers.  All are based on staying at a Disney resort, and can save you hundreds of dollars over booking an off site property, then purchasing food and park tickets separately.
When you stay at a Disney Resort, you can opt for free transportation on the Magical Express bus from the Orlando airport to your hotel.  Combine this with using the free, very efficient bus system to get to and from the parks, and you could be saving the cost of a rental car altogether.
Top 6 Magical Mickey Extras
1.  We love the Disney Dining Plan, available to add on to your vacation package only if staying at a Disney Resort.
I didn't add this under cost savings, because price wise I think it's kindof a wash (you eat more than you normally would, but at a discount).  We added this on our first trip as a family, and have never looked back since.
Maybe it's booking a bunch of fun restaurants you may not otherwise eat at, adding to the overall enjoyment of your trip.  Maybe it's the "not even paying attention to the total" when the dinner check arrives.  Maybe it's being forced to have dessert at both lunch at dinner.
Take your pick.  I love all those reasons.
2.  Extra Magic Hours – whether you take advantage of this or not, it's a great option to have.  Every day there's a park that will either open early or stay open late, allowing only Disney Report guests to stay and enjoy.  This can drastically reduce the crowds, and makes for an exclusive feel.
3.  The Disney Atmosphere – when I'm on my other-worldy Disney vacation, I don't want to drive out at the end of the day… past normal blocks of businesses and traffic.  I'm there to forget that world.  I want to go back to my resort abounding with Mickey details and whimsical music pumped in whereever I walk.  It's a total experience, and so much more complete and immersive if you just stay right there throughout the duration of your trip.
4.  The Key To The World – when you check in, you will be given a credit card with a picture of a castle, your name, and "Key to the World" printed on it.  And it is just that, my friends.  Seriously… when was the last time someone offered you a KEY TO THE WORLD?
Room key, food payment (if on the dining plan), park ticket, charge card at gift shops … the list goes on.  You can go all week with nothing but the KEY TO THE WORLD in your pocket.  It'sa heady feeling, indeed.  This remains one of my husband's absolute favorite aspects of our Disney trips.
5.  Having booked a Disney Package (it's considered a package when you book the base of a Disney property room + park tickets), you can log on to their website and view the details of your trip, including any dinner reservations you've made. Along with an exciting, "# Days Until Your Vacation!" message.  I love that part.
6.  Riding the buses and never having to leave The Happiest Place On Earth.  If you can afford to stay at a Deluxe resort on the inner monorail route, more power to you.  Whether bus, boat, or monorail – we've found not having to drive, and the laid back sensation of not even knowing what time it was, extremely relaxing.
The Big Decision
So have I convinced you yet?  Watch for those Disney Special Offers, and be aware of the lower crowds and cheaper rates available during Off Season.
And if you are debating about whether to stay on site – please take my advice!  You'll never regret that extra sprinkle of Pixie Dust it adds to your vacation.
*o*     *o*     *o*
If you have stayed at a Disney Resort – what is your favorite part of staying on property?