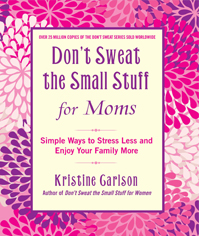 I signed up for this campaign because I liked it's motto for moms:  Stress less, and choose happiness more.  (A good motto for anyone, really…)
And then I almost instantly had Blogger's Regret.  "I don't have any time to read that.  Why did I sign up for this campaign?"
But alas, a few days later a lovely little pink book arrived in the mail, which now adorns my nightstand and dispelled all my worries.  In it you will find a collection of very short chapters, on very relevant and enjoyable mom and parenting topics.
The first book in the "Don't Sweat It" series to be published in 9 years, this collection of wisdom has been appreciated and well received by moms everywhere.
What I Love About the Book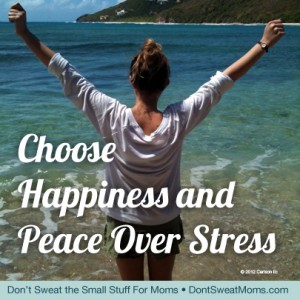 When you finally get those precious 7.5 minutes to yourself at the end of the day, before you can no longer stay awake … grab your "Don't Sweat The Small Stuff for Moms" book and peruse the table of contents.  I've been selecting topics randomly from the book which catch my interest.
I haven't had a chance to read it all, but that's what so enjoyable about this little book.  There's no pressure.  No Wrong Answers.  You don't need to read it in order.
Pick and choose to your little heart's content.  Each chapter is a morsel you will more than likely 1.) relate to, and 2.) glean a refreshing, new idea from.
Under-Promise and Over-Deliver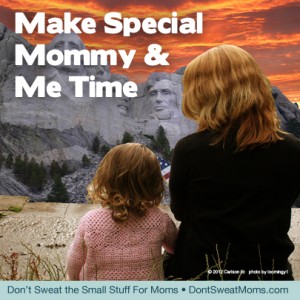 An example of one of the many great ideas discussed.
I had to laugh when I saw this title, as it has unofficially been my professional motto for years.  And while I didn't realize I was doing so, the wisdom of this principle has carried over into my parenting style as well.
The author Kristine Carlson makes the excellent point that if you put this strategy into play as a mom, being careful with what you commit to your kids ("Yes, I will be there at your school field trip next Friday" means you know you can, and absolutely will, be there next Friday)… it helps build their trust in you.  And I'm sure we all realize how important it is for kids to feel they can trust their parents.
I have always felt strongly about dealing with my children in this way.  Let your "yes" mean "yes", and your "no" mean "no".  I think it also teaches THEM to be people of their word, who can be relied on by others.
And on those occasions when you surprise them and do something extra they weren't expecting – all the better!
A Sneak Peak
Some topics you'll find serious, others are light hearted and humorous – all of them uplifting.  To give you a glimpse into what you can look forward to:
Nourish Your  Spirit First
Building Your Family Team
Cutting Out the Fat:  Need vs. Want
It's Not About How Old You Are
Hold Back & Don't Give Them Too Much
Be The Example You Want To See
Healthy Mom, Radiant Mom
Definitely some good stuff, and food for thought.
Where You Can Get a Copy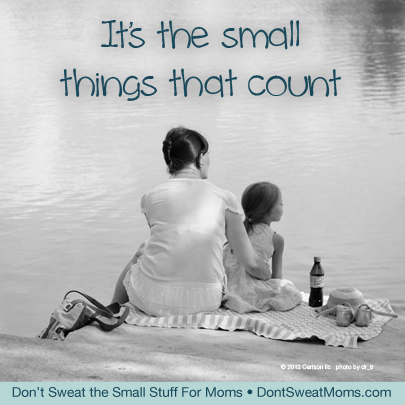 Well, you could hopefully win one.  From my giveaway…. yaay, you!
But if that doesn't pan out for you, it's reasonably priced at $11.19 on Amazon right now.   Moms can purchase the book online at either Amazon or Barnes and Noble.
I received a complimentary copy of the book "Don't Sweat the Small Stuff for Moms" for the purposes of this review.  All opinions are my own.