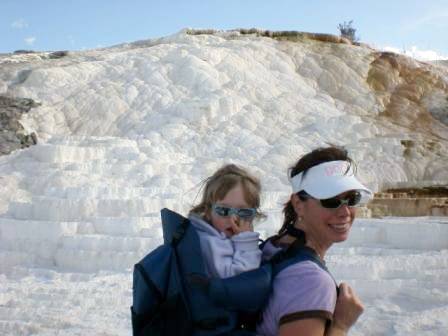 I am a firm believer in "Baby in a Backpack".  Babies and toddlers are generally very content when they are outside and in motion.
Plus it gives mom the opportunity to release a little stress and get some beneficial, and oftentimes much needed, exercise.  Great combination, wouldn't you agree?
When I was pregnant with my first child, I was thrilled to find a used child carrier backpack at a second hand store.  To this day, I don't know what brand it was.  But it was, by far, the best spent $30 baby gear purchase I ever made.
If you'd like more information on child carriers, check out my post Hiking With Babies and Toddlers – Child Carrier Tips.  But here I'd like to talk about the business of mom hiking alone with a child carrier.
Mom Hiking Alone With a Child Carrier – My Best Tips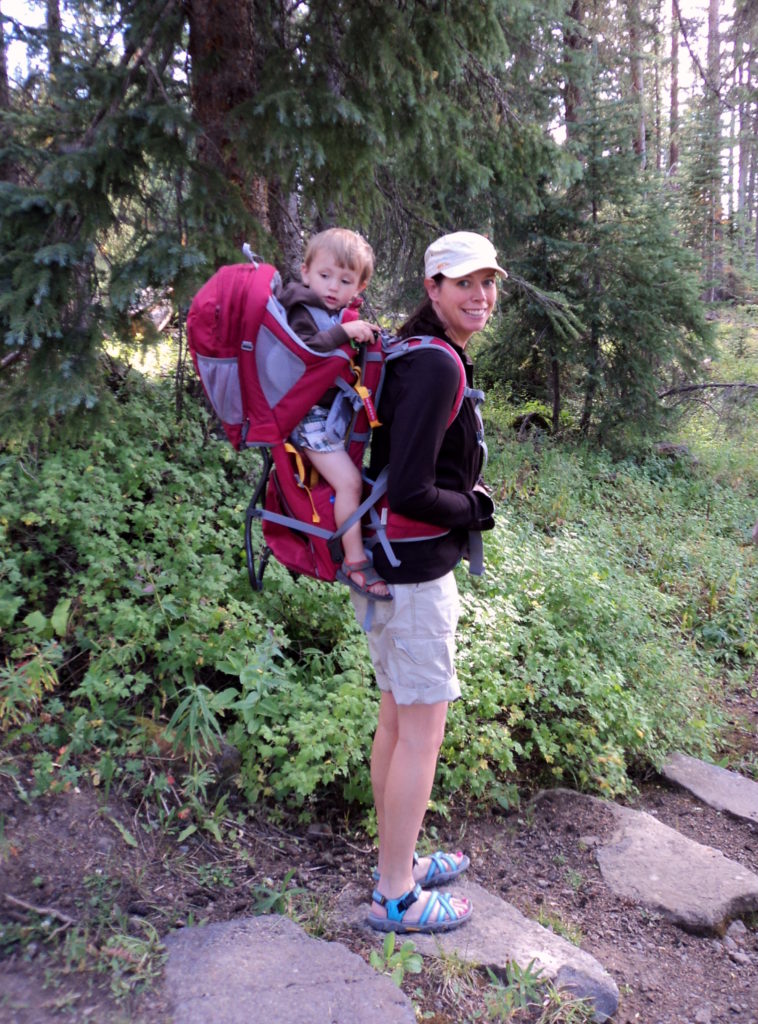 When my daughter was a baby (my first and only child at the time) – I was a stay at home mom, and frequently took her on hikes alone.  There were some challenges to this, for which I'd be happy to share the solutions I found with you:
Mom Hiking Alone, Tip #1:  Getting the pack on and off
A nearby picnic table at the trail head, or sitting on your tailgate (of a pickup or open hatchback) works just fine to set the baby-loaded pack on while you strap yourself into it.  If you aren't familiar – any child carriers I have seen all have some type of kick stand feature, where they can stand alone on a flat surface, even with your child inside.  This helps a great deal with the loading and unloading.
Mom Hiking Alone, Tip #2: HYDRATING!
(This one took me awhile to figure out…) I'd get so thirsty, but you can't reach around to the mini-pack behind your child.  I found a very cool, light waist pack that held two water bottles, from REI.  At hip height, they were easy to grab and then put back.  I'd wear this in addition to the child carrier, and it worked perfectly!  I could even hold it over my shoulder and give her a drink.  I recently discovered the site Ribz, which looks like an interesting option, as well.
Mom Hiking Alone, Tip #3:  Staying Safe
An unfortunate reality is that it's not entirely safe for a woman to hike alone in many places.  I stuck to popular trails which were either out in the open or where I knew I'd be seeing multiple hiking parties.
Child Carrier ~ Keep the Sun & Bugs Away!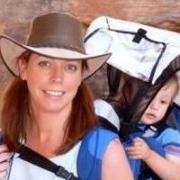 When you load your baby or toddler into a child carrier, make sure you've got them all set up and prepared for a comfortable journey.
A good tip I found was to have my baby wear soft pants that covered their legs.  This protected them from both chaffing and the sun.  I'd also put them in either long sleeves, or apply a good sunscreen and maybe even gentle bug repellant on their arms.
They do make carriers with arched sunshades over their head, but this will not typically keep the sun off of their arms.  A good sunhat will work wonders, if you don't have a sun shade.
I've had skin cancer on my face before, and it' s no fun.  Be sure to protect yourself from the sun, too, mom!
What Ages Can My Baby or Toddler Ride in a Child Carrier?
You'd want to check the manufacturers instructions, and this will vary with the style of child carrier.  They usually say you can start around the 6 months old, or when their neck is strong enough to easily hold their head up.  (I believe there are "soft carriers" that will work for younger ages, but I don't have any experience using those.)
The great thing is, your child can ride in most carriers up until they are 50 pounds.  Do you want to have them riding in a carrier on your back when they are 50 pounds – probably not!  But we found as our kids got to be 2 1/2-3 years old, we would still bring the child carrier along on longer hikes, in case they needed to take a break.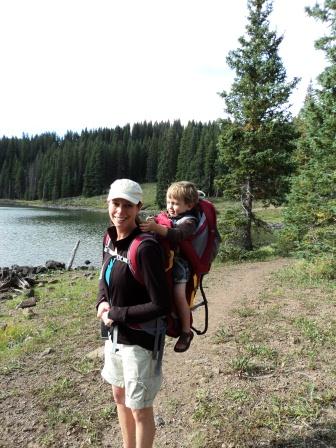 Adventure Is Out There
I believe by hiking with them early, you are starting your child off right – with a love of the great outdoors and being active.  Plus, it's such an affordable and healthy way for families to spend time together.
So get out there and start having some fun with that new little one!  Before you know it, they'll be the one bugging you to go for a hike … and racing ahead of you, blazing that trail.
*o*     *o*     *o*