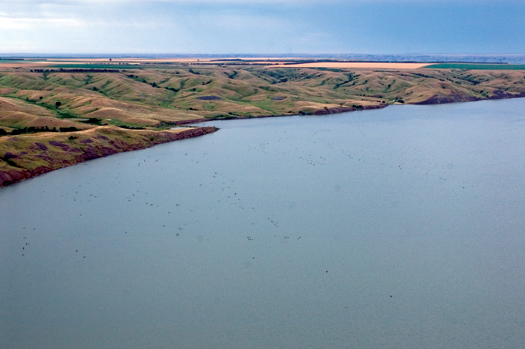 Raised on the sparkling blue waters of Lake Oahe in South Dakota, and being somewhat on the fair end of the spectrum, I received countless sunburns on my unprotected skin while growing up.  Most of it semi-deliberate, as a teen and 20 something.
By age 27, I was diagnosed with Basil Cell Carcinoma on my forehead.  In the words of my doctor, "This is the type of cancer I see 80 year old farmers in here with.  It's 100% caused by sun damage.  Shame on you."
It's that wonderful time of year again, when we all want to get outside and enjoy the sunshine.  This is my cautionary tale of woe.
I Know What Skin Cancer Looks Like, Don't I?
At least I thought I did.  It's when a mole or coloration on your skin changes in shape, size, or color.  Right?
For just over a year, I had a shiny red circle on my forehead, close to my hairline, with three bumps in it.  I actually had a friend tell me, "You should probably get that looked at".
My exact response?  "Why?  It's not like it's skin cancer, or something."
Except that it was.
The Not Fun Diagnosis of Skin Cancer
This is a long, fairly ugly story, so I'll try to condense it somewhat for you.  The series of events went something like this:
Although my initial request was for a magical disappearing night cream, I decide to let a general practitioner shave off these bumps, and send to pathology since she doesn't know what they are, either.
Single Girl Living Alone Me comes home for lunch 2 days later to the phone message, "You have skin cancer and we didn't get it all.  We're gonna need you to come back in."  Nice touch.
Despite becoming the object of disdain from my general practitioner, who treated me like an unreasonable Prima Donna, I request a referral to a dermatologist to address digging the rest of the cancer out of my face.  I know.  I'm so shallow.
Get Yourself a Funny Dermatologist
Under circumstances such as this (scared, at my appointments alone, etc) this proved to alleviate a lot of the tension.
He explained to me that removing cancer from your forehead is tricky, because there is no extra skin to pull over the incision.
There were 3 options. Actually, there were more than 3 if we factor in the clinical trials but I opted for one of the tried-and-true doctor recommendations.  The first one would leave my left eyebrow permanently raised, as if in a questioning expression.   Discussing this further, he described how everyone's face is actually "a little crooked", one half being slightly higher than the other.
Working through the decision logically, he observed, "Your face is already higher on the left side.  If you were higher on the right, I'd say let's go for it – it may straighten you out a little.  But as it is, I'm afraid it would only accentuate your already hideous deformity."
Funny guy.  I protested a little at this treatment (by smacking him in the arm and declaring "I'M GLAD YOU THINK THIS IS FUNNY!"), but in truth I really appreciated his attempt at levity.
So we didn't go with that.
We went with "cut a Z-shaped scar back into the hair line" option.  Good times.  27 stitches later, and a more-unpleasant-than-I-anticipated procedure later, my only question was, "Do I at least look tough and cool now…like a hockey player?"
A couple weeks later, to the surprise of his nurses, the Funny Doc even took my stitches out himself.  I think he felt sorry for me.  Regardless, it was an act of kindness for which I still feel a sense of gratitude.
SPF, Hats & Self Tanners – It's Easy to Protect Yourself
If there's an upside, it's that I saw the error in my sun worshipping ways at a relatively young age.
Self tanners, SPF in makeup and skin lotions … these days they really do make it easy to protect yourself.  I try to throw in a visor or hat for good measure.  Plus, keeping your face out of the sun prevents that premature leathered alligator look when you get older.
It's worth it to keep your skin in mind (and your children's) as you head out to play this summer.  So please have fun, and don't forget your sunscreen.