Welcome to those of you joining me from Disney Donna Kay and those of you just hopping aboard. I am the 2nd stop on our Magical Blogorail.
*o*     *o*     *o*
Have you had a chance to try out Pizzafari, at Animal Kingdom?  If for no other reason, this Disney Quick Service restaurant is worth a visit based purely on the merits of  its colorful, Tinga Tinga style artwork painted all over the walls and ceilings.
Oh, but there is another reason to visit.
It doesn't take long for the repeat Disney World guest (or even a first-timer, probably around the end of a week long visit) to figure out that you are eating many of the same foods at the varied Quick Service dining locations.
For instance, the single serve pizzas, such as the ones served at Pizzafari.  They are the same pizzas served in many locations throughout the Disney Parks.  My personal opinion is that they taste better here than from the other quick service counters, but maybe that's just the Tinga Tinga atmosphere talking.
But this post isn't about pizza.  It's about the dessert that for some reason had alluded us until this particular lunch break, mid-day during a visit to the Animal Kingdom.  The cup of chocolate mousse. (** queue the Angels, singing from mid-Heaven… **)
Oh, we all enjoyed it immensely.  But my husband in particular has quite a sweet tooth, and this chocolate mousse hit him unlike anything I've seen before.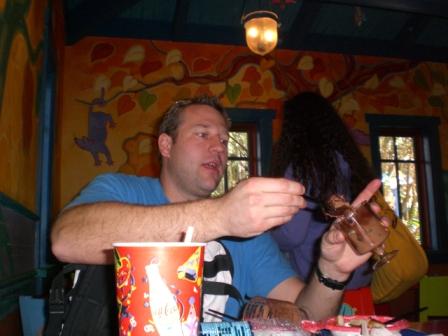 Fantastically rich and delicious.  Little did we know what was soon to follow.
Caution:  Do not try this at home.  (Only while on Disney vacation!)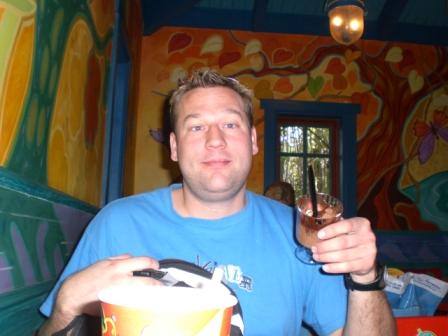 Uh-oh.  Dad's drunk off the mousse.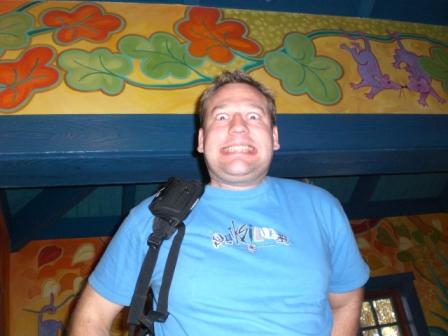 And then the real buzz kicked in.  Should we rush him over to Pangani Forest Exploration Trail and throw him in the with gorillas, just to be safe?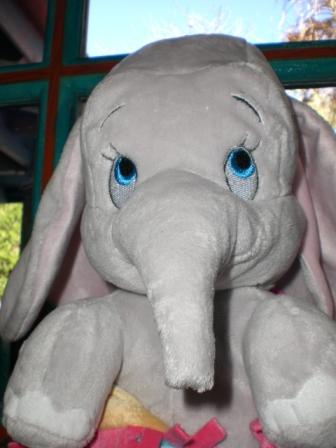 Dumbo didn't know what to make of it.  Frankly, he was a bit scared.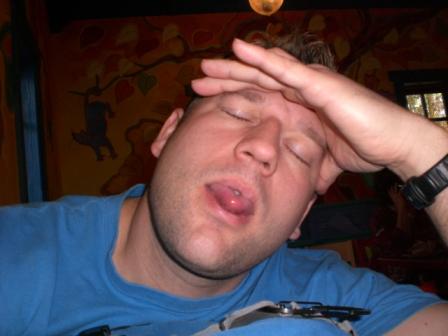 But alas, it all came to an abrupt end – with the sugar crash headache.  Which wasn't funny.  But witnessing the other part definitely was.
This moment captured on "film" by our 5 year old photographer.  No need to zoom the Dumbo shot, either – she's a master at both staging and the close ups.
*o*     *o*     *o*
Thank you for joining me today. Your next stop on the Magical Blogorail Loop is The Disney Point.
Here is the map of our Magical Blogorail should you happen to have to make a stop along the way and want to re-board: