I own three types of capris, for three different purposes.  Does that sound like you?
I have some capris which I usually wear for workouts, typical sporting apparel type crop pants.  I then own several pair of capri pants which I wear to work, since they are my favorite piece of clothing during the warm months.  Plus I have numerous, raggedy but comfy lounging pant capris that I put on almost the second I arrive home for the day.
That is until Stonewear Designs recently sent me a pair of their signature, customer favorite Stonewear Slit Crop Pant.  And now I only need one style of pants – for everything!  Because these are amazing.
From the day they came in the mail, they became the bottoms I wanted to put on every single morning.   If they were in the wash, I was left standing in my closet, forlornly examining all the not-Stonewear options, having a little Pity Party for myself and wishing I had more Stonewear capris and pants on my shelf.
As aforementioned, I'm a sucker for comfort.  Stonewear features a number of cool and fun capri styles, but the Stonewear Slit Crop Pant first caught my eye because of the style of its waistband.  Shaped like a "V", it's a revolutionary concept!  It is indeed extremely comfortable.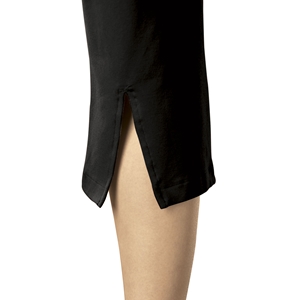 There are also slits on the backs of the legs, which I thought were for style purposes.  While it does add a cuteness factor, I've since discovered it also serves a purpose.  When you bend your leg (sitting, for instance) the back slit gives the pant leg some room, so the fabric over your knee doesn't get all stretched out.
Now if you are like me, you don't feel comfortable running around at the grocery store in tight workout pants.  The cut of the Stonewear Slit Crop Pant puts those fears to rest.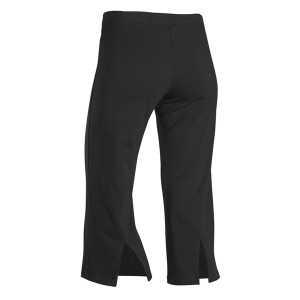 The top part is fitted, but flattering, and is then generous down through the lower butt and leg.  The very first day, I wore them to work at my office, and felt totally comfortable (and I weigh in on the Prudish End of the Modesty Spectrum).
I have also tried them out at the gym, during cardio machine workouts.   Because the fabric is organic cotton jersey with some spandex (for support and stretch), they do loosen up very slightly when you've worn them for awhile.  But not so much that it's a problem, and I'm happy to report they did not  fall off while on the Elliptical machine.  The design and fit keep them in place.
And they regain their original shape nicely once washed.  Did I mention this fabric is VERY soft?   So comfortable!
This is why I state with confidence that they can replace many of the capri pants you've owned in the past, and will very likely become one of your favorite pieces of clothing.
Some of the other capri styles (like the Rockin' Capri, that I have my eye on next…) are a polyester and spandex combination.  I intend to try these eventually as well, and suspect that they perhaps hold their shape a little more during wear (and maybe brush off dirt, etc, a little easier) .
Stonewear Designs clothing is all made in the USA, and the quality construction shines through.  I love the details like black ribbon edging on the inside of those leg slits.  I expect to own and enjoy these for years to come.
What I loved:
High quality construction and feel
Practical design and fit, giving them multi-purpose wear
Leg slits for style, and preventing stretched-out knee pooches
Luxuriously soft fabric
Extremely comfortable waistline
What I didn't love as much:
The tip of the V-shape in the waistband at times does not lie flat for me (not a big deal)
When brushed with dirt (or dog hair), it does show up on the fabric a bit, because of the nature of the soft cotton jersey. But in my opinion, it's worth it because of how good they feel!
 About the Stonewear Designs Company

Stonewear Designs is comprised of some active, inspiring women who decided to start their own company in order to create truly comfortable, multi purpose, functional clothing for women.
Because of the quality, comfort, and non-wrinkle fabrics used, their clothes translate to everything from travel to workouts.  And although their initial niche was yoga, they have expanded to embrace all women's activities and now bill themselves as "Women's clothing for yoga, fitness, hiking, and travel".
That's right – they offer the right piece for anywhere you want to go, and anything you want to play.  Doesn't that cover just about everything?
Where You Can Find Stonewear Designs
The company is headquartered out of Louisville, Colorado.  You can check out all their ingenious designs on their website, and order online.   Also receiving rave reviews are their line of support tops, with a built in workout bra – so be sure to take notice of those.   I just ordered a "Lyra Top", and am looking forward to trying it soon.
And they do have occasional sales – so watch their site for those!
I received a pair of Stonewear Slit Crop Pants at no cost for the purposes of this review, but all opinions are my own.