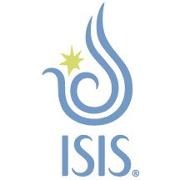 ISIS for Women, headquartered out of Boulder, CO, takes pride in its primary goal:  Developing attractive performance clothing, with a superior fit.  Their clothing is inspired by nature and their favorite activities, and combines both fashion and function.
I had the chance to try some ISIS Active Wear.  Here's what I thought of their clothing, and how the pieces fit and performed.
ISIS for Women – Did They Meet My Expectations?
When investing in quality, high end active and outdoor wear, you have certain expectations.
ISIS has this covered in all the vital areas, which I think you will be very pleased with as a customer:
They tap into technology when it comes to the high performance fabrics they use for their active wear, offering some amazing results (more about this under the specific reviews).
And they offer a "Goddess Guarantee", that the materials and workmanship in every ISIS product will stand up to the use for which it was designated.  If ever disappointed, they stand behind their products and will make it right.
I admit that this is the first time I have worn an "active skirt". They are all the rage right now, and most athletic brands have a version of one.
I now realize why.  And I also harbor a sneaking suspicion that I just burst out of the gates by trying out the Best in Class, made by ISIS!  Virtually ruining myself for any other sport skirt experiences I attempt in the future, outside of simply getting another one of these wonderful Dash Skorts in another color.
The material is "polyester/spandex yarns that are tough enough to resist snags and abrasion, but are soft enough to drape beautifully and feel wonderful against your skin."  I had to take that lovely quote directly from the ISIS site, since I agree with it entirely and just couldn't have described it any better.  The material is silky, soft, and stretchy yet holds it shape.
The built in shorts allow you to forget you are actually wearing a flattering skirt, leaving you to engage in any workout or fun after-workout activity that may come your way.
The drape is very flattering.  So much so, that this is my best guess as to why these fitness skorts are so popular right now.  The fit of the Dash Skort felt pretty much perfect, has a soft elastic waist, and is extremely comfortable.  And the functionality really surprised me!
One of my favorite features?  The zipper pocket on the rear hip.  Perfect for holding your iPod.  Many sport bottoms feature something similar, but oftentimes they are placed in the rear center waistband.  I found the rear hip placement on the Dash Skort much easier to access, and very handy.
I used to run.  For a variety of reasons, I have not done so now in a few years.  I kid you not:  wearing this skirt (along with the Simplici-Tee, described next) on the treadmill at the gym last week literally inspired me to try running again.  The feel of the skirt material on your legs is so light, it makes you  feel like you're light.  All of a sudden, you're given to fly.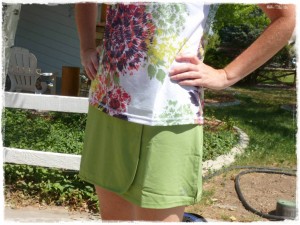 What I Loved:
Drape and flattering appearance of the skort
Very soft, light, and quick drying fabric
Comfortable Fit
Functionality – it inspired me to run!
Rear hip pocket for iPod
Comes in some great, vibrant colors:  Jet (gray), Lollipop (pink), Sprout (green), and Ocean (a gorgeous turquoise)
What I Didn't Love as Much:
One of the inner short pant legs very occasionally rode up just a touch, but not so much that it was a problem, or uncomfortable.  Just another reason why the skort design is so genius & flattering … you're still covered by discreet cuteness, in instances like this.
The price tag seemed a little steep to me at first, until I experienced this short sleeve, multi purpose tee shirt for myself.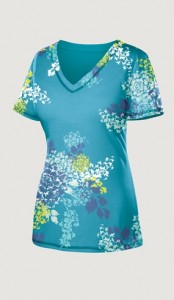 Described as high-tech, high-touch, high-performance fabric – and it holds true to the claims.
The fit is spot on – comfortable, flattering, and close cut enough to stay out of your way.  But where this piece really shines is the fabric its made of.
DriRelease® micro-blends natural and synthetic fibers, plus they added a FreshGuard® finish to "keep the funk out" just for good measure.
What that all means to you is moisture wicking, a soft comfortable feel against your skin, wrinkle resistance, and a garment that will last a very long time due to pill resistance.
This shirt is an investment, and will quickly become the one you search for first – to throw on whether you're headed to  the gym or an outdoor adventure on a warm day.  It has definitely become that for me.
Note that if you were to select solid white, the fabric is somewhat sheer and hence see-thru (notice in my picture above you can see the darker sports bra underneath).  I don't mind with the cute pattern I selected, but wanted you to be aware, if debating on a color preference.
What I Loved:
High functioning fabric
Cool details, like the 3 rows of stripe stitching on the back
Great fit, perfect for any activity
Available in fun colors and either solid or an attractive print
What I Didn't Love As Much:
A little pricey; but worth it due to the quality, hi-tech fabric and subsequent long lasting, enjoyable use
Where to Find ISIS
You can find  ISIS on their website, and check out more of their great styles, colors, and fabrics.
I received the two pieces described in this post from ISIS at no charge, for the purposes of this review.  But all opinions are my own.