Do you remember, as a kid, how much you loved playing in the rain?  Ominous gray clouds, thunder, lightening, and rain… "Bring it on!", I say.  I've always loved rainy weather.
During my childhood summers, playing in the rushing gutters filled with rainwater, during lovely warm weather, was a seriously good time.
It's been terribly, dangerously dry here in Western Colorado this year.  So we just had to get out and do a little Happy Rain Dance the other day when we finally got some moisture!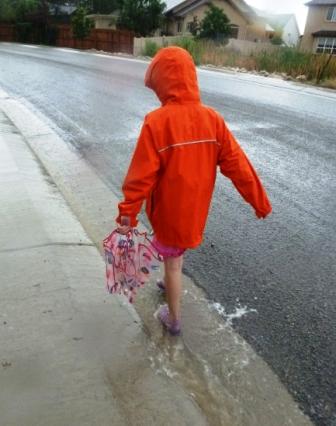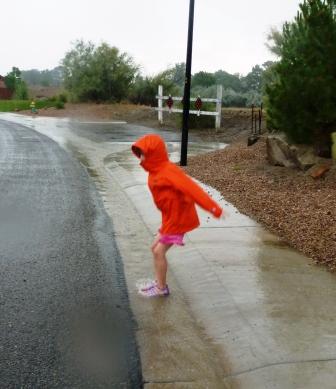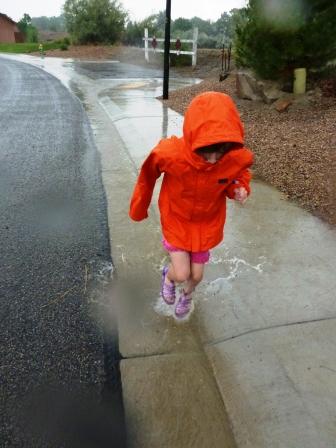 DANCIN' IN THE RAIN
So what if it drizzles
And dribbles and drips?
I'll splash in the garden,
I'll dance on the roof.
Let it rain on my skin,
It can't get in –
I'm waterproof
** by Shel Silverstein, from "A Light in the Attic" **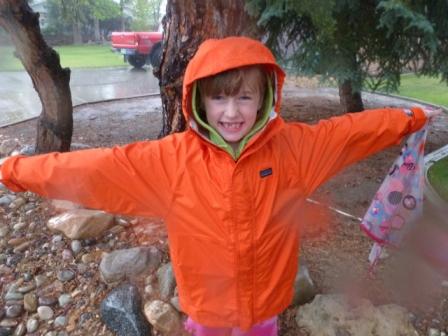 Do you let your kids play outside when it rains?  Better yet, do you join them?
*o*     *o*     *o*
That raincoat is a Kids Patagonia Torrentshell Raincoat.  We love it and got it from a kids gear shop called Tiny Trekker (I believe right now it's 30% off).