Don't you just hate mosquitoes?  I mean, I hate being bit myself plenty.  But I really, really hate when they bite my poor kids!   Babies and toddlers seem to have particularly ugly reactions to bug bites.  But we often feel even more cautious about putting strong chemical bug repellants on their sensitive skin.
DEET can be effective, but is strong, nasty stuff that I personally don't like my toddler and gradeschooler-prone-to-eczema to use.  A quandary, indeed.
As a child, we occasionally used Avon's Skin-So-Soft for bug repellant.  Avon has taken this to a whole new level with their Skin So Soft Bug Guard line of products, with the motto, "Tough on bugs – not on you".  I was excited to try them out on my young family.
All of Avon's Bug Guard products are DEET-free.  Skin So Soft Bug Guard insect repellents are suitable for the entire family.  Avon's insect repellents have the Good Housekeeping Seal of Approval and contain one of two EPA-registered active ingredients, IR3535® or Picaridin.  The entire collection includes:
·Bug Guard Plus IR3535® Expedition ™ SPF 30 ($14-$16) – Combined sun and insect protection in one product and available in an Aerosol spray and Pump spray.  Strong and long-lasting repellency against mosquitoes, deer ticks, sand flies, gnats, no-seeums and biting midges.  What a fantastic idea!  Including two needed protections in one product –  SPF for sun AND bug repellant.  This is my personal favorite.
·Bug Guard Plus Picaridin ($14-$16) – Protection during dusk & dawn, which is when mosquitoes are more active.  Repels deer ticks that may transmit Lyme disease and mosquitoes that may carry West Nile virus.  Available as an Aerosol Spray, Pump Spray and travel-friendly Towelettes.  My impression is that this one is the Big Dog for bug protection.  I believe the Picaridin product is the stronger of the repellant ingredients they use – and it absolutely worked, for every one of the testers I had try it out.
· Bug Guard Plus IR3535® SPF 30 Lotions ($14) – Repel mosquitoes, deer ticks, black flies, sand flies, gnats, no-seeums and biting midges.  Aloe and Vitamin E-enriched formulas are available as a Gentle Breeze Lotion and Cool 'n Fabulous Disappearing Color Lotion.  Didn't try this one quite as much.  Again, nice that they combine SPF protection with bug repellent.  It is more of a lotion form, but it has less of the bug repelling ingredient than Expedition does.
Also, in case you forgot to use your Bug Guard insect repellent, Avon is now offering …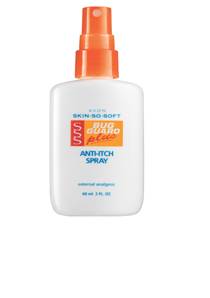 NEW Anti-Itch Spray – Provides temporary, soothing relief to itchy insect bites. ($10)  Love this idea, but haven't needed it … since using Bug Guard products, we haven't been getting any bug bites!
I took more time than usual with this review, because I really wanted the opportunity to test these products out, on multiple outdoor occasions, so I could pass along an honest and thorough review to my readers.  (Did I mention how much I hate seeing angry red, swollen bites on kids?)
I had my extended family all try them out, since different people and body chemistrys seem to attract bugs at varying levels.
In short, they work absolutely great.  And my family, as well as my extended family, all plan to purchase and use these products going forward.
We tried them out on a forested mesa covered in lakes, known for it's beauty and almost unbearable mosquitoes in the summertime.  The bugs weren't as bad that day as they sometimes are, but we could definitely still see them swarming around.  But not a single bite amongst us.
But perhaps an even greater test:  my brother's home is right next to a river, and at dusk the mosquitoes are always thick and in full biting mode.  My poor little 1 year old nephew often displays red mosquito bites.  I gave them some of the Bug Guard Plus Picaridin, and they have now been testing it for 3 weeks.
My brother reported it works incredibly well.  He can't believe they can now be in their yard at this time of day and not receive mosquito bites!
Bug Guard Motivation … Some Nasty Mosquito Facts
Here are a few facts to equip you in your bug battle, and remind you of why it's so important to protect your kids – especially from mosquitoes.
According to an article By Debbie Hadley, About.com Guide:
Mosquitoes are the deadliest animals on Earth.
More deaths are associated with mosquitoes than any other animal on the planet. Mosquitoes may carry any number of deadly diseases, including malaria, dengue fever, yellow fever, and encephalitis.
Only female mosquitoes bite humans and animals; males feed on flower nectar.
Female mosquitoes need protein for their eggs, and must take a blood meal in order to reproduce. Since males don't bear the burden of producing young, they'll avoid you completely and head for the flowers instead.
All mosquitoes require water to breed. Some species can breed in puddles left after a rainstorm.
Just a few inches of water is all it takes for a female to deposit her eggs. Tiny mosquito larva develop quickly in bird baths, roof gutters, and old tires dumped in vacant lots. If you want to keep mosquitoes under control around your home, you need to be vigilant about dumping any standing water every few days.
I can wholeheartedly recommend the entire line of Avon Skin So Soft Bug Guard products.    My favorite was the Expedition, for how it combined bug repellent with SPF.  But when hiking in shaded, buggy areas … I would prefer and recommend using Bug Guard Plus Picaridin.
You can get Avon Skin So Soft Bug Guard from an Avon Representative, or order them directly online.
Great news – at the time of this post, the aerosol spray Expedition and Picardin are on sale for 62% off, for $5.99!
Even though it's nearing the end of bug season, I wouldn't worry about purchasing them now.  The expiration dates on the products I received were all for mid-2014, so they will last you awhile.
I hope this helps protect your family during your outdoor adventures, as much as it did mine!
I received the Avon Bug Guard line of products described at no cost for the purposes of this review.  But all opinions are my own.