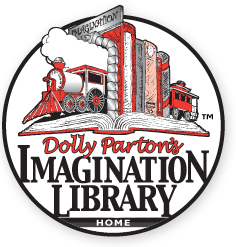 Dolly Parton's Imagination Library offers to help your preschooler start off on the right foot with a love of reading.  How?  By providing them with their own personal library, at no cost to you.
Started in 1996, initially to benefit the children of her home county in East Tennessee, USA, Dolly's vision was to foster a love of reading in young kids and their families.  Her idea was to mail a gift – a specially selected, high quality and age appropriate book – to kids once per month.   Her hope was that this would foster excitement about books.  She wanted every child to able to own their very own library, regardless of their family's income.
Both of my children have benefited from the Imagination Library, and I can't say enough good things about this wonderful program!  I believe that a love for books and reading is a beautiful gift to pass on to our kids, and is something that will serve them well in life.
The program has been a huge success, and has now spread throughout the nation (also Canada and United Kingdom).   Read on to see how you can enroll your preschooler!

Dolly Parton's Imagination Library – What Will it Include?
You can sign your child up as soon as they are born!  As long as you stay at the same residence where you qualified, your child will continue to receive books up until age 5.  If you move, you can certainly reapply at your new location if the program is available.
The books you receive will be adjusted for your child's age.  So the first year or so, babies will receive board and lift the flap style books.  As they grow, toddlers will start to receive books containing more words, with vocabulary building concepts.
Sometimes they are soft cover, other times they have been hard cover books.  We've received some classics (like "Good Night Moon" and "Where's Spot?" lift the flap books) and also been introduced to some new favorites.
It is always such a treat to find a new book in our mailbox!
Dolly Parton's Imagination Library – Where to Sign Up
We found out about this program at our local library.   The process for us involved filling out a short application found inside a brochure.  The application consists primarily of contact information, along with your child's name and birth date.  The library then submitted our application for us.  A few weeks later, my son got his first book in the mail!
You can also check the Imagination Library's website to see if it's available where you live.  Just scroll down to the bottom of the page and click the blue button "Select Your Country".  At the next screen, click "Register My Child" from the top menu bar.
You will then be given some choices whether to find a local affiliate, or register online.  Note that it is subject to your local communities participation, but in the past two towns we've lived in (South Dakota and Colorado) – they've both had it available.
It's definitely worth checking out if this fantastic program is offered where you live.  Happy reading to you and your little ones!