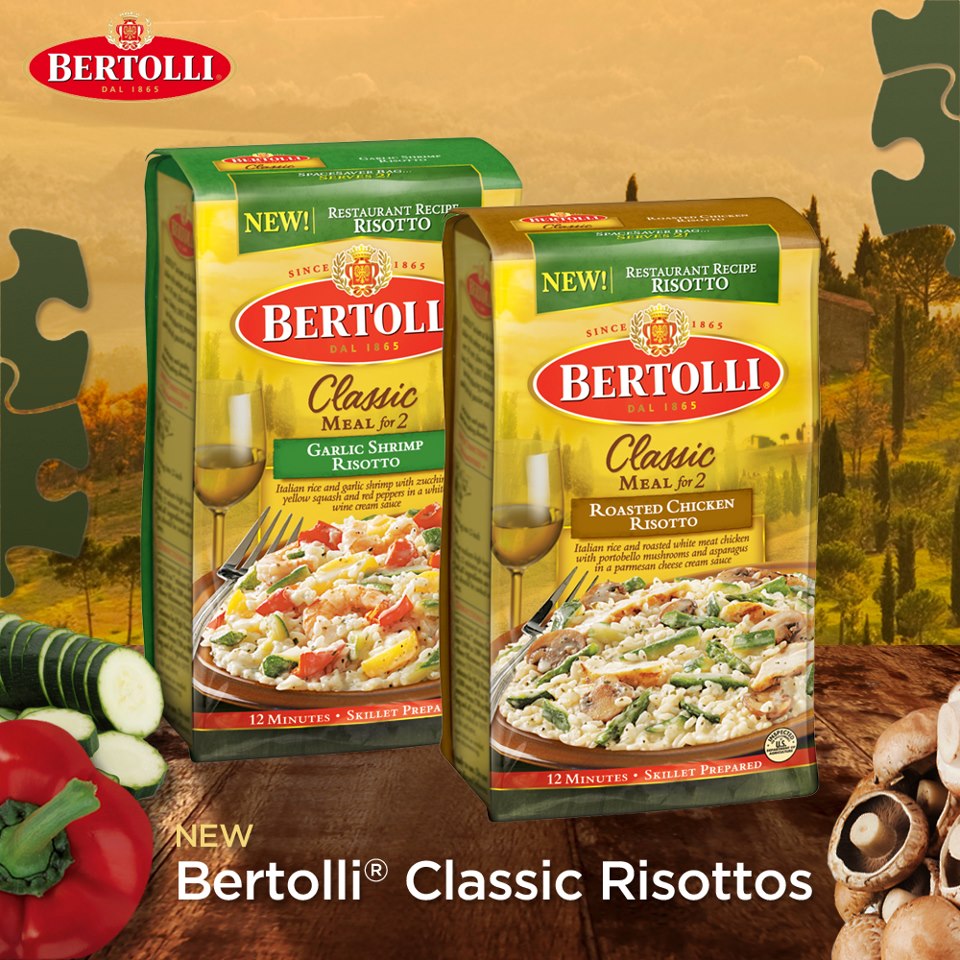 Buongiorno!
Do you love easy meal ideas?  How does some quick & delicious Italian food sound?  Bertolli has an entire line of frozen meals, and have recently introduced a new, very tasty option:  Bertolli Classic Risottos.
Bertolli Classic Risottos – "Molto Delizioso!"
Yes, that's Italian for "very delicious"!
We were already fans of Bertolli, but they have really knocked it out of the park with these new Risotto meals.  There are currently two flavors available:
Roasted Chicken & Mushroom
Garlic Shrimp
No fancy kitchen tools needed to prepare this Italian delicacy.  Bertolli has taken the guesswork and labor out of preparing risotto from scratch.
Especially for rushed work/school/week night meals, I'm a huge fan of anything this easy.  Open package.  Pour into pan.  Heat pan over stove for 12 minutes.  That's what I'm talking about.
We tried Roasted Chicken & Mushroom first.  We cheated a little, since my husband had already grilled some chicken breast, so we chopped that up and added a little.
Took one bite.  Both looked at each other with raised eyebrows.  "Wow!"  My husband and I agreed it had excellent flavor.
Now we all know that most frozen, packaged pre-prepared meals like this have some remnant of a frozen, packaged pre-prepared meal flavor.  It's just not the same as homemade.  But I tasted no hint of this with the Bertolli Classic Risotto Meal.
You can tell it's because of the quality ingredients they use.  It doesn't end up a heated pan of mushy, indistinct goo.  You can see and identify the mushroom slices and pieces of asparagus.  And they actually taste like mushroom slices and asparagus!  Nice.
I was impressed with the Risotto as well.  I don't often order risotto at Italian restaurants (because I love pasta too much).  But it's creamy and delicious.
It truly was a meal with fantastic flavor, and I will be purchasing the Bertolli Roasted Chicken & Mushroom Risotto again for my family.
Bertolli Meal Soups – New Flavors
Bertolli has also added two flavors to their popular Meal Soup line:
Italian-Style Wedding and Ricotta:  Mini Italian-style meatballs with spinach, bacon pieces, carrots and ditalini pasta in a savory broth.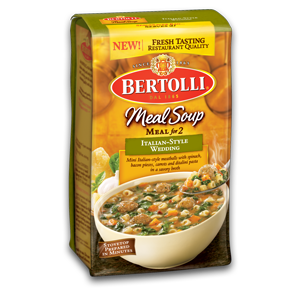 Ricotta and Lobster Ravioli in a Seafood Bisque:  Ricotta and lobster-filled ravioli with diced celery and carrots in a rich seafood bisque.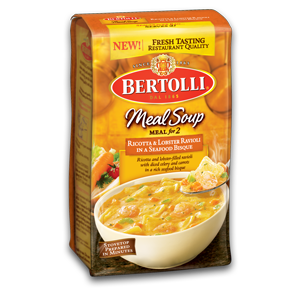 We tried the Lobster Ravioli flavor, and it was just ok.  We both thought it was a little bit bland.  I've never had Seafood Bisque in a restaurant either – so maybe that's how it's supposed to taste?
To be honest, we are just aren't big soup eaters.  I have tried other flavors of Bertolli's Meal Soups and I can say that they are much heartier than just soup.  They can definitely serve as a meal.
Bertolli Meal Coupons – The Giveaway
Bertolli has generously offered to give my readers some voucher coupons to try their Bertolli Frozen Meals for free!
Two of my winning readers will each receive 2 Bertolli Frozen Meal coupons.
US Entries Only.  Thanks for swinging by and entering!
I received some Bertolli Frozen Meal coupons to try their new products, for the purposes of this review.  But all opinions are my own.