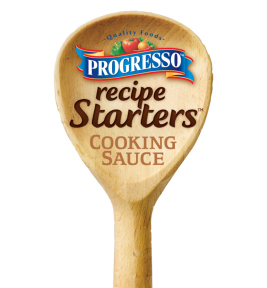 On most nights we cook dinner at home.  And at my house, my husband (bless his heart) and I share this load.  We both find coming up with the idea of what to prepare to be the most challenging part.  I'm always on the lookout for easy ideas for him to use on his cooking nights.
It was for this reason that I signed up for the Progresso Recipe Starter promotion.  They sounded tasty and easy to use, so we wanted to give them a shot.  I was sent a gift pack from Progresso, which included two of their new recipe starter sauces.  Their new line of sauces comes in five flavors.
Progresso Recipe Starters – The 5 Flavors
Progresso Recipe Starters five flavors were inspired by the five "Mother" Sauces that form the basis of classical French cooking:  Béchamel, Velouté, Tomato, Espagnole and Hollandaise.
The five varieties are:
Creamy Parmesan Basil: This creamy, full-bodied and indulgent sauce that was inspired by alfredo and creamy pesto sauces can be used to make dishes such as Crispy Garlic-Parmesan Chicken, Creamy Chicken Alfredo, Basil Chicken Ravioli Carbonara and Basil Chicken Thai Noodle
Creamy Roasted Garlic with Chicken Stock: With caramelized, roasted chicken broth, garlic and a touch of cream, this stock is perfect for dishes such as Creamy Lemon Chicken, Chicken Pot Pie and Chicken Enchiladas
Fire Roasted Tomato: A medium-thick tomato sauce, accompanied by flavors of roasted, caramelized tomatoes, oregano and bell peppers, which can be used as a great way to begin creating  Pulled Chicken Sandwiches, Easy Weeknight Chicken Parmesan, Cheese-stuffed Mini Meat Loaves and Mole Tacos
Creamy Portabella Mushroom: Creamy and highly indulgent, this smooth sauce is rich with sautéed Portabella mushrooms,  giving you any easy way to start delicious dishes like Easy Weeknight Beef Stroganoff, Steak and Mushroom Sandwich and Tetrazzini
Creamy Three Cheese: Rich and creamy with a blend of yellow and white cheeses, and a savory background of chicken stock, onion, garlic and cracked pepper, this is a great way to satisfy cheese lovers with Easy Weeknight Bacon Mac & Cheese, Twice-Baked Potato Pizza and Cheesy Egg Breakfast Tacos
(Information provided by Progesso)
Progresso Recipe Starters – Our Dinner Experience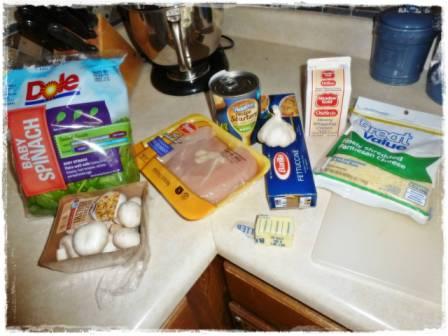 Because it sounded so yummy, I ended up trying the recipe right on the label.  Progresso has actually come up with 80 new recipes to use with their sauces, and made them available at  Progresso.com/RecipeStarters.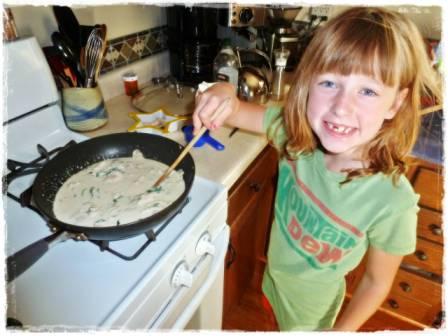 Using the Creamy Parmesan Basil sauce, we made Chicken Fettuccine.  And since I'm a fan of making dinner-in-one-dish, I also threw in some sliced mushrooms and fresh baby spinach leaves to get that pesky vegetable thing out of the way.
It was delicious!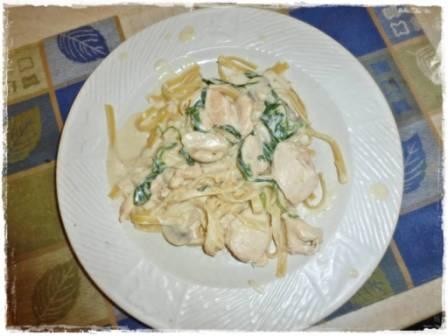 It tasted completely home-made and from scratch, without any remnant or aftertaste that prepared foods sometimes have.  However, the recipe called for my to add cream, butter, fresh garlic, and parmesan cheese – so I would have expected it to taste homemade with all those additional ingredients.
Overall, I think Progresso Recipe Starters are a very solid idea and I plan to investigate and try some of the other flavors.  We all loved the Chicken Fettuccine, and I do believe much of the flavor was thanks to the Progresso Creamy Parmesan Basil sauce.
Progresso Recipe Starters Coupon
If you are interested in trying out one of these sauces, click the link below for a $0.65 savings off the purchase of 1 can of Progresso® Recipe Starters Cooking Sauce.
*o*     *o*     *o*
This was part of a My Blog Spark promotion.  I received the Progresso Recipe Starters Spark gift pack at no cost for the purposes of this review.  All opinions are my own.