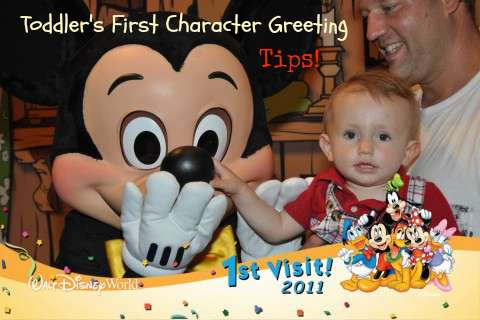 The month my son turned one, we took a family trip to Disney World.  The first time you get to take your child to Disney is special for many reasons.  Meeting so many beloved Disney characters for the first time is, of course, a highlight!
If your child is young, or timid, here's a few tips you can follow to help make it a carefree and happy experience for them.
Toddlers First Disney Character Greeting Tips
Even at a young age, toddlers often recognize the live Disney characters found in the parks, just from the shows they have watched.  So be sure to watch some of your Disney movie favorites before your trip!  It will keep the characters fresh in their mind, and hopefully help them warm up more readily when they spot them in the Parks.
I had my son in Disney Jr Mickey Mouse Clubhouse boot camp for a few weeks prior to our trip.  I think it paid off nicely.
When the big moment arrives – ease in slowly, and don't pressure them to be held or get close to the character once it's their turn.  Although it can be frustrating, after waiting in a long line … you don't want to rush them and perhaps make it a negative experience for them.
Those candid moment shots are often the best!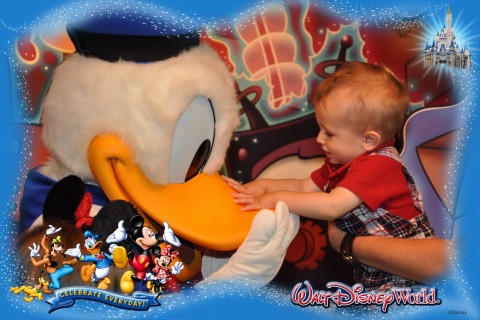 Our son was only frightened once by a character encounter on our trip.  It was during a Character Dining experience at Crystal Palace, where they feature Winnie the Pooh and his friends.   Don't get me wrong, I actually think these meals are a great idea for young kids, offering multiple character encounters without the lines.
On this occasion it was actually the Cast Member handler, with his boisterous, jovial laugh, who unnerved my baby somewhat.  Thus paving a rocky arrival for Tigger,  during his table swing by.   My toddler honestly wasn't scared of Tigger.  But as you know, the handler sticks to the character's side like glue.
This fostered one of those awkward, semi-funny moments.  The poor Cast Member didn't realize HE was the scary one, and kept returning to our table to try and comfort our crying baby.   Which made it worse.   Us, smiling and not wanting to hurt his feelings (but really wishing he'd move along already).  Him, feeling personally accountable for our son not having a bonding moment with Tigger.
The lesson here?  Well, I'm not exactly sure.   It was reassuring to see the outcome, at least.  My son had a few tears over Tigger's swing by.  But it was ok.
Cause he totally rallied by the time Pooh got there.
5 Best Tips from Disney Babies Blog
I asked my friend from Disney Babies Blog for some additional input and ideas on this topic, since she is an expert at Disney Trips with babies and toddlers.  Here's what she came up with:
1. Show them from far away first – some will be scared even from a distance.
2. Don't push if they are afraid – try again later.
3. Try a character meal – they'll be able to see them, but won't have to interact if they choose not to.
4. Don't be afraid to offend the characters – they've had many children not want to get too close!
5.  If you're doing character meals, you can tell your server or any cast member to have the characters skip your table, or just give the handler a nod, they'll understand!
Thanks so much, Jenn – great ideas.  If you are making your first visit to Disney World with a baby or toddler, I would definitely check out the helpful content she has on her Disney Babies Blog, "Moms, Babies, and a love of all things Disney".
Character Meet and Greet for the Timid
Another Disney blogging friend, Capturing Magical Memories, has a post featuring some awesome pictures, depicting how the characters do a great job interacting with small timid ones.  Very cute and reassuring … check out her post if this is your potential situation.
It's Up To Your Child – Maybe a Future Visit?
It went great with my young son, and we have some really neat pictures and fun memories from the experience.
But honestly, had we taken my daughter to Disney World that young … I think with her more timid personality, it may have been a different story.  She was 4 on her first trip, and that seemed like a great age for her – no qualms meeting those Disney princesses, that's for sure!
You know your child best.  If the character greetings prove to be something they enjoy, get out the camera and have fun marking this moment in time!  I know some parents with a series of pictures of their child taken at varying ages, with the same character.  Such a cool idea.
But if your baby or toddler isn't quite ready to get hugged by a massive, costumed character just yet… there's always your next trip to Disney, right?  And there's also an upside:   you can take solace in getting to bypass those long character greeting lines, for now!  😉
*o*     *o*     *o*
How did your child's first character greeting go?  Any advice to share?