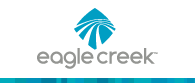 Have you joined the world of packing cubes? All the rage right now, their purpose is to help keep you organized and facilitate the goal of packing light.
In this new day and age of paying to check bags, traveling light becomes more and more appealing.  So I was looking forward to trying them out on my recent Coca-Cola Blogging Conference trip.
I've seen two styles of packing cubes: mesh or fabric.  Mesh offers the advantage of seeing your contents easily, fabric excels in ease of gliding items in and out.
The Pack-It™ Specter Cube Set I tried out from Eagle Creek offers the best of both.  Made from an extremely light fabric, they are also quite transparent.  This makes them nicer for handling, and again – sliding things in and out.  But you can also get a pretty good idea of the contents from the external view.
These weigh next to nothing.  The zippers, seams, and material are all of good quality construction.  I particularly liked the handle on the end of each – which works well for either carrying, hanging up at your destination, or just an easy way to grab and pull out of your bag.
The Pack-It™ Specter Cube Set – For Travel
Again, I used the Pack-It™ Specter Cube Set on my recent trip to Atlanta, where I had only a carry on piece of luggage.  Traveling light goes somewhat against my nature, and is a new challenge for me that I'm struggling to embrace.  (I've had to scale back on lugging along that 75 lbs of natural beauty… but that's a different topic.)
Being a bit of an organizer freak, I really liked using the Eagle Creek packing cubes.  I noticed that in some ways, it did seem to help me pack lighter, including only those items (and a realistic number of those items) which I really needed.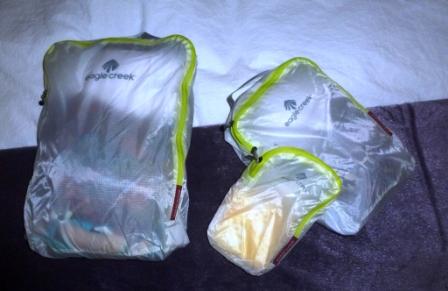 This set includes three cube sizes, and I think they are each a practical dimension.   It offered a good variety of options for what I wanted to pack.
Plus it kept my compact, full bag in good order.  Once in my hotel room, I found that aside from hanging up a couple of pieces of my clothing, I kept most of the items right in the cubes.
Tidy.  Easy to find.  And even better, very easy to re-pack my bag once it was time to check out and head home.
The Pack-It™ Specter Cube Set – For Hiking
I have not had a chance to try them out for this purpose, but these cubes also appeal to me for hiking and backpack use.  I know my hiking backpack gets so full with such a wide variety of items… it would be awesome to use a couple of these inside to better organize (and hence find) the contents.
They claim that using packing cubes provides space savings.  I guess I'm not really clear on how that would be the case.  Perhaps this is true of a more compactly packed bag or pack.  (If you one of you has tried them and found that to be the case – please let me know about your experience!)
And last, a little more about that translucent fabric.  It's the same as is used for lightweight tents and backpacks, intended to be super-durable, stain and water resistant.  It sounds like they are designed for rugged use, and could definitely handle some outdoor adventure action.
Eagle Creek Pack-It™ Specter Cube Set
The Eagle Creek Pack-It™ Specter Cube Set comes with three sizes of packing cubes, in your choice of three colors, and sells online for $35.00.
What I loved:
Nice sizes included in the set
Almost weightless, yet durable
Easy glide, somewhat transparent fabric
Helps keep your bag more organized
What I didn't love as much:
(I couldn't come up with anything!)
Eagle Creek Pack-It™ Specter Cube Set Giveaway
Eagle Creek has generously offered to send one of my readers a Pack-It™ Specter Cube Set.
This giveaway is part of my Travel Week Extravaganza. There will be great travel related articles and other travel gear reviews and giveaways all week… so be sure to check out the fun!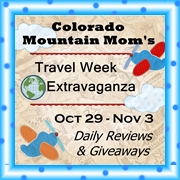 Open to US only.  Enter using Rafflecopter form below.
Eagle Creek sent me the Pack-It™ Specter Cube Set at no cost, for the purposes of this review.  All opinions are my own.
a Rafflecopter giveaway