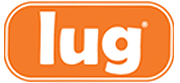 I'm excited to tell you about this great bag and travel accessories company called Lug.  I found them online, and absolutely loved their site and the fantastic range of travel products which they offer.  They offer a number of "smart solutions" that work nicely for both travel and other areas of a busy life, and have been featured in O Magazine for their Cartwheel Fitness/Workout Bag.
Initial overall impression of Lug's product line?  Colorful and fun!
I reviewed two great travel accessories from them, which were of interest to me.  I'll be honest, when I opened the box with these two items my first thought was, "I thought the wallet would be smaller, and the cosmetic case would be bigger?"  I was surprised, and a little puzzled.
I've now had the chance to actually use them on a recent trip (to the fun Coca-Cola blogging conference).  So allow me to tell you a little about what I thought of each.
Lug Tango Travel Wallet
If you're the indecisive sort, I'll warn you right now that both Lug items that I reviewed have a lovely, satin quilted exterior… and come in 12 colors.  You read that right:  twelve!  Admittedly, a little stressful to be forced to make such a tough choice.
But once you muscle past that, order and receive your favorite color – you can start to load up your Tango Travel Wallet for your trip, and begin to appreciate its design.
In the past, I've always lugged (no pun intended) along my regular, everyday use wallet on trips.  You know – that ugly, gigantor, overstuffed Mommy Wallet filled with years worth of accumulated return receipts, photos, unused credit cards, and frequent buyer punch cards.  (Going without these items, a calculated risk I'm willing to take.)
It makes a lot of sense, and is much safer, to only bring deliberately selected items along in a wallet when you travel.  So I turned over a new leaf with my new, slimmer travel wallet.
One of my favorite features is the outside pocket, perfectly designed to store your airline boarding passes.  I loved having this dedicated spot to keep them, knowing that when boarding, I wouldn't have to nervously search for which convenient nook or cranny I had stashed them away in.  I'm good at hiding important things like that from myself.
When I travel, I typically have a 8 ½ X 11" paper printouts of my flight and hotel confirmations along.  This shed some light for me on the size of the Tango Travel Wallet.  These printouts, when tri-folded, fit perfectly inside one of the inner pocket sleeves of the wallet.  Again, I loved the peace of mind this brought me – having all important items I'd need during the journey in one, retrievable place.
Since I had traveled light, that meant I had brought along a carry on bag and one personal tote bag full of miscellaneous things.  As you traveling ladies have likely experienced, this leaves you without a purse.  So when we had a nice evening out, I discovered another advantage to the Tango Travel Wallet.
This travel wallet has a nice elastic wrist strap attached.  And because it zips completely closed, I was able to have my needed wallet items along – plus add my phone, room key, and lip gloss right inside the wallet.  Walla!  It converts to a clutch!  It worked beautifully for this purpose.
I also liked its larger-than-expected size for use inside a briefcase or tote bag.  Very easy to spot and retrieve.  Yep, the design folks at Lug knew what they were doing.
The Tango Travel Wallet is available on Lug's site, and sells for $29.
Lug Two-Step Cosmetic Case
I also reviewed the Lug Two-Step Cosmetic Case.  With two distinct tiers – one for makeup, one for toiletries – this design is unique to anything I've seen before.
Again, keep in mind the new thinking of travel light!  This is not a large case, but it proved to be sufficient for my short trip.  Particularly because I had pulled all my travel sized liquid items, and had them in a separate ziploc baggie, for going through security at the airport.
The top tier isn't very thick, but it has holders for your makeup brushes on one side, and a zippered section for your makeup on the other.  If you take along a lot of makeup, it's not going to all fit.  Say it with me, "Travel light!  Travel light!  Travel light!"  You can do it.
Then the main tier is larger, and can hold your other toiletry items.  It has a removable, clear vinyl, flap style zipper compartment, too – in case you have items you want to keep from mixing or possibly spilling inside the case.
You can see there's an additional mesh pocket available inside this tier divider (shown with Q-tips inside).
And one of my favorite design features?  While this cosmetic case is made from the pretty satin quilted fabric – the bottom of this case is covered in clear vinyl… for those wet or dirty counters they sometimes get set on!  Genius.
Because it's a tad small, I don't know if I will use it for longer, road-trip type vacations.  But for air travel, you really do need a smaller cosmetic case, or else it's not going to fit inside your carry on very well.    I'd say especially for that purpose, it's the perfect size.
Overall:  excellent construction and clever, very functional design. It's a fantastic travel cosmetic bag.
The Lug Two-Step Cosmetic Case sells on Lug's website for $30, and comes in your choice of 12 colors.
Lug – Travel Gear Giveaway
Lug has agreed to give one of my readers this Nap Sac Travel Blanket + Pillow Set!
Open to US Residents.  Enter using the form below
I received the Lug travel wallet and cosmetic case at no cost, for the purposes of this review.  All opinions are my own.
*o*     *o*     *o*
This giveaway is part of my Travel Week Extravaganza. There will be great travel related articles and other travel gear reviews and giveaways all week… so be sure to check out the fun!