Welcome to the first stop aboard Magical Blogorail Red.  Enjoy the ride as we share with you our favorite Disney souvenirs.
Even though I'm the grown up mom of the trip, I am a spoiled brat when it comes to Disney souvenirs.  I totally clean up at the gift shops.  I do purchase for others as well, including my children.  But I purchase for me the most.  Naughty!  I can't help it.
My excuse?  We don't get to fly to Disney World very often.  And as the most obsessive Disney Neurotic in our family, it helps to immerse myself with reminders of the Happiest Place on Earth once we are back home.
The Disney Sweatshirt Souvenir
First order of business, there's the Disney clothing souvenir.  This will become a cherished and pivotal piece of my wardrobe for many moons to come, and as such it must be chosen wisely.
I start by scoping out, at a minimum, one large gift shop from each Park.  This is a time for thorough and careful research, assessing each and every style, color, and design available at Walt Disney World Resort for the current season.
It is not a decision to be made in haste, only to discover on day 4 of your Disney trip that there is a even cuter Tink hoodie available than the one you bought yesterday, and are currently wearing.  In the rain.  With chocolate stains from your melted Mickey Ice Cream on the front.   A rookie mistake.
By the time I'm having a Cast Member ring up that ultimate sweatshirt souvenir (my fabulous choice from our last trip is shown above), I may have fretted for days and literally lost valuable vacation sleep over the Big Decision.  But I know in my heart that it was worth it, because I made the perfect choice.
The Disney Knick-Knack Souvenirs
Second on my list is to seek and obtain a variety of small items to saturate my household with.  This can include anything and everything:  magnet notepads for the fridge (a constant beacon of light, in our home), a key chain, funky pens, or even kitchen accessories.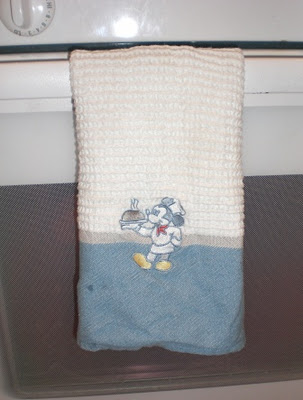 The Disney Memory Souvenir:  Scrapbook
And now we come to my all time favorite.  My old school scrapbook, purchased on our our wonderful "first" trip (as parents, in my modern day Disney history) to Disney World a few years ago.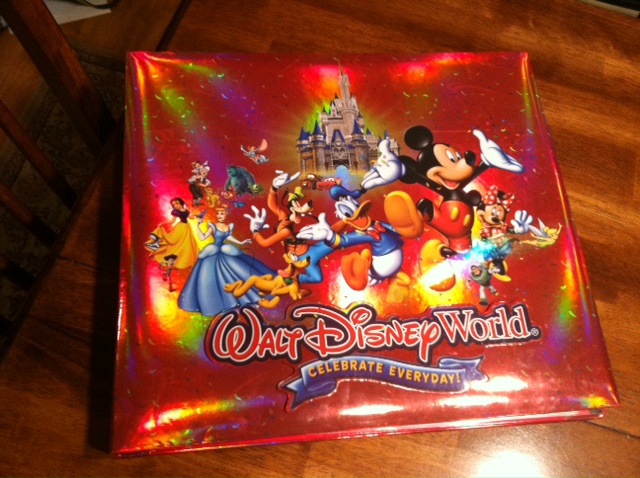 I debated about this purchase, since I was not a scrapper, and had never created a scrapbook before.  I bought an album and scrapbooking kit at our resort gift shop, and after returning home was so glad that I did.
While I haven't maintained a book for each subsequent trip, this one is very special to me.  In addition to photos and Disney paraphanlia, it became a repository for everything from my daughter's monorail drivers licenses, to plane tickets, to our Keys to the World.  Good times!
We still look at this weekly, and it gives me a happy glow inside each and every time.  Which is the ultimate job of a souvenir, right?
*o*     *o*     *o*
Thank you for joining me today. Your next stop on the Magical Blogorail Loop is A World View.
Here is the map of our Magical Blogorail should you happen to have to make a stop along the way and want to reboard:
1st Stop ~ Colorado Mountain Mom
2nd Stop ~ A World View
3rd Stop ~ Growing Up Disney
4th Stop ~ My Dream's Of Disney
Final Stop ~ Disney Donna Kay