I found Travelon while searching for companies that specialize in travel gear.  Travelon offers a range of travel products – including travel bags, wallets, travel purses, and travel accessories.
While I had initially wanted to review one of Travelon's nifty Anti-Theft bags during my recent blogging conference trip, alas, the React Cross-Body Bag they sent me didn't arrive in time to take along.  But let me tell you a little bit about it.
Anti-Theft React Cross-Body Bag Features
Travelon's Anti-Theft bags offer a variety of styling options.  They have three lines, each with its own unique look-and-feel:  Urban, React, and Classic.
Within each line, you'll find a nice range of sizes and shapes – including backpacks, messenger bags, hobos, and cross-bodys.  What makes these bags great is the core, anti-theft features that all of them include.
 Locking Compartment – No worries that a talented pickpocket will steal your stuff while you are distracted
Slash-Proof Construction – They include wire mesh in the outer panels
Cut-Proof Shoulder Strap – Which can also be attached to a chair or post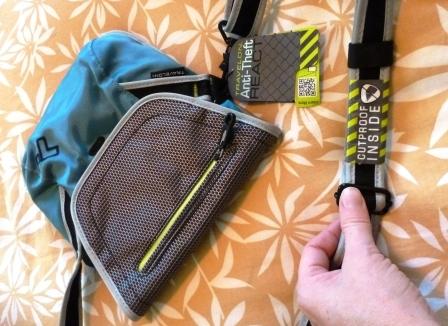 Pretty cool, huh?  No nervously casting glances over your shoulder at every local who passes you by, while touring in Rome.  (I hope for this to be me, next Spring…the Rome part, not the nervous glances part…)
The Anti-Theft bags have certainly been designed to help put a traveler's mind at ease.   Because of these fantastic features, I will definitely be using mine when we travel to Europe next Spring.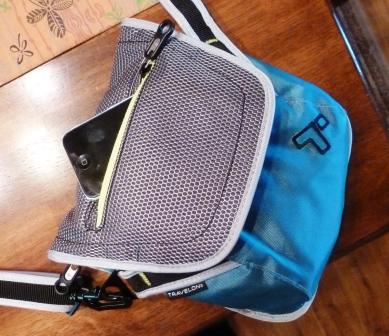 The Anti-Theft React Cross-body bag has two very useful, external zipped pockets.  I found that one worked nicely for my phone (shown above) – which keeps it protected, and makes it easy to locate.
The second outer pocket is considered "hidden", as it is along the back of the bag, and lays flat against your body.  This one works great for my keys, or you could slide in any item which you may need to retrieve quickly.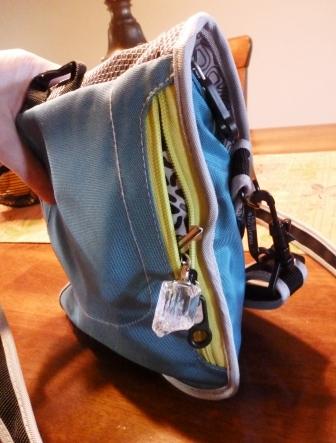 There is an internal pocket which could hold your iPod nicely, with a headphone port for the cord to thread through – allowing you to keep your media more secure, inside your bag.  You know, real hip and urban like.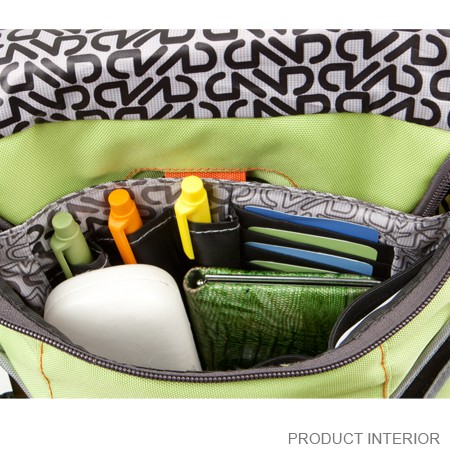 And now the down side.  For me, the Anti-Theft React Cross-body bag is just too small to be practical.  My big fat mom wallet pretty much took up the main compartment.  So for the purposes of this review, I downsized temporarily to a smaller wallet (which I day dream about doing from time to time anyways).  However, I still can't fit a water bottle in it, and for me – that's a deal breaker.
The other thing I wasn't crazy about was the way the strap was attached at an angle.  Granted, this is meant to be worn as a cross-body bag, so it's perfectly designed for that.  But if you are in a hurry, or don't feel like slinging that strap over your head… carrying it by hanging from one shoulder will leave it off balance, even flopping over at times (depending on where you have the internal item weight distributed).
That being said – as far as anti-theft techniques go, it's obviously much safer to wear the bag across your body as intended.  I guess it's just me being lazy.  Again, this is simply a nuance that you would likely only notice when using the bag on a daily basis at home.  If I were on a trip, I would definitely wear it cross-body.
Overall, I really like this great little bag.  It has some amazing features, is an attractive color, and is quality made.  I will definitely use it again in the future for it's ideal purpose:  as a cross-body bag on vacation!  Let's face it, you don't want to be lugging around your heavy, huge everyday mom purse when you travel anyway.  This is a perfect solution.
Travelon Anti-Theft React Cross-Body Bag Review
What I Loved:
Anti-Theft Features – awesome for peace of mind while traveling
Trendy, Hip Styling
Two outer zipper pockets
Teal color is gorgeous (not as bright at it seems in online picture)
Numerous internal pockets for organization
What I Didn't Love As Much:
Small Size
Angled attachment of shoulder strap (requiring cross body wear)
The Travelon Anti-Theft React Cross-body bag comes in 4 different colors, and is available for $50.
If you do decide to purchase Travelon Anti-Theftbag , I'd recommend also checking out the other sizes and styles in the Anti-Theft line that they have available.  I saw many larger options, so they can definitely accommodate your personal preference and needs.
All of them will include those great anti-theft features.
Travelon Offers a Full Range of Travel Accessories
When you check Travelon's site, you'll also find they carry a full range of handy products designed specifically for efficient, safe, and comfortable travel.  They have sections for toiletry items, cosmetic kits, computer cases, ID and security items, and travel comfort and health products.
For example, I also spotted these nifty toothbrush covers and requested a set.  If you haven't upgraded from old style full toothbrush cover, that would get all grimy inside and was impossible to clean – it's high time.  This is a vastly superior design.
This set of Anti-Microbial Toothbrush Covers sell for $8 and include four covers, in varying colors.  Easy to use.  Ventilation for drying.  And a suction cup on the back, to hang on the mirror if you choose.
Travelon Anti-Theft React Cross-Body Bag Giveaway
Travelon has agreed to give one of my readers a React Cross-Body Bag.  YAAAY!!  As a bag lover – I'm pretty darn excited about this giveaway!
This giveaway is part of my Travel Week Extravaganza. There will be great travel related articles and other travel gear reviews and giveaways all week… so be sure to check out the fun!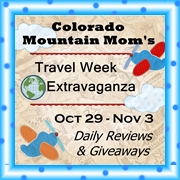 Open to US residents.  Enter using the form below.
Travelon provided me with the products described in this review at  no charge, for the purposes of this review.  All opinions are my own.
a Rafflecopter giveaway