Do you find it hard to pay for water when you're away from home?  This has always been my stance, and as a result I have quite a collection of water bottles.  I found Vapur while searching for a quality collapsible style water bottle to test out during my upcoming air travel.
 Vapur, "The Anti-Bottle", makes foldable, reusable water bottles.  Extremely light and portable, they take up almost no room in your bag.  Plus they are affordable ($9.99 – $11.99), and come in some colorful and varied designs – including the Quencher collection for kids.
Vapur Collapsible Water Bottle Features
Each of the Vapur collapsible bottles features a harbinger type clip to attach to your gear – a must have for a good water bottle, in my opinion.   I was surprised to hear you can also fill and freeze them, and that they are dishwasher safe.
Here is a list of features from their website:
•Reinforcing Grommet
•Sport Cap
•Durable 3-ply construction
•Taste free & odor resistant
•Dishwasher safe
•BPA Free
•Made in the USA
•3M Stickers
•Reusable
•Foldable
•Freezable
•Attachable
Vapur Collapsible Water Bottle – Element
I tried out an Element, distinguished by its SuperCap™.  Since I like my water cold, and want to be able to add ice (when available)… this cap would definitely be what I'd recommend.  It has a wider opening, and I liked the flip top style.  When closed, it was completely leak proof.
While the Vapur bottles would work well for outdoor use, my intent was to try one out during air travel.  Weight and space are premium issues in this day of excessive airline fees and subsequent carry on bags.
I like to bring a water bottle to fill in a water fountain or restaurant within the airport, but the space it will take in my bag always makes this a questionable choice.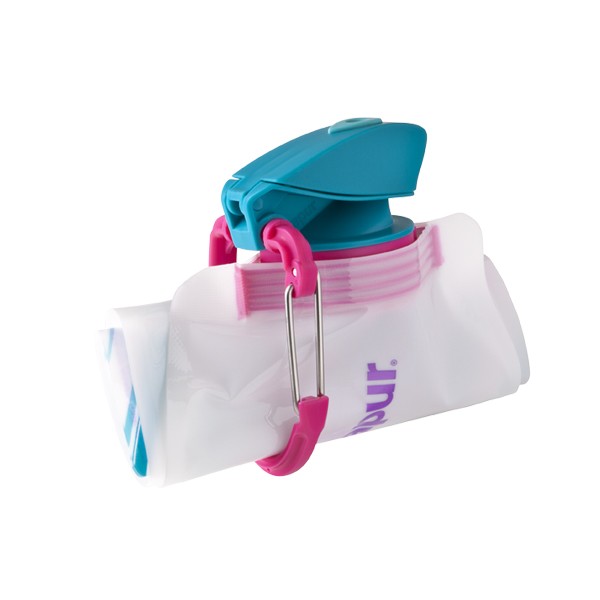 You obviously need to initially go through security with an empty water bottle. Look how tiny and compact this sucker gets when folded up.
Once I got through screening and found my gate, I headed to the nearest fountain to fill my bottle up.  I was only a few minutes into my trip, it was a cranky 5:30 a.m. time of day, and yet instantly three ladies excitedly came over to me… asking about my Vapur collapsible water bottle!  They thought it was the slickest idea they'd seen in a long time, and wanted to know where they could get one.
Being malleable, I found that it fit nicely in a variety of situations.  And it served me much better than a full size hard bottle would have, on the plane.
Drinking from a collapsible water bottle is a tad different, as you have to grip it more gently.  If you grab it the wrong way, with the wrong tension, you'll find yourself taking a mini squirt shower.  And at times the flip top lid would flip back down on to my nose, when taking a drink.
Because I've only used the product for a week or so, I can't speak to the long term durability.  I'm curious myself to see how long they will last, and what kind of rugged use they can withstand.  Their website states that they last 3 to 4 years, depending on use and abuse.
Will I use the Vapur bottle when hiking?  I'm not sure.  To be honest, I'd probably stick to traditional hard bottles for this.  Although I will likely still try them out, since the almost complete weightlessness is definitely an attractive feature.
Will I use the Vapur for air travel again?  Absolutely.  I'd give this a two thumbs up in the Valuable Travel Gear category.
Will I use my Vapur Element for every day purposes?  Yes.  This will be going in my "on the go" tote bag, which I take with me all the time.  Because the collapsible style enables it to take up virtually no space, it's a great piece of gear to always have available.
Overall, I was very happy with the Vapur Element.  It will definitely be something my family and I put to further use in the future.
Vapur Collapsible Bottle Review
What I Loved:
Excellent use as travel gear
 Light, adding virtually no weight to your bag
 Very compact, when space is an issue
 Large enough opening for ice; I recommend the Element with a SuperCap™.
 Affordable – prices appear to run $9.99-$11.99
 Useful Clip, to attach to your bag or gear
 Attractive colors and designs
What I didn't love as much:
Flip top hitting me in nose.  I'm not seriously injured.  Just a mild annoyance.
Have to grip more delicately than a hard bottle.  (This would be true of any collapsible bottle, and is not a flaw in Vapurs bottles by any means.)
Vapur Collapsible Water Bottle "Element" Giveaway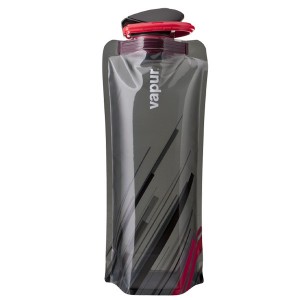 Vapur sent me an extra Element – so one of my readers will get to try one!  Yeah, you!
This giveaway is part of my Travel Week Extravaganza.  There will be great travel related articles and other travel gear reviews and giveaways all week… so be sure to check out the fun!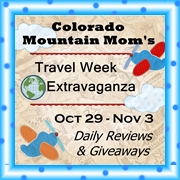 Enter using the form below.  Open to US Residents only.
I received the product described at no cost, for the purpose of performing the review.  All opinions are my own.
a Rafflecopter giveaway