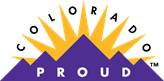 Check out these great products, made proudly in Colorado.  There are some tasty looking gift ideas here!
I've tried the Decadence Gourmet Cheesecakes before, and can testify that they are delicious and fun – made in individual sized jars, and sold in "6 packs".  Looking forward to testing out some of the other products mentioned below… I noticed there's a product local to me, made from Palisade peaches.  Well, now – that's always a good idea!   And there's even something special for that furry love of your life.
*o*     *o*     *o*
Great Gifts – Colorado Products
Colorado gift baskets from RegionalMakers.com
Share the Colorado Proud love to friends and family that live outside of the state. The Big and Little Colorado gift baskets are filled with delicious Colorado products in a unique, ready-to-ship Colorado gift box. From cheese and crackers to dried fruits and chocolate, these baskets will give recipients a "taste of Colorado." For ordering information visit www.regionalmakers.com.
 Cheesecake in a Jar from Decadence Cheesecakes
Six individual gourmet cheesecakes, baked fresh in recyclable glass jars and shipped right to your door. With more than 25 flavors, you can mix and match for your gift package and include a personal message. For more information and ordering, visit www.decadencecheesecakes.com.
Fire-roasted jelly trio from Hacienda Maize
This decedent trio of fire-roasted jellies is a great gift idea for friends, coworkers and those "foodies" in your life. The jellies are all natural, made with Colorado-grown chiles, premium spices and fresh local produce. The trio comes pre-packaged in a gift box so you don't even have to worry about the wrapping. Visit www.HaciendaMaize.com for more information and to order.
Gourmet spreads from Loredana's
What do you get those "foodie" friends that are so hard to please? Hand made and packaged right here in Colorado, these Italian-inspired spreads, vinaigrettes and marmalades from Loredana's are sure to impress the most refined palate. For more information and ordering, visit www.loredanas.com.
S'mores kits from So Much 'Mores Campfire Desserts
These gourmet s'mores kits are perfect for everyone. The pre-packaged kits come with graham crackers, chocolate and marshmallows, and are easy to make in the microwave so you don't even need to worry about the campfire. With unique flavors such as Cozy Cinnamon Apple and Pike's Peak Peppermint, you'll be sure to make everyone asking for s'more. For ordering information, visit www.SoMuchMoresCampfireDesserts.com.
Dog treats from Auntie's Cookie Kitchen
Don't forget about your four-legged friends. Auntie's Cookie Kitchen dog and horse treats come in a variety of flavors, including peanut butter and bark-b-q and are locally baked with Colorado ingredients and no artificial colors or flavors. Make those tails wag by visiting www.auntiescookiekitchen.com.
Grappa and Brandy from Peach Street Distillers
Palisade, Colorado is home to more than peaches. Bourbon, brandy, grappa, gin and vodka are all distilled locally at Peach Street Distillers. These unique-looking bottles make a great gift for a host or hostess, client or boss, and those family members of legal drinking age. Visit www.peachstreetdistillers.com for more information.
 *o*     *o*     *o*

I will be receiving some free samples of the products described above, at no charge.  Opening remarks are my own opinion.  Product description content not authored by me.