This past Fall I was able to attend the "Conversations With Coca-Cola" blogging conference, in downtown Atlanta.  On the agenda, a tour of their notorious museum World of Coke.
Between the fascination with Coca-Cola's secret formula to the impressive story of this beverage giant enduring and growing to become the world's largest (500 beverage brands in 200 countries) – there's a whole lot of interesting history to behold here.
I'm going to try and give you a photo walking tour of the fun exhibits we were able to take in at World of Coke, along with relaying a couple of the stories that our Coca-Cola Historian tour guide told us along the way.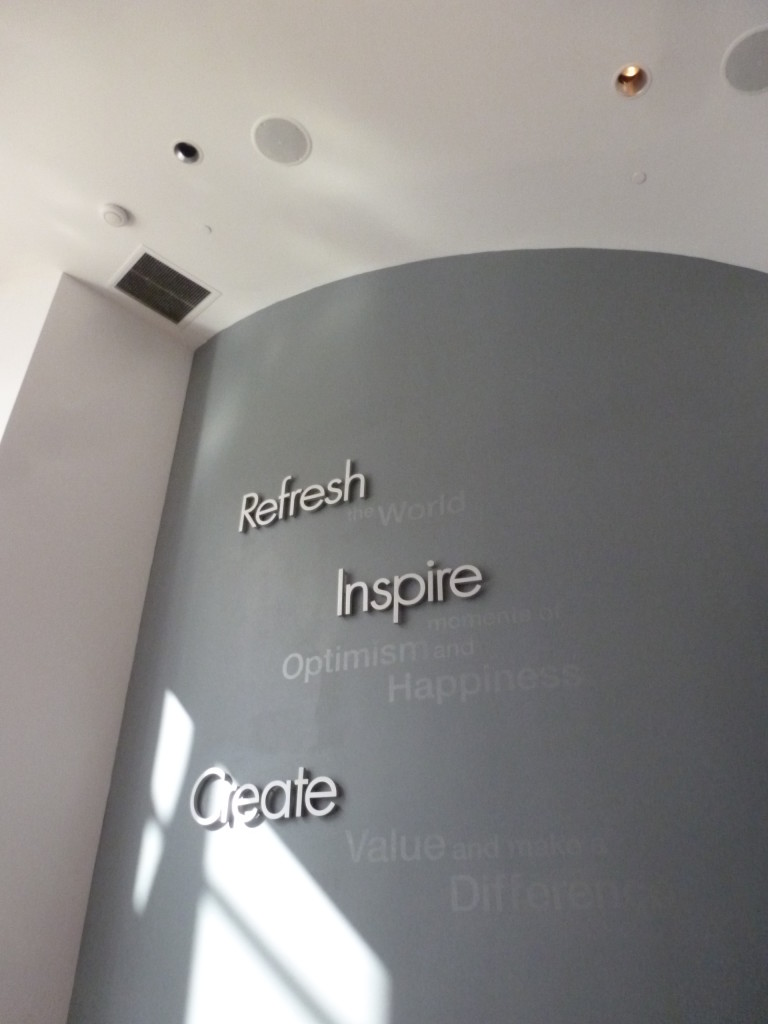 World of Coke ~ Coke Polar Bear Character Greeting
No doubt it's the grown-up-kid, Disney-World-lover in me… but I was awfully excited about getting to meet the Coca-Cola Polar Bear.  When you first walk in to the main central area of the museum, there is a gorgeous central atrium.
On the main floor is the character greeting spot.  We got the royal treatment, when the Coke polar bear came over for a special pose with our group on the nearby staircase.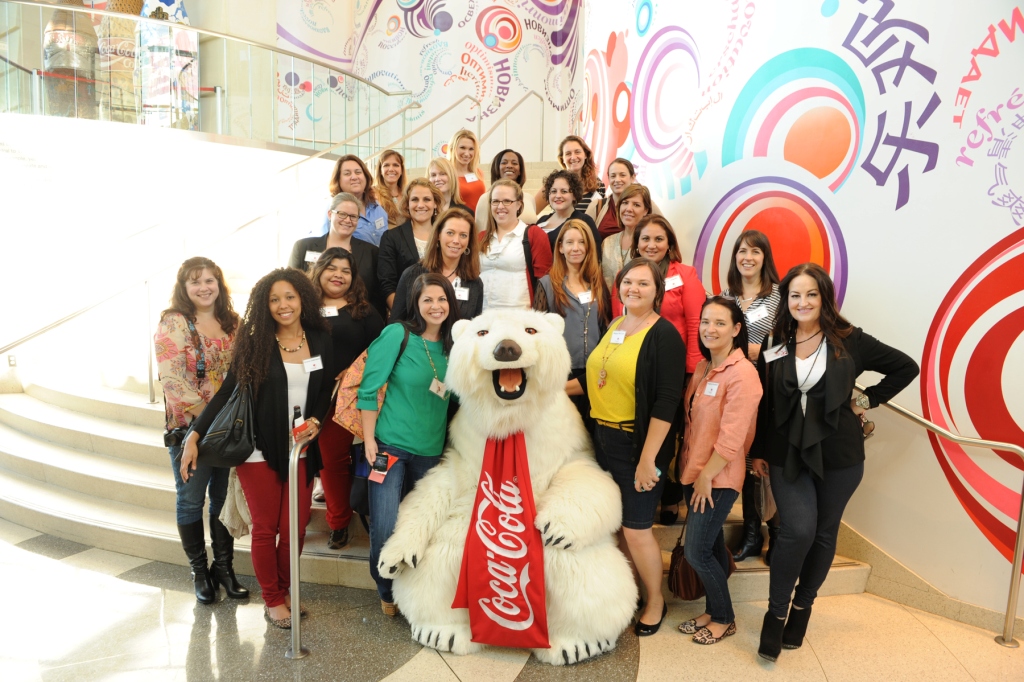 Displaying playful, domesticated polar bear-like behavior… be forewarned that he will go in for that close up camera investigation.  And lick.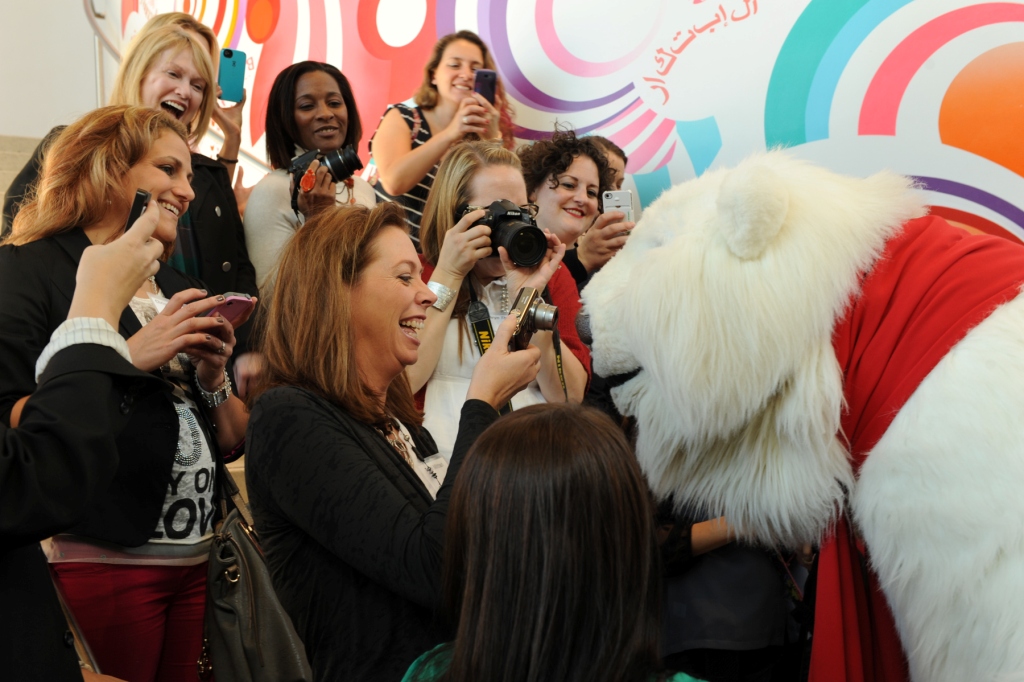 Although I was initially caught off guard by this, he doesn't bite.
World of Coke ~ Museum
I never stopped to think about all the movie and sports stars which have been involved with endorsing Coca-Cola over the years.  All the associated memorabilia and vintage-feel memories were both interesting and fun to see.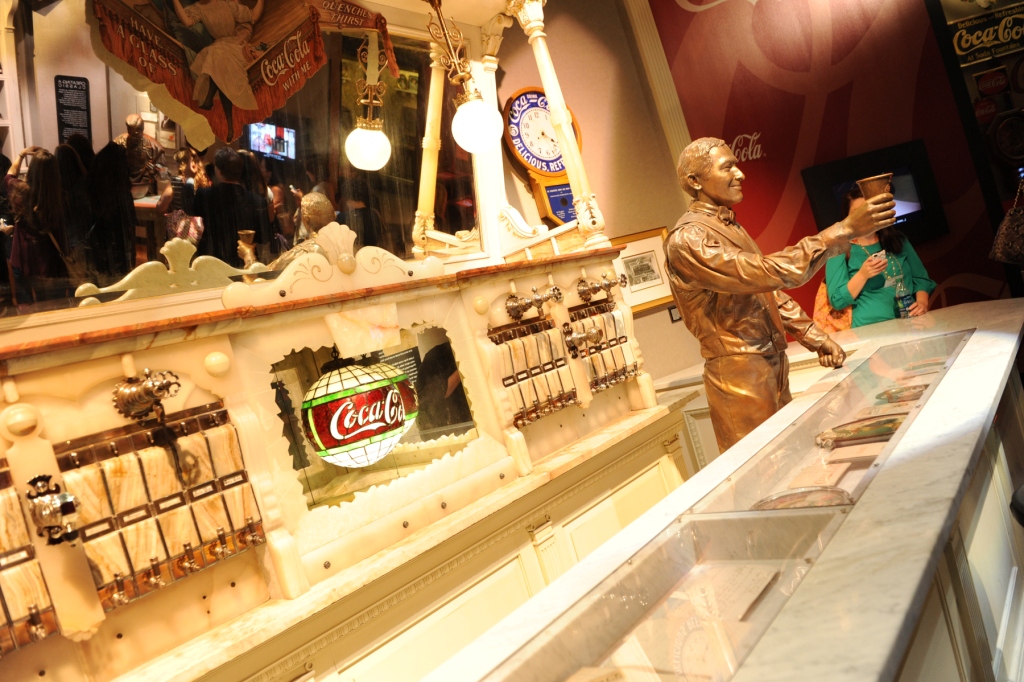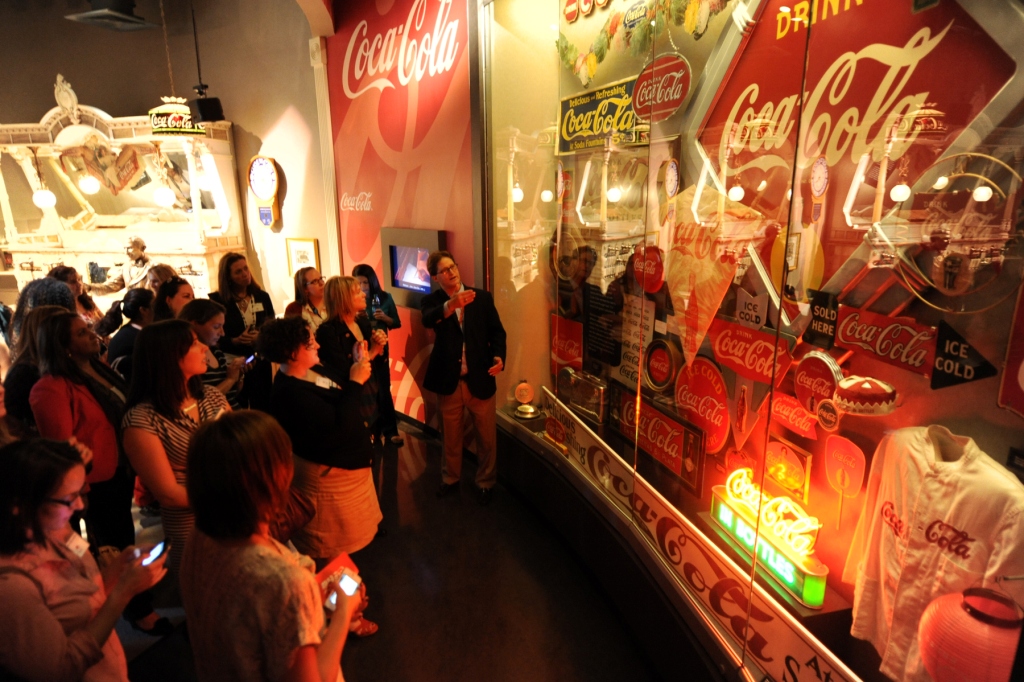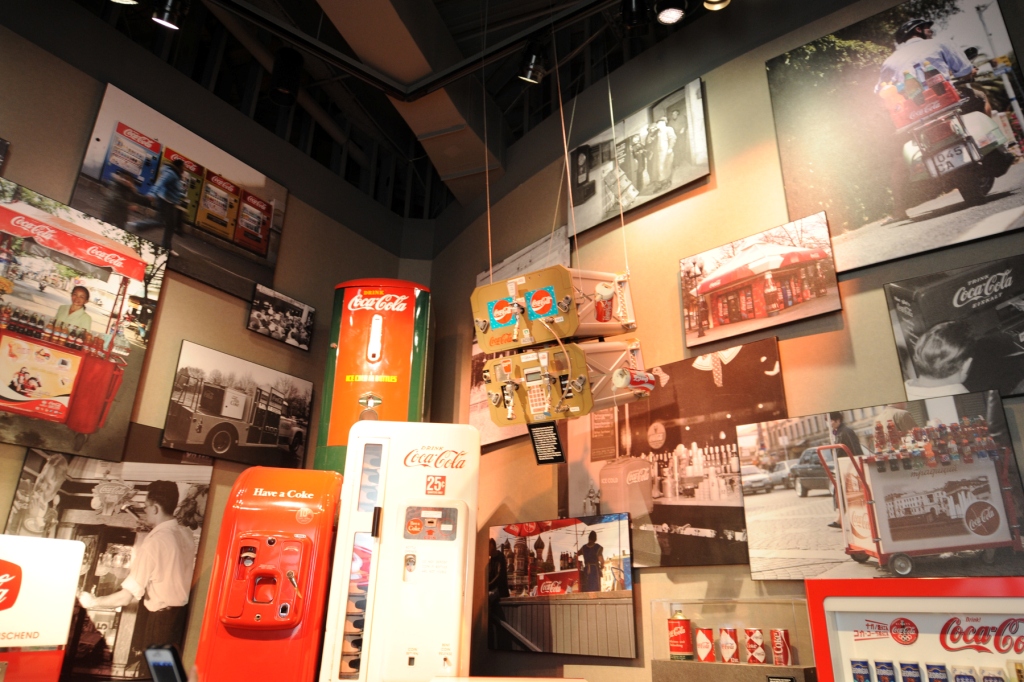 Coca-Cola is the longest continuous supporter of the Olympic games, their sponsorship beginning back in Amsterdam, in 1928.
Because of this ongoing relationship, there are a number of historical Olympic torches on display at World of Coke.   Our guide explained when a sponsor donates money to the Olympics, they are allotted a proportionate number of legs during the Olympic Torch Relay.
For the last Olympic Games in 2012, Coca-Cola was allowed to select 22 outstanding athletes and achievers for the opportunity to carry the torch, during a relay leg of that monumental event.
World of Coke ~ The Origin of Coca-Cola's Formula

Inner chamber, as you head in to see the Vault of the Secret Formula
Did you know that the creator of Coca-Cola's distinctive flavor formula was actually an apothecary?  The intricate balance of distinctive flavors the Atlanta pharmacist Dr. John S. Pemberton was able to combine in 1886 has alluded thousands of wanna be copy cats for years.
Our Coca-Cola Historian and Tour Guide shared with us part of the interesting history of the secret formula.
For years, the formula was carefully guarded and did not exist on paper (or documented in any other fashion).   The Coca-Cola formula itself was not patented for that very reason – since Pemberton didn't want to have to write it down for the patent submission.    Hence, he patented the resulting Coca-Cola beverage instead.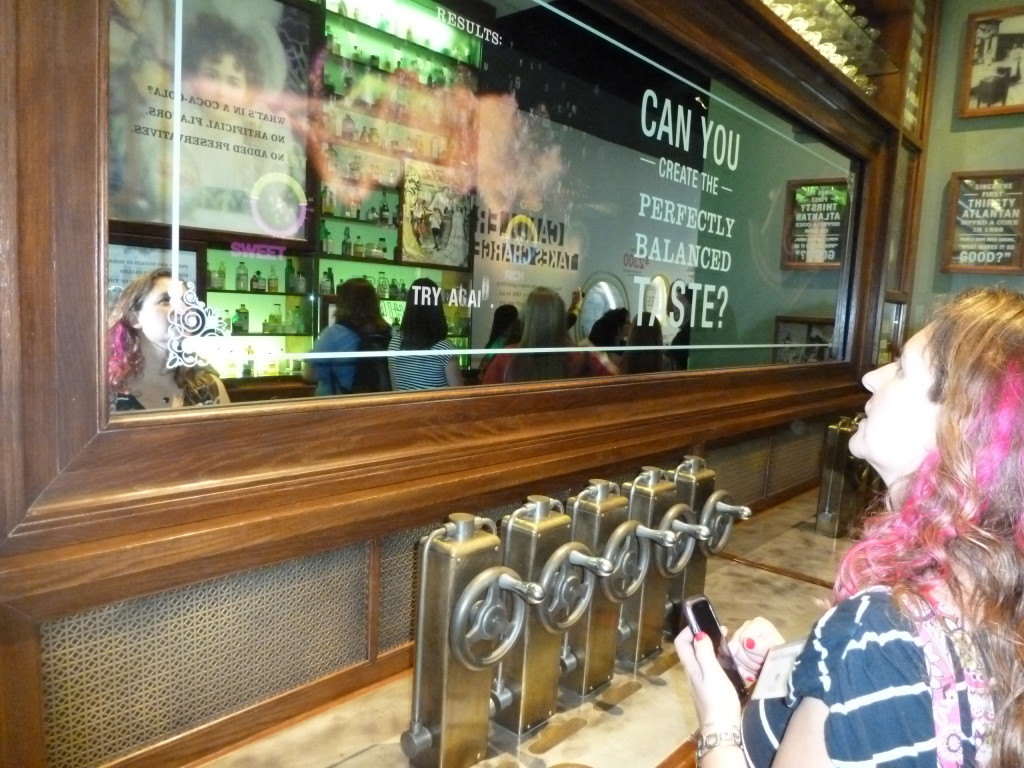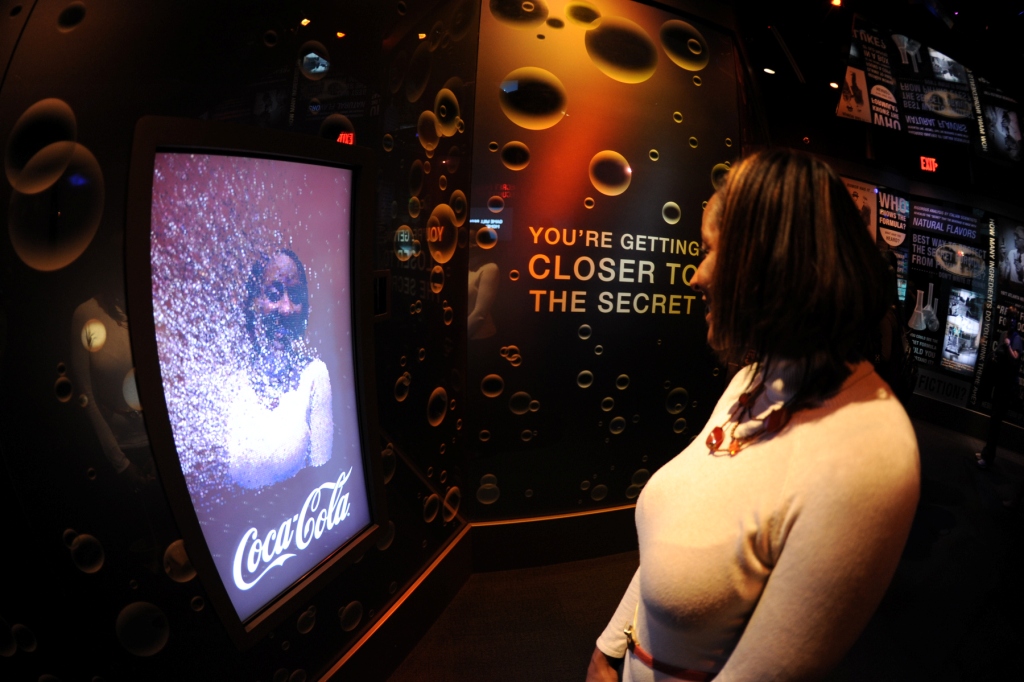 Ever wondered how they keep the formula truly a secret, for example – what about the people who "make" Coca-Cola?
Bottlers receive the Coca-Cola syrup, so there's no risk there.  But who makes the syrup?  The process is divided, in part from manufacturing necessity, and part for secrecy.  I believe our historian told us that there are chemistry labs who put together a "secret 7" combination (can't recall exactly what he called this).  They don't even realize it's actually the secret, perfectly balanced, pivotal ingredient for creating Coca-Cola! 
This "secret 7" is then delivered to another manufacturer, who combines it with the rest of their recipe for making the Coke syrup, which is then distributed to bottlers.
World of Coke ~ The Vault of the Secret Formula
Fast forward a few years after the Coca-Cola patent is obtained, and the secret formula is still not written down….
Alas, due to a series of events during which the Coca-Cola company changed hands, when financiers needed the bank to guarantee their loan to purchase Coca-Cola the written formula was the bank's collateral requirement.
For years after that time, the now documented formula was stored securely in a bank vault.  But in December of 2011, that formula was moved to the World of Coke museum!  "The Vault" which actually contains this formula is now displayed to the public for the first time ever.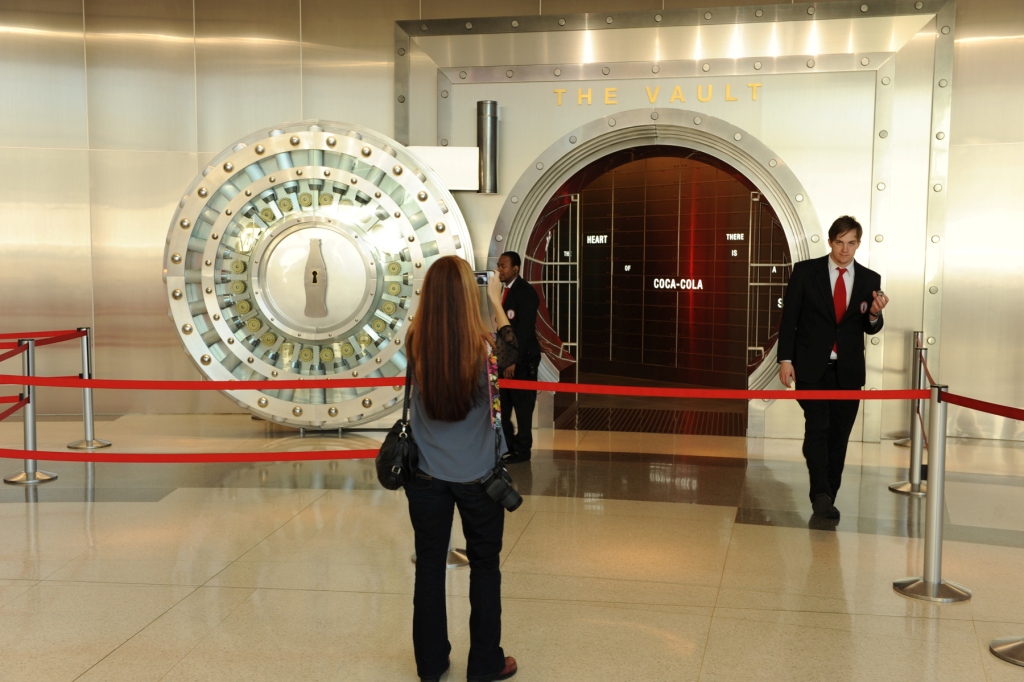 Then they turn on the lights, for photo opps.
World of Coke ~ Distinctive Coca-Cola Bottle
Coca-cola beverages are actually bottled by a number of different bottling plants.  In the past, most of these were independent, privately owned bottlers.  Coke has since purchased most of them, except for a couple of the largest.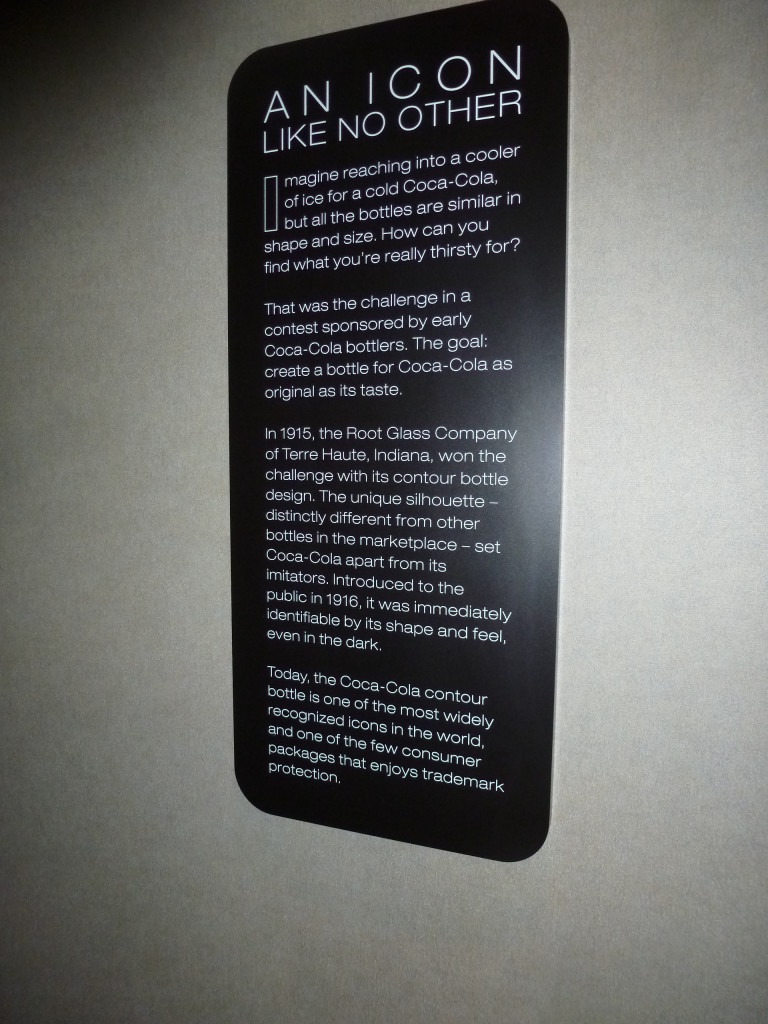 Among the biggest challenges for early bottlers, were imitations of the beverage by competitors coupled with a lack of packaging consistency among the 1,000 bottling plants at the time. The bottlers agreed that a distinctive beverage needed a standard and distinctive bottle, and in 1916, the bottlers approved the unique contour bottle.
The design quest for this perfect bottle was a challenging undertaking and competition.   A sampling of the contenders can be viewed at the World of Coca-Cola.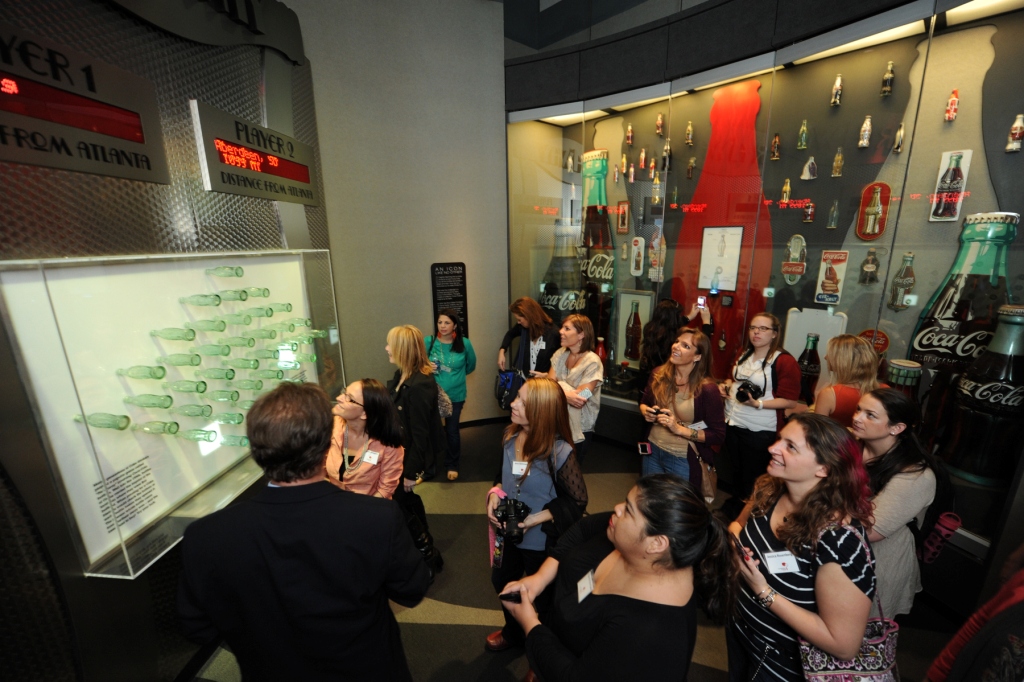 One of their core criteria?  That the new Coca-Cola bottle was so distinctive it could be recognized in the dark.
The winner?  The contoured, ribbed Coca-Cola bottle!   Trademarked in 1977, it effectively set the brand apart from competition.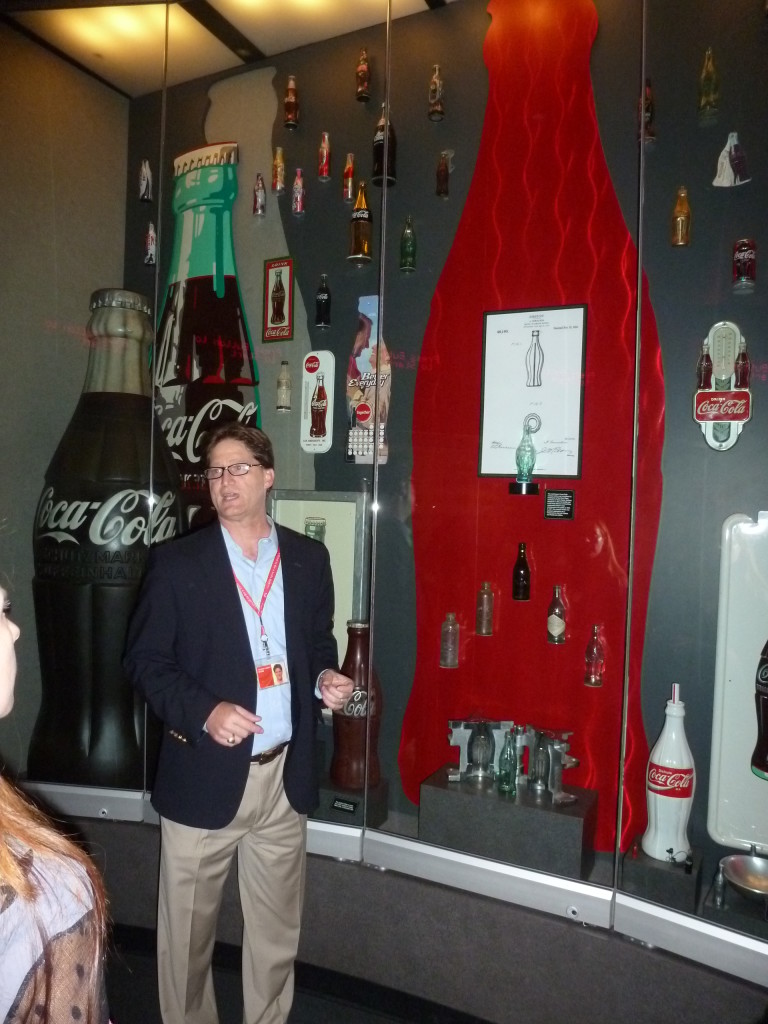 World of Coke ~ Taste It!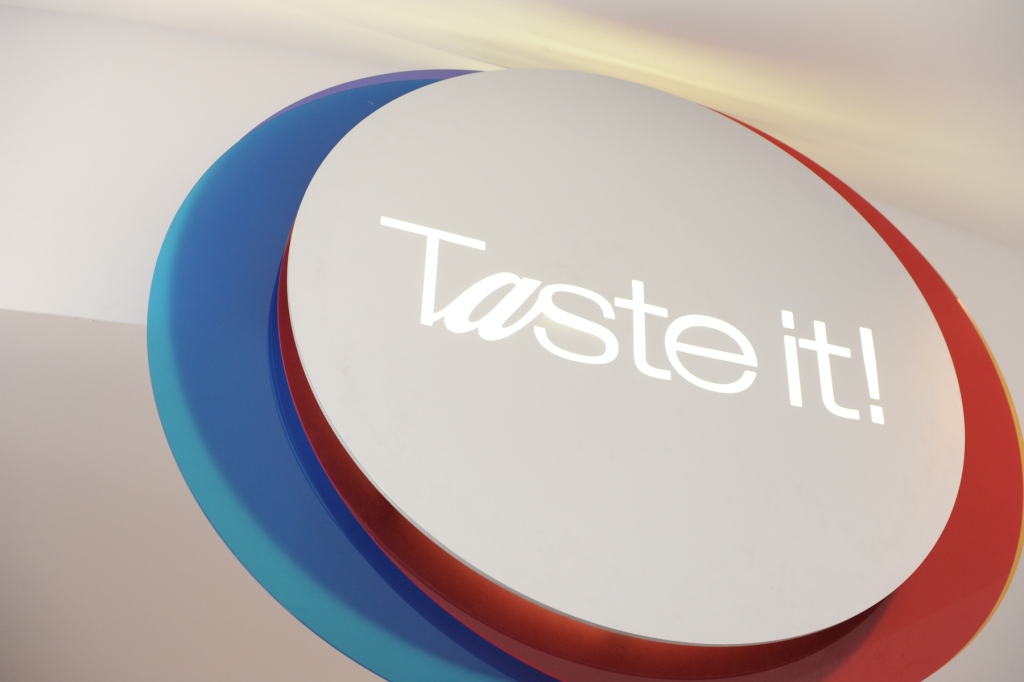 If you've ever been to Club Cool in Disney's EPCOT theme park – you're familiar with some of the unique flavors of soda bottled by Coke for other parts of the world.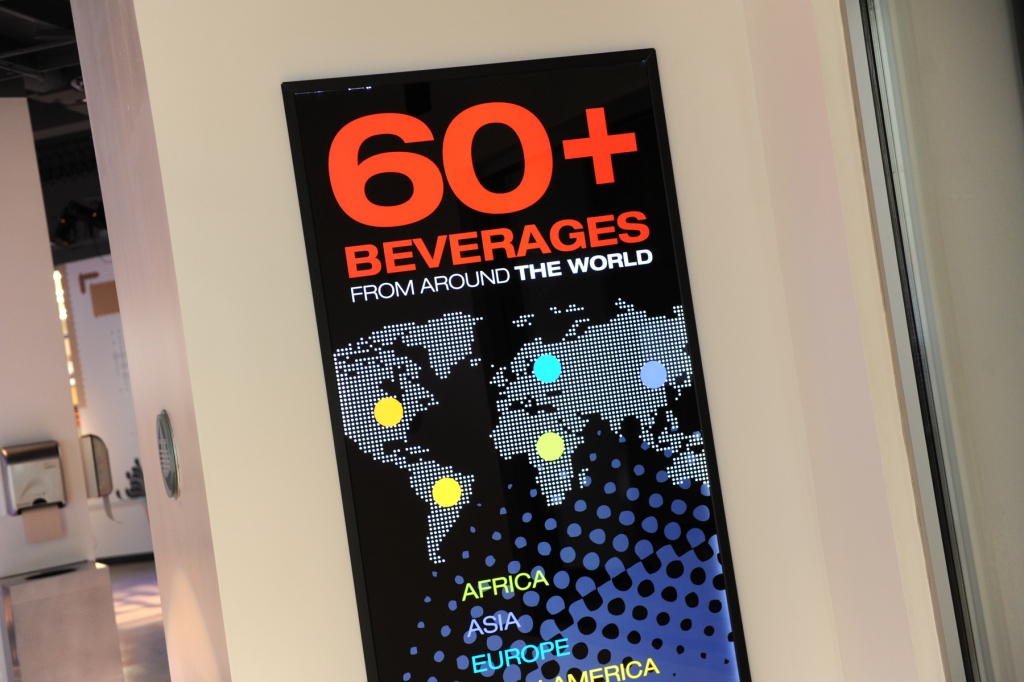 "Taste it!" offers you the chance to try free samples of number of these sometimes surprising flavors (quite a few more than the meager selection at EPCOT!).   Drink stations are grouped by flavors sold on each continent.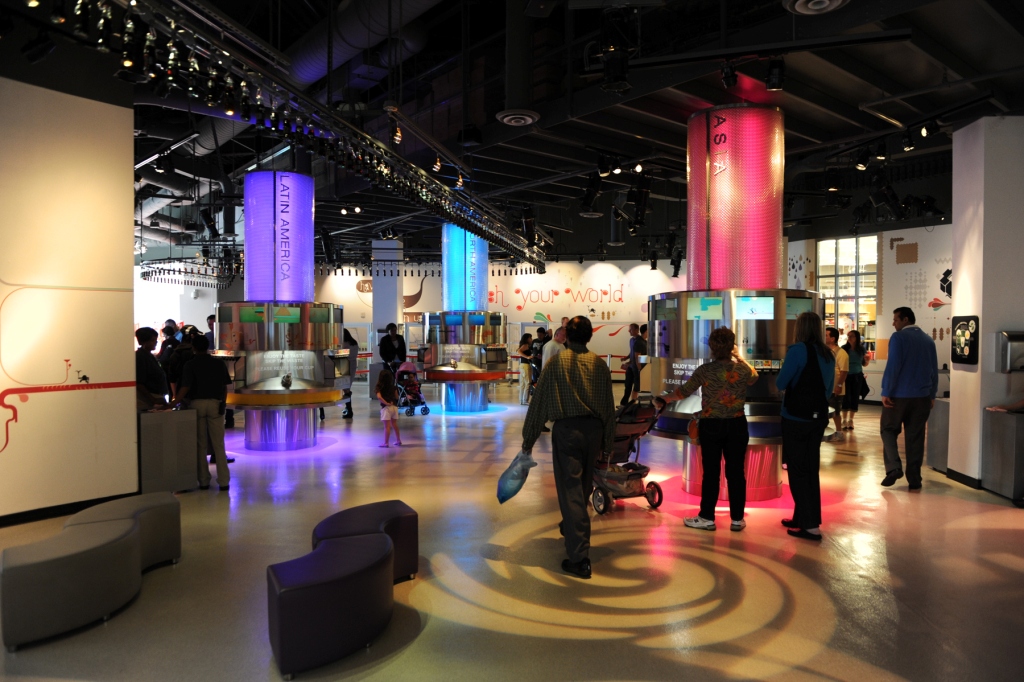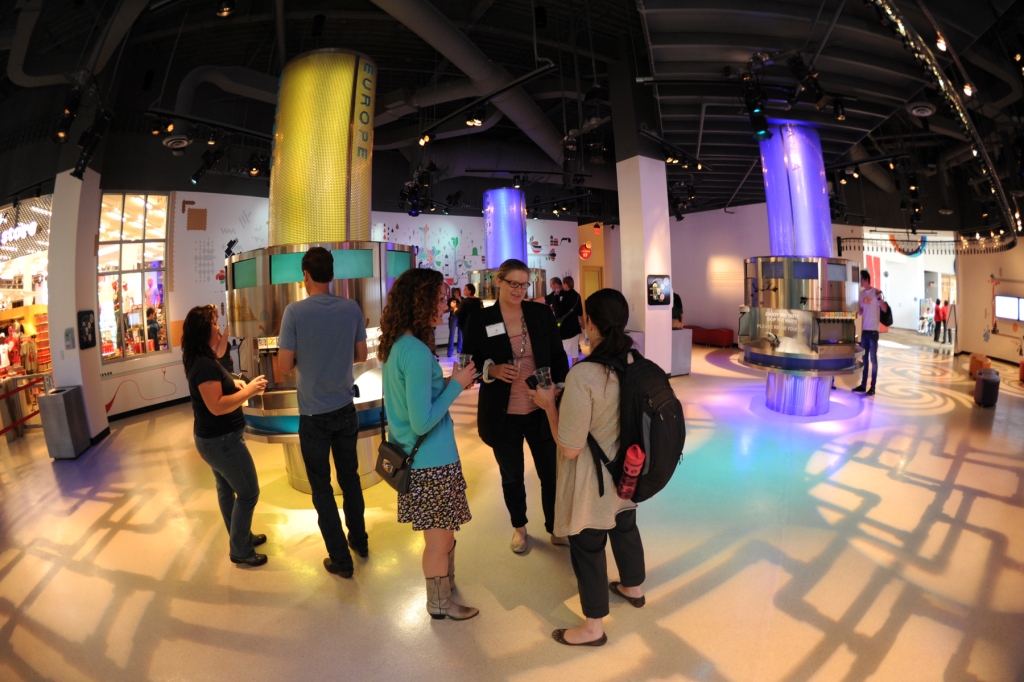 This is the last stop before you leave the World of Coke museum, via the gift shop.  One classic for the road, and you've got yourself a nifty free souvenir of your experience here.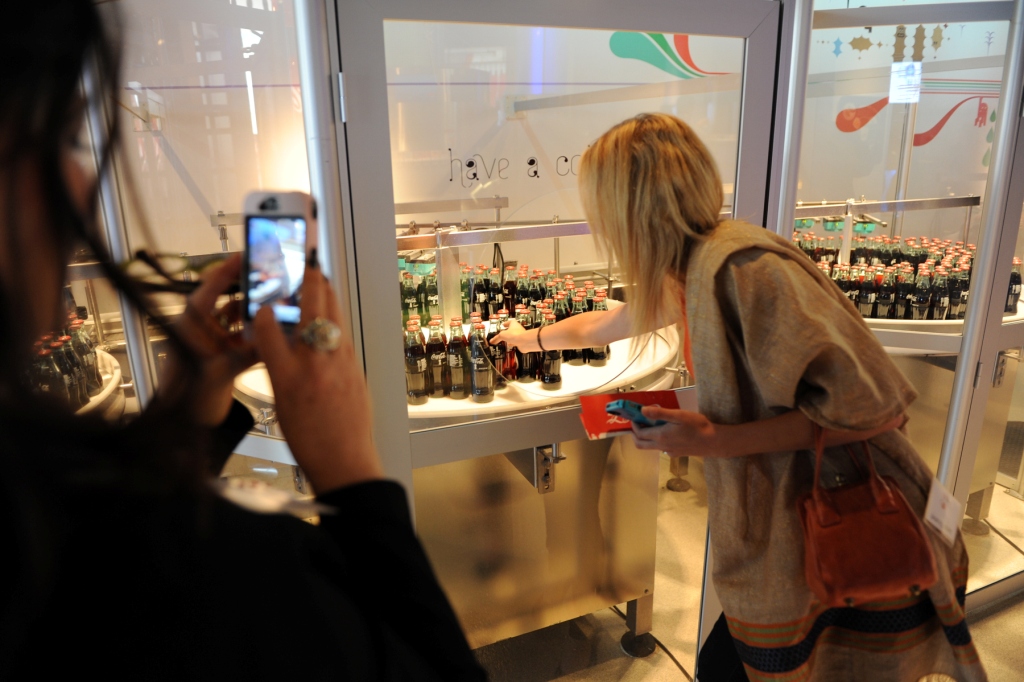 World of Coke~ Gift Shop
What kind of tourism post would this be without mention of the gift shop… that pivotal institution of any place we pay to visit?  Here's a peek at what they offer.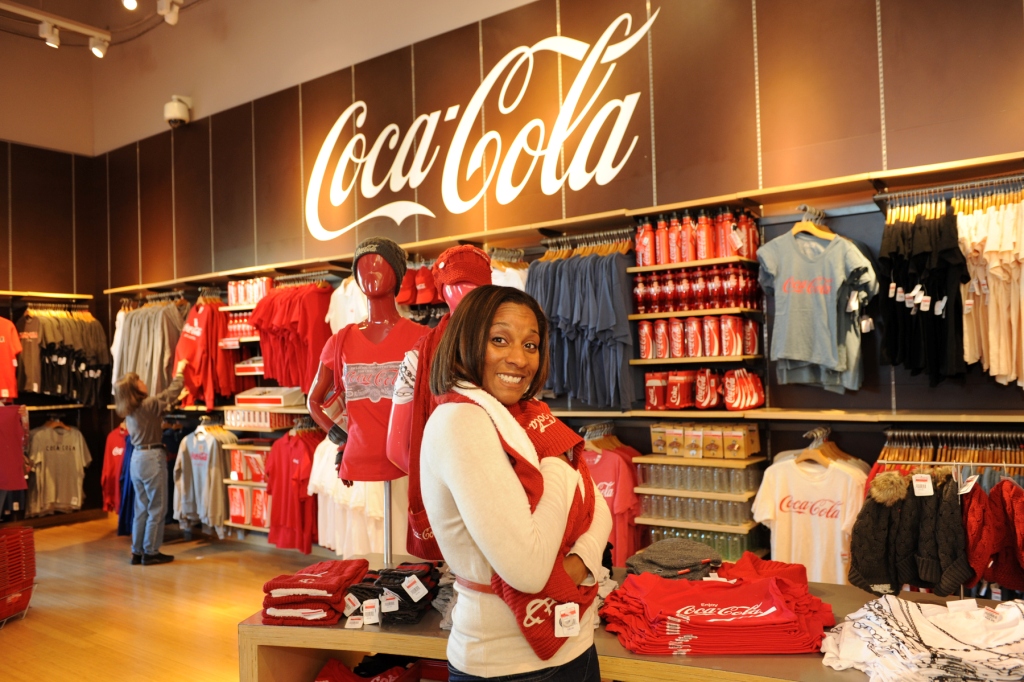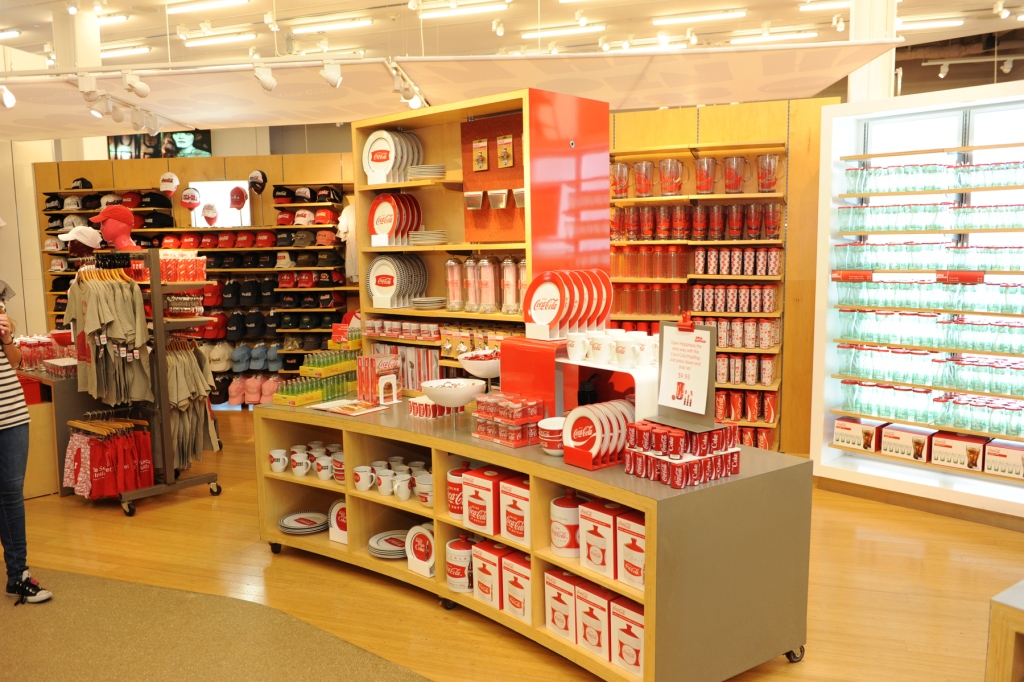 World of Coke ~ A Fun Atlanta Destination
I did not get a chance to take in all that World of Coke has to offer.  And if we ever find ourselves in Atlanta, I will most definitely take my family there.  You could easily spend a half day (or more… depends on how fascinated you are by Coca-Cola) being entertained by this enjoyable attraction.
There is an admission charge, but the two stories packed with both interesting and fun exhibits certainly make it worth it.  Check out their helpful and informative website to learn more, if you are interested in a visit.
*o*     *o*     *o*
I was a guest of Coca-Cola during my visit to World of Coke, and my expenses were paid.  All opinions are my own.