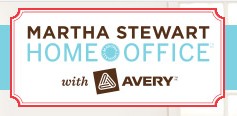 Although we have certainly entered the age of technology, I still find myself with loose odds and ends, papers, important receipts, hand written notes, coupons, and business cards floating around my life.  How do you stay on top of it all?
I was recently introduced to the Martha Stewart with Avery discbound notebooks.  This system is highly customizable, and offers a flexible solution to keeping that on-the-go person organized.
Martha Stewart Discbound Notebook Features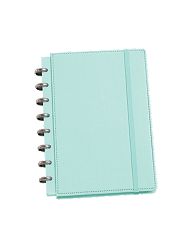 You start your journey to organization by selecting the size and attractive cover that appeals to you most.  The base discbound notebook will start you out with:
60 sheets of narrow-ruled paper
Includes one clear storage pocket
Inside flap (holds loose papers and business cards)
Coordinating elastic band closure
11 pages of Martha Stewart bonus content, a special dates section, and a four-year reference calendar (in condensed form, not something you could write appointments on – you'll want to purchase the full calendar insert for that)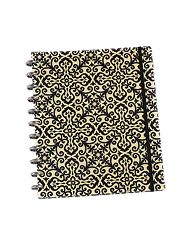 Then just add any of the accessory inserts that you'd like to use, to customize your notebook for your intended use.
Choose from additional vinyl pockets, a full monthly calendar, colorful plastic tab dividers, narrow task list pages, or just additional full sized blank notebook sheets.
Martha Stewart Discbound Notebook – Ideas for Use
Inside, the discbound notebook included a page with a couple of suggestions for use (I love both of these ideas):
Planning Notebook:  Numerous options to keep your bits, pieces, and plans all in one place.
Recipe Book:  Grow your collection in one place, use dividers to separate recipe types; use the task pad for grocery lists; and the planner pockets for loose clippings, coupons, or printouts.
I actually plan to use mine as a Mobile Blogging Office – to track contacts, commitments, post schedules, and upcoming theme and article ideas.
Martha Stewart Discbound Notebook – My Review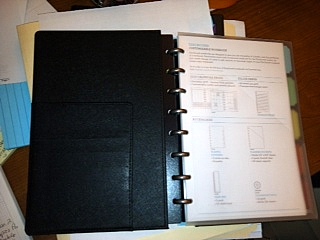 One of the things I like most about the Martha Stewart discbound notebooks is how the center binder and cut-outs on all inserts make for such easy arrangement (and re-arrangement).
You don't have to snap open and then close the center binder each time in order to add, remove, or move contents.  Every customized accessory insert has slots carved along the edge, so they can be easily added or removed by simply pushing them into place – they grab the "discs" with just the right fit and force.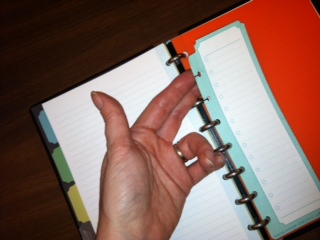 The pages seem to stay in place, and glide easily when turning.
I found the Martha Stewart discbound notebook itself to be of great quality.  I received a 6 1/2 X 9″ textured black, and I think this size is perfect.  It's a nice mid-range option, not too large and bulky, but not too small like a pocket calendar would be.  The elastic strap you can wrap around the entire contents is a nice touch.
The vinyl pocket insert is very useful, I may actually order another one of those.   And the rainbow colored tab dividers are a must, in my opinion.
The standard blank pages it comes with are made from a nice quality of paper.  But for some reason, the task pad paper is quite thin and flimsy.
Maybe the assumption is that the notes and lists you'd use the task paper for would be of a more temporary nature.  At least they are cheap (3 pads for $4.95), so I guess it's a trade-off.
I also thought the calendar inserts were a bit expensive.  But unfortunately that's typically the case with all organizer systems.
Martha Stewart Discbound Notebook – Where to Find Them
Overall, this tool is a great option for a busy person to utilize.  I think its customizable nature and quality make it worthwhile, and something I will definitely put to good future use.
The Martha Stewart with Avery discbound notebooks and accessories line is offered exclusively at Staples or online at Staples.com.
*o*     *o*     *o*
Samples of the Martha Stewart with Avery discbound notebook line were provided to me at no cost, for the purposes of this review.  All opinions are my own.