I had my fake tan, perfectly timed pedicure, and cruise wear cover-up style dresses (not my typical garb) all ready to go, for my very first cruise!  After finally convincing my hesitant, prone-to-motion-sickness husband to give this type of vacation a try for our 10th anniversary trip with no kids, I was certain we were going to love every minute of it.
Now recently returned from this maiden voyage of ours, and at the risk of sounding like a negative party pooper, I'm here to report that much to my surprise I've discovered cruising is not for me.
Don't get me wrong, we had a wonderful trip.  And there are definitely some charming and enjoyable aspects to vacationing on a cruise ship.  The food was great, we had fun filled days at port, and being a girl raised on the river – I absolutely love being out on the water in any type of boat.
But alas, there were a few not-so-savory aspects to our cruise, which I found myself unprepared for.
Camping On The Sea
Pay careful attention to the terminology when booking your first cruise.  For good reason, the space where you will be sleeping is often referred to as a cabin, not a room.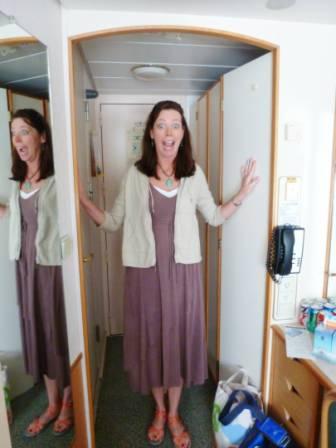 I missed picking up on this nuance.  I realized it would probably be somewhat small.  But still, we'd be staying in an ocean-view room.  The term "room" leading me on some subconscious level to anticipate something similar to a hotel room.
No, I'm afraid "cabin" is a much more appropriate description.  Because space-wise, that's what it felt like:  camping.  I felt like I was in a [swaying] camper.  You know, minus the benefit of being surrounded by unoccupied, open spaces and that peaceful feeling of remoteness from other humans you get, when truly camping.  Since we were all crammed in together like sardines.
Sicky, Sicky
Since my husband is the one who occasionally suffers from motion sickness, he's the one I was worried about getting sick on our cruise.  He's the one who'se been a deterring factor in even trying a cruise, as we were certain he'd feel like tossing his cookies the entire vacation.  Thereby taking a bit of fun out of the vacation itself.
But alas, it was me who got sick!  The first two nights after we returned to our room, I hopped into bed with a good book and within 5 minutes felt extremely nauseated.  Fortunately, my husband had a stash of motion sickness meds ready at the helm for me to borrow.
The Constant Upsell
"Three Night Cruise to the Bahamas, only $199 per person!"  Holy cow, that's a cheap vacation!  Until you call to book, and they talk you into a slightly better ocean view room.  But that's ok, we're still looking at a reasonable rate.
Then you board your ship, and the bombardment begins.  From the non-stop mobile peddling of drinks (more on this below), to the exorbitantly priced on board photos they like to take of you, to the cheesy temporary folding tables they set up in the atrium for displays of cheap purses and jewelry for sale.  I found it a big fat tacky turnoff.
Ok, so I did buy a bracelet.  Cause, you know.  It was really cute.
Short Cruise, Short on Entertainment
I've heard very good reports from friends about amazing entertainment they've seen on their cruises before.  But unfortunately, on the 3 night Bahamas cruise on Royal Carribean's Monarch of the Seas, it ain't happening.
The first night I was so excited to head into the theatre after dinner.  No kids, and it's time for some live entertainment on my very first cruise… what a great date night this was going to be!
The singers and dancers came on stage.  For one song.  Then they were done.  Surely they'll be back for more?
Then came a stand up comedian, for 30 minutes.   He was funny, we enjoyed him!  But then it was over.  That was the entire show.  Thanks for coming, folks!  Now head to the bars, for the real fun…
The only other theatre performance was the big finale show, typically reserved for the final night of the cruise.  For this, the singers and dancers performed for nearly 50 minutes.  Although the cast was comprised of a group of marginally talented 20-25 year olds, the costumes were fantastic and the show was quite entertaining.
Moral of the story, I guess, is just to be advised:  Small ship, short cruise – not pulling down the "A List" performers.  And apparently, 1 1/4 shows is all you're gonna get out of them on a 3 night trip.
Invasive Floating Bar Scene
Here was the deal breaker for me, and the aspect that I naively didn't see coming.  Back in the day, I used to tear it up in the bar and party-life night scene as much as the next girl.  Probably more.
But now I do not drink.  And I don't find any enjoyment from hanging around and watching other people drink excessively.  In this regard, the cruise ship was not the place for me!
The Bahama Mama drink table located 5 steps inside the boarding area at 11 a.m. on our first day, was my first clue.  From there, it simply mushroomed.  To the point where I felt like drinking permeated every area of the boat.
In the evenings, you can go to the bars, casino, or the pool (or the theatre, for 30-50 minutes, but that still leaves you with a fair chunk of time on your hands).  Be assured, alcohol will be flowing freely at any one of those venues.  For me, the atmosphere was one of a big floating bar.  I guess it's just been so long since I was exposed to that scene, that it really blindsided me.
I'm certainly not judging those who drink… my reasons for abstaining are personal.  It just took a lot of the enjoyment out of the experience for me – and I wanted to give a heads-up perspective to any who may find themselves with similar circumstances.
Will I Try Cruising Again?
Yes.  I'd love to try a Disney Cruise someday.
That cruise will be with my kids, in a few years, once I can trust that my wild toddler son won't climb the railing and jump overboard in that split 3 seconds when we aren't looking.  Although mocked by our Port Canaveral cab driver as "the floating daycare ship"… I think the Disney Cruise atmosphere may be more up my alley.
Overall, this was still a neat experience that I do not regret.  All I've ever heard from people prior to this, is that they simply ADORE cruising.
What say you – how have your on-board experiences been…?
*o*     *o*     *o*