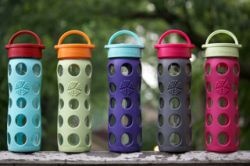 Spring brings with it the smell of new plants in the air, and the promise of warmer days to come.  It also brings Earth Day, and I love the reminder and important message that goes along with it:  Take good care of this amazing planet!
Now that may mean different things to different people, but I think it's safe to say each of us wants to create a healthy home for our family.  And any time you use a reusable product, or something made from eco friendly materials, you are both:
Doing something healthy for your family, by using chemical free or less toxic products in your home environment, and also
Doing something good for our beautiful earth, by creating less pollution and/or waste.  (Which… incidentally, is also doing something good for your family!)
Healthy Home Makeover with MightyNest

In support of making healthy choices for your home by selecting natural, non-toxic products – I'm happy to be participating in a Healthy Home Makeover Campaign with MightyNest.
Founded by two parents, MightyNest is an online store, resource center, and community dedicated to helping parents create healthy, safe homes.  Their mission is to give families the ability to research, get advice, and buy natural, non-toxic products all in one place.
From kitchenware to skin care, MightyNest's safety experts have built the web's broadest selection of products that are free from known toxic ingredients such as BPA, PVC, Phthalates, Lead, Melamine, Formaldehyde, Parabens, and more.
For the growing number of parents seeking high quality, healthy and safe alternatives to everyday products for their family, MightyNest can prove to be a great, central resource.  Their offerings are best in class, and of varying brands.  I found things to be very reasonably priced, and it's wonderful having so many "like minded" products gathered together so they can be easily found in one place.
Once I checked out their site, I found myself wandering around and discovering all kinds of healthy, natural products that I would love to makeover my own family home with.  Take a quick peek at my Healthy Home Makeover board I created on Pinterest… do you  agree with any of my favorite picks?
You can find out more about MightyNest by following them via social media here:
Healthy Home Makeover "Pin It to Win It" – Giveaway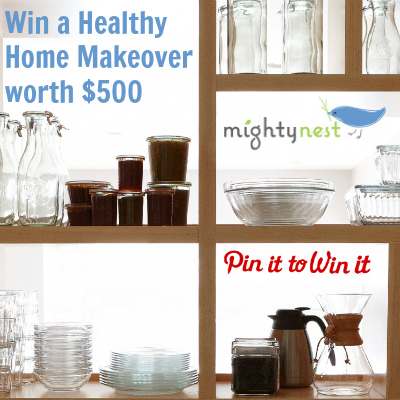 This is a group giveaway with a fantastic prize.  Mighty Nest will be giving away a Healthy Home Makeover worth $500.
Enter using the Rafflecopter form below.
*o*     *o*     *o*
I am being compensated for my participation in this campaign with a gift certificate to use towards MightyNest products.  Some of the company information was provided for this post, but all opinions are my own.