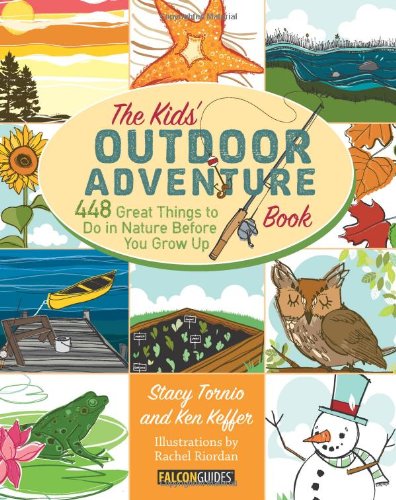 Love the concept of your kids playing outside more, but need some creative fuel to get the "what can we play?" juices going?
Recently published, The Kids Outdoor Adventure Book:  448 Great Things To Do in Nature Before You Grow Up is a great book full of fun ideas, and definitely worth taking a look at.
The Kids Outdoor Adventure Book ~ Layout
Divided in sections by the season (yes, that's right… the kids can pursue these outdoor activities year round!), we love how this book is laid out.
My 2nd grade daughter immediately worked her way through the book's "Spring" section – bookmarking what she wanted to try.  With grass.  🙂  I thought that was cute, and rather appropriate.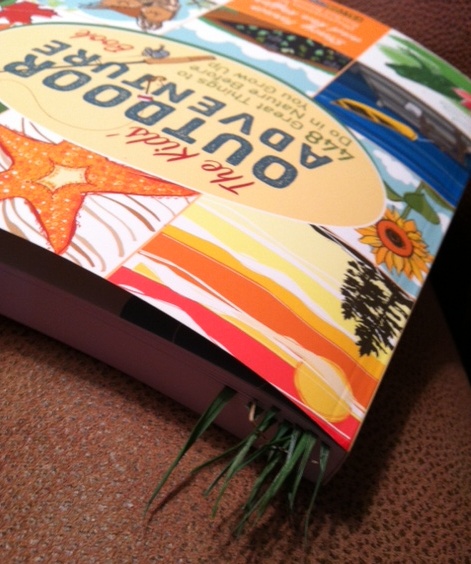 I expect to be thumbing through this book for years to come, getting ideas of new adventures for our kids to head out and tackle.  I love how it really gets them excited about heading out into nature, and includes varying levels of adventure scale.  
Tasks range from one hour, own-backyard kinda adventures… to full day, heading somewhere to explore kinda adventures.  Each idea also features a challenge, if the child is older or ready to take the activity to the next level.
There are special highlighted sections throughout the book, featuring destinations, games, or even foods that go along especially nicely with each season.
#47:  Create a Fort
Although we really, really wanted to try #38:  Listen to a Waterfall, there isn't one even remotely nearby us here in our high mountain desert terrain.  That one will have to wait.
So we headed into the backyard on a Spring Saturday, to create a fort.  I figured we should try somewhere along our fence line, for that easy automatic starter wall.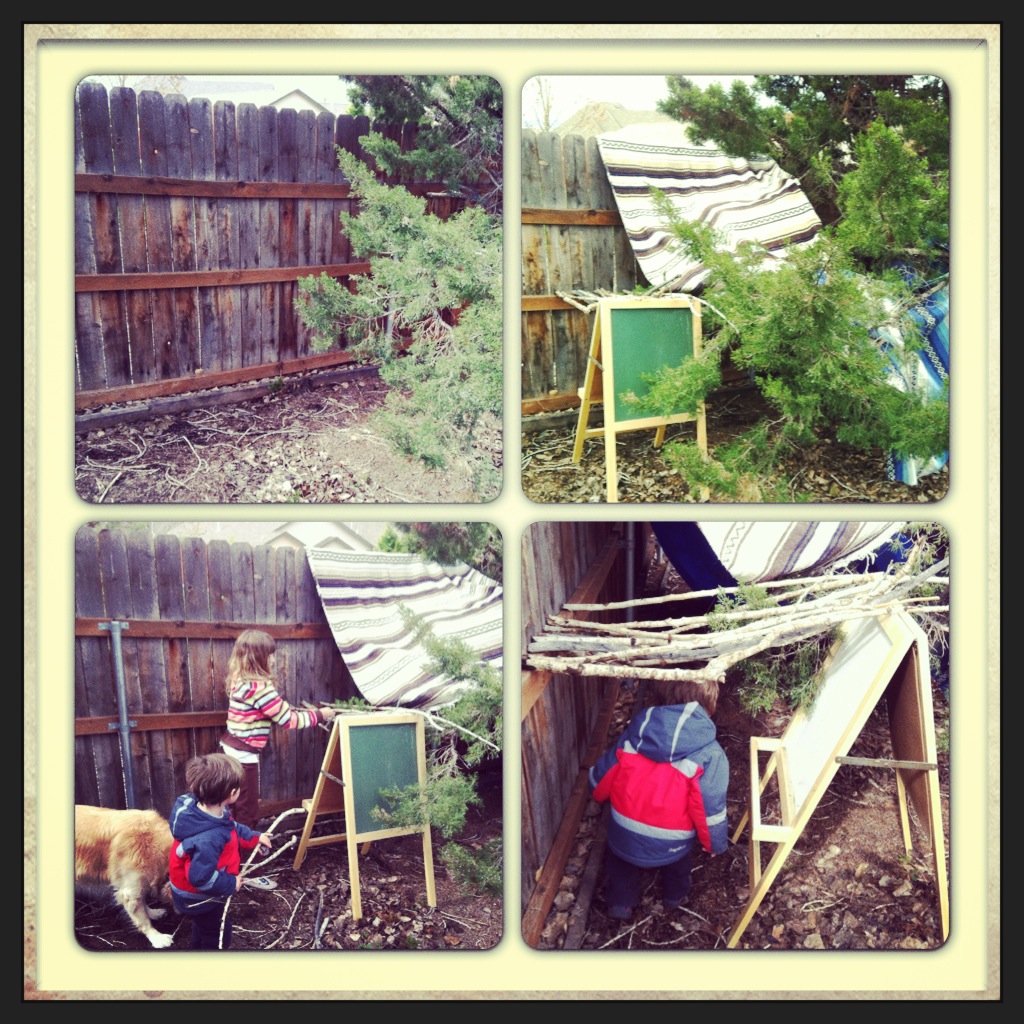 We grabbed a couple of outdoor blankets from the garage, and combined it with a few things found around the yard:  the easel we keep on the back deck, the unused-this-time-of-year plastic swimming pool, and a bunch of sticks.
It came out pretty nicely!  The kids had a great time.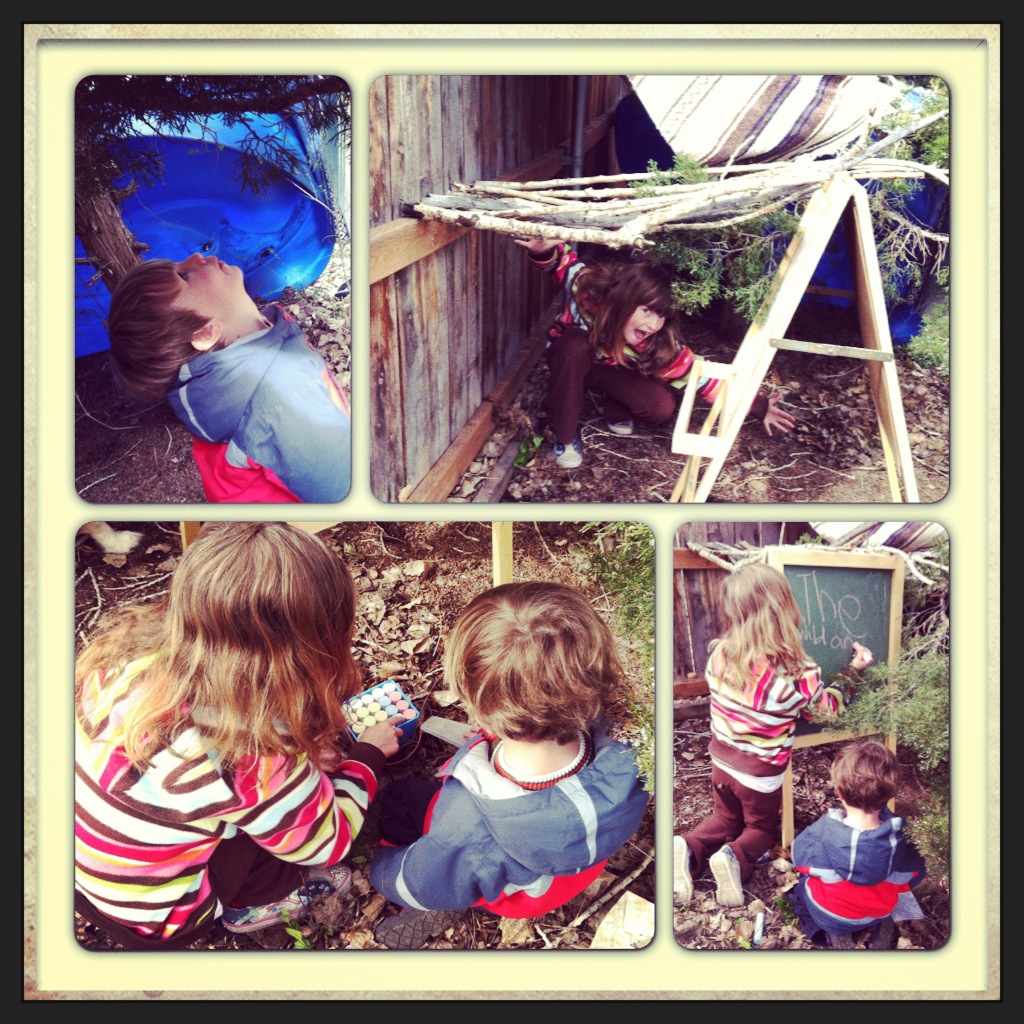 Each idea discussion in the book is somewhat brief, which is nice, but chock-full of inspiration.   For example, on this fort making activity, they threw out ideas like this:
"Have fun with it – create secret rules, make a sign, and invite friends to join… Visit destinationnature.net for a video that gives an easy fort solution you can make in 10 minutes."
Designated Club Name, to be housed by my kids new outdoor fort?  The Wild Animals Club.  (If you build it… they will come?)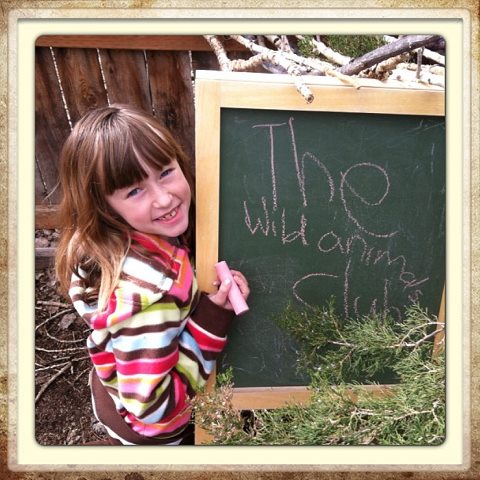 Shape The Next Generation of Nature Lovers
I can't say enough good things about a book like this.   Some of the ideas may not be something you can do nearby (many take place near the sea, or on a beach…I wish!), but there are still plenty of things that any family can do – even if you just live in an urban area.
The Kids Outdoor Adventure Book:  448 Great Things to Do in Nature Before You Grow Up is a fantastic, inexpensive way to give your child (and yourself!) a gift that they will enjoy over and over again.  Let's reverse the indoor, sedentary, screen-dependant trend in our modern youth, and help shape the next generation of nature lovers!
The Giveaway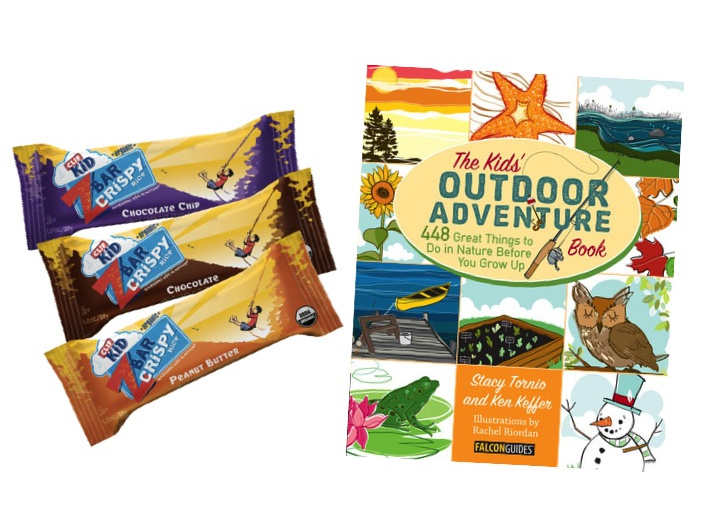 This giveaway is being hosted on Destination Nature's site here.  Please head over there and sign up, it's a very quick Rafflecopter entry (just "like" their Facebook page), and there are 5 winners!
The prize is:
Autographed copy of the book
Box of Clif Kids Z-Bars (my kids are crazy about these!)
 *o*    *o*    *o*
I received a copy of the Kids Outdoor Adventure Book:  448 Great Things to Do in Nature book at no cost, for the purposes of this review.  All opinions are my own.