Well, hello there!  Welcome to the Annual Ultimate Blog Party 2013 (#UBP13 on Twitter), hosted by 5 Minutes for Mom…. Wooooooo Hoooooo! So exciting. Here's a little "Celebrate Today" float, just for us: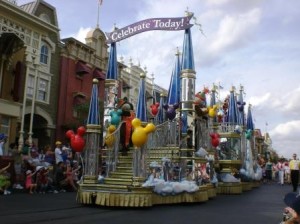 It's my 2nd year with UBP, and this is my introductory post for any partiers who are lovely enough to swing by my blog this week.
I keep it fun and lighthearted here, a mix of anything I find interesting, helpful, or amusing.
My blog centers loosely around the themes of what I love most:  Travel, Outdoors, and Disney!
Top 5 Interesting Tidbits About My Blog (& Me):
1.  I live in the high mountain desert area of Western Colorado with my husband and 2 young kids, and we love to play outside.  I share many of my family's outdoor adventures on my blog, and recently made the Top 25 Most Outdoorsy Moms list.
2.  I work full time as an IT Software Engineer (aka I'm a computer geek).  My dream job when I grow up would be travel writer, so I like to pretend by dabbling in travel topics on this site.   However, despite my love of travel, "Avast! Ahoy! Ay-yi! me Mateys"… I recently discovered that Yo Ho, Yo Ho ~ Cruising's Not For Me.
3.  I'm a pixie-dusted, hopelessly obsessed Disney fan.  On a loosely related note, this has proven to be one of my all-time most popular posts –> To All The Not-Invited Disney Social Media Moms
4.  I'm a Brand Ambassador for a women's active wear clothing company called Stonewear Designs.  It's a fantastic, versatile line that I love and literally wear almost every day – for work, travel, gym, hiking, and that ever-important time spent lounging on my couch.
5. Coco-Cola invited me to attend their Conversations With Coca-Cola blogging conference #CCLP in Atlanta last fall. Here's my best from the conference ~ including how bloggers get invited, photos of the fun, and lessons learned from the impressive fellow attendees.
Thanks so much for stopping by! If you leave a comment, I'd love to go check out your lovely blog, as well.
Have a wonderful time at the Ultimate Blog Party 2013 this week!
*o*    *o*    *o*