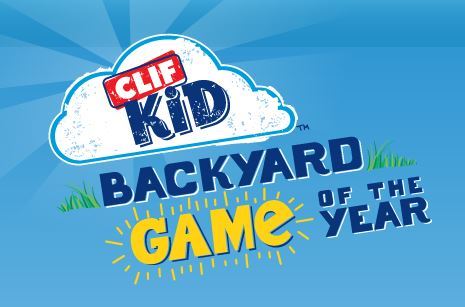 Looking for outdoor play ideas, now that your kids will soon be out of school on summer break?  I've recently learned about the CLIF Kid Backyard Games Contest, and wanted to pass along these exciting details for your own child to participate.   There are great prizes, and a neat website full of inspiration on backyard games to play.
Create!  Play!  Win!  Get outside and dream up a fun backyard game.
CLIF Kid Backyard Games Contest
This contest is for kids ages 6-12, and is a great way to encourage your kids to get outside.   Not only will your kids have fun participating by creating their own backyard game, but they can also get new ideas of other games to play by checking out entries from previous years.
To enter, have your child dream up a fun backyard game for them and their friends to play.  No fancy equipment, just use basic things like balls and hula-hoops.  For inspiration, you can check out past winning game ideas, and even download instructions on how to play them.
You can enter the CLIF Kid Backyard Games Contest now through June 17, 2013.
CLIF Kid Backyard Games Contest ~ Prizes!
Dare I say the best part is… the PRIZES!?
Five Individual finalists will be chosen.  The finalists will receive:
Trip to San Diego, to present their games at the CLIF Kid Backyard Game of the Year Playoffs this July.
Awesome Bike & Helmet
$1,000 scholarship
Then at the Playoffs, a grand prize winner will receive a $10,000 scholarship!
More details on the contest can be found here.  Have fun and enjoy your backyard games this summer.
*o*     *o*     *o8