In my search for some quality kids sunglasses, I wanted to find:
a "better than normal" fit
use of good lenses, and
the ability to stand up to some wear and tear
Throughout this quest, the name Julbo popped up repeatedly.  Julbo Kids Sunglasses receive consistently excellent reviews for their children's specialty line, and for good reason.
Every parent with kids who play outside has likely experienced this problem.  You want your child to wear sunglasses when in the sun, to protect their eyes.  You buy a cheap pair at the grocery store.  They're cute.  But your child just won't keep them on.  (Or they break after a couple of rough-n-rowdy use play sessions.)  And frankly, the cheap lens probably aren't blocking out all the UVA rays anyways… which is kindof the whole point.
We recently tried out two different styles, for two different ages:  a 2 year old, and an 8 year old.  Here's what we thought of Julbo Kids Sunglasses.
Julbo Kids Sunglasses
Julbo Kids Sunglasses offer top notch protection for toddler through teen sizes.  Their goal is to design sunglasses which are extremely comfortable for your child, function durably for many activities, and deliver excellent protection.  They use "optical class 1" lenses – no cheaper version lens, these are the same as the grown ups get and they do block all UVA (both B & C rays)
The fit and high quality frames are what really sells me on these sunglasses. They are wrap around style, to keep as many of those UV rays out as possible.   The temples are curved.  And they absorb shock, for those occasional wipeouts and wild play.
Julbo Bubble
The Julbo Bubble is for ages 3-5, and comes in four color combinations.   They are light, flexible, and the frames are pliable yet sturdy.  I was extremely impressed with the fit.  They come with a soft case that can be used both to protect the lenses and also clean them.
My son is age 2, but has a very big noggin.   (It's to hold his big brain.)  Smaller toddler sized glasses pinch his head and are uncomfortable, so he won't wear them.  But when I try a larger kid sized pair of sunglasses, they are much too wide to properly fit his face.
The Julbo Bubble solved this problem perfectly.  When I first took them out of the box, I thought, "Oh, bummer.  These look tiny, there's no way they'll fit him."  Slipped them on, and my jaw dropped.  PERFECT.  They actually fit his face very nicely, and the sides are able to flex and bend outwards in order to wrap around that cute grande cabeza of his!
You can see from the curved ends how gently they hug your toddlers head, keeping them securely in place.  His nose isn't very big, but because of the stellar design of the Julbo Bubble… they don't slide down his face.
They are so comfortable, my son forgets they are on.  The first night we received them, he wanted to keep wearing them, even after we went indoors.   Partly due to us telling him what a "cool dude" he was, but also because they fit so great that he doesn't mind wearing them at all.  Mission accomplished!
Since the initial excitement has died down, we do have to encourage him to put them on and wear them.  He's never worn sunglasses before, though, and I think this is just something that takes them a little getting used to.  It's exactly why I wanted to get him started at age 2, so he'd be "trained" to protect his eyes and wear sunglasses from now on.
Julbo Piccolo
The Julbo Piccolo is for ages 8-12, and comes in four color/lens options.  And they are oh, so sweet.  I was surprised at the color when they arrived.  On the website photo these appeared red and white.  But they are white and a very pretty coral color (so I'd say this particular color is for more girls).
These too have a temple flex system built in, adding both comfort and durability.  I had no trouble getting my 8 year old daughter to wear these, she was excited when she saw them.   She plays sports outside, so they will fit that purpose well.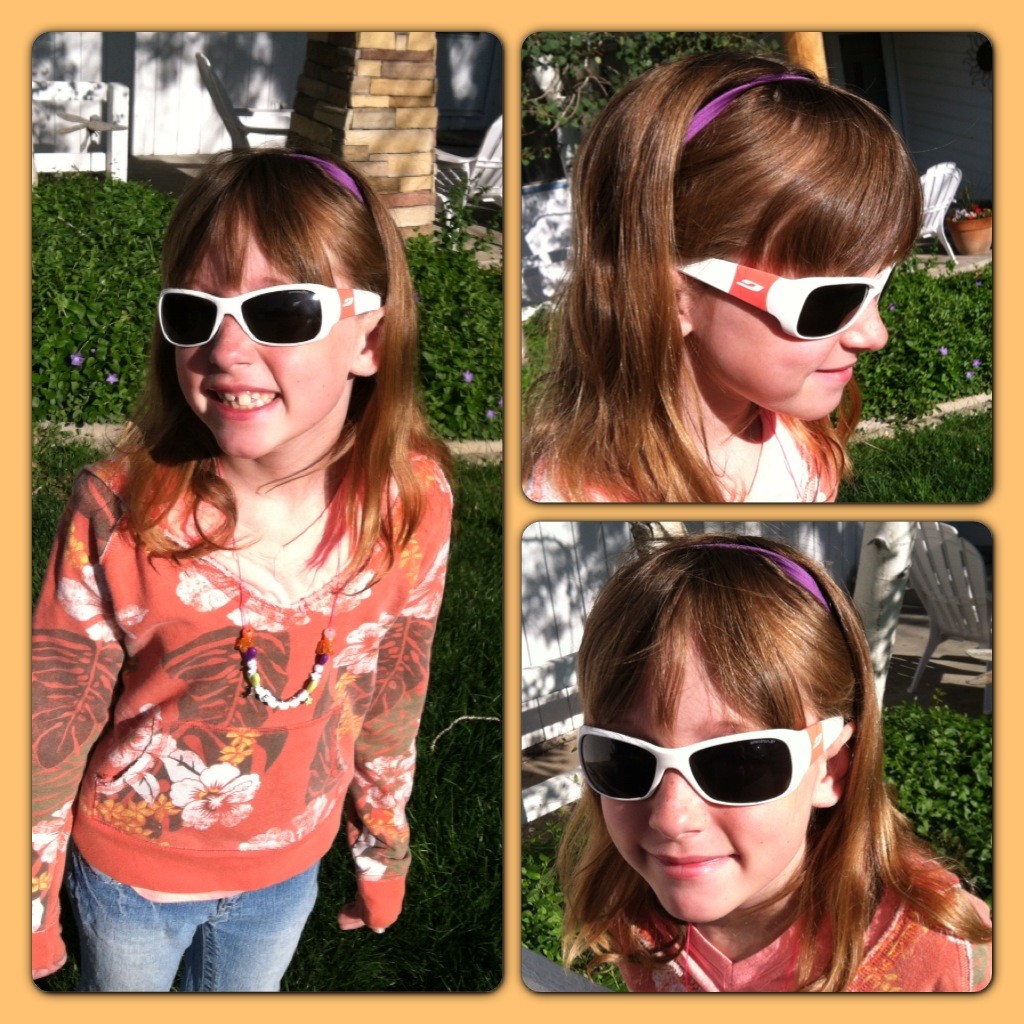 But as she likes to remind me, "I'm interested in fashion, mom."  Well, the Julbo Piccolo's apparently jives nicely with her 2nd grade sense of fashion, as well.  She finds them very stylish, so we'll be seeing alot of the Piccolos.
They come with a hard case, and between wanting to keep the lenses in great shape, and being careful not lose these nice sunglasses… we definitely use the case for storage.
Julbo Kids Sunglasses
My family is happy we found Julbo kids sunglasses, and are very pleased with the fit and quality.  As a mom, I'm thrilled my kids will both wear these sunglasses – with lenses that will truly deliver sun protection, wrapped up in a durable frame which will last for a long time.
There are many other great styles of Julbo Sunglasses available for babies, kids, and adults.  You can check them out on their website.
*o*     *o*     *o*
I received the Julbo kids sunglasses described here at no cost, for the purposes of this review.  All opinions are my own.