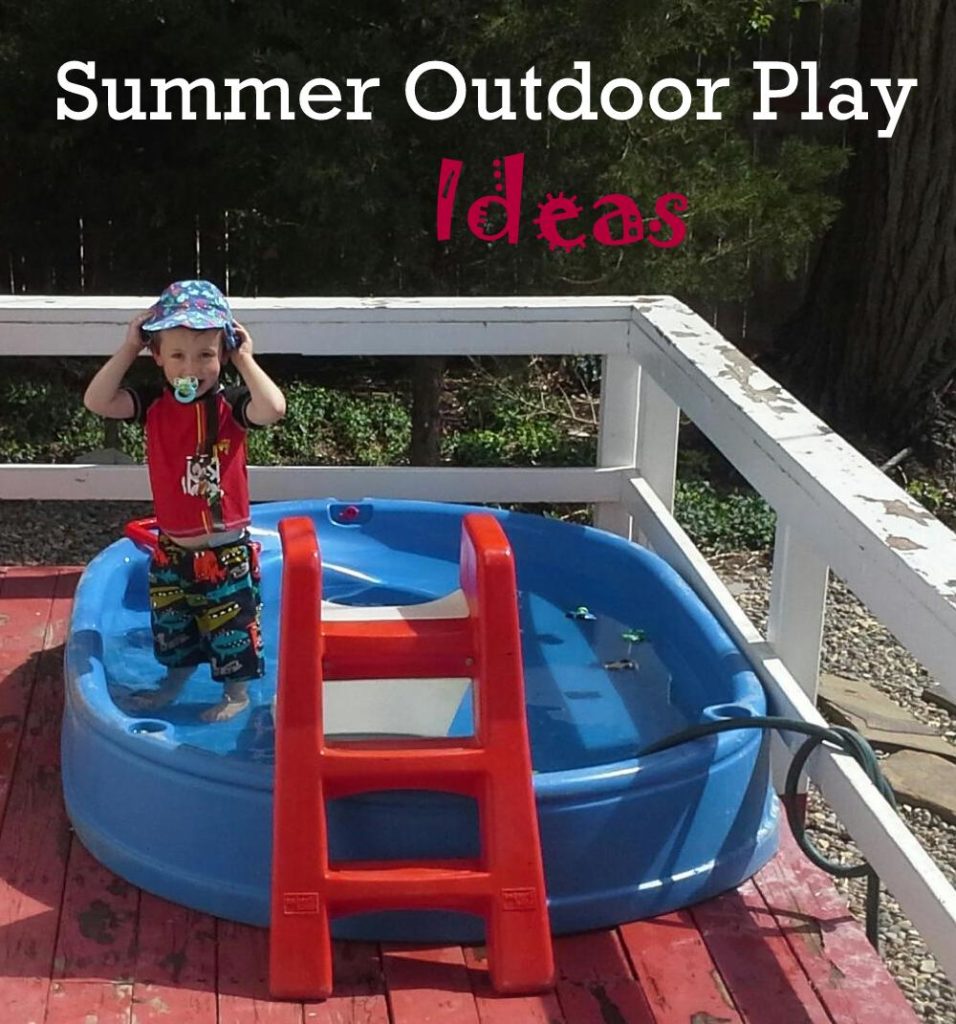 Are you ready to have those kids home for summer break?  Or are you panicking… maybe just a little?  Although I want my kids to have lots of outdoor play time, I've come to realize it helps to give them some ideas and/or toys to engage them and get them started.
This is an ongoing work in progress around our household.  Aside from that obvious but expensive swingset purchase, here are a few of the more affordable things we've come up with to encourage outdoor play at our house.
Summer Outdoor Play Ideas for Your Kids
Garage Bins of Outdoor Toys – "That is NOT for indoor play!", mom emphatically declared.  Then stick in in the garage bin!  We keep two huge plastic tubs with balls, bats, gloves, roller blades, knee and elbow pads… really anything they play outdoors with.  Easy access.  Easy pick up.
Tire Swing – If you've got a large enough tree, this is an inexpensive thing you can add to your kids personal playground right in their own yard.
Plant Something – Can your kids have a spot in the yard to plant seeds for a garden, or some flowers?  Of course, letting them water these proves to be daily fun they'll enjoy probably even more than the planting.
Sidewalk Chalk – So cheap!  But so fun!  Whether it's for a game of hopscotch, artistic expression, or drawing roads for trucks and cars to drive on – both of my kids enjoy this.  Can be a little messy, but washes out of clothes easily, and the rain takes care of the outside cleanup eventually.
Sandbox – We got a plastic, turtle shaped sandbox with a lid for around $30 last year.  Sand can be purchased and easily transported in bags.  This has turned out to be very worth the cost, and again – both our 2 and 8 year old play in this for long periods of time.  Let them use some water, too?  They'll play even longer!
Basketball – While we are fortunate enough to have a hoop, purchased by Nanna and Grandpa… there are many things kids can play with just a basketball alone, too.  Try showing them some ball handling skills, dribbling, and types of passes they can practice.  That's 3/4 of the game, and boy will they be ready when they hit an actual court to play!
Painting Rocks – We bought a cheap little strip of acrylic paints at Walmart, and my daughter absolutely loves painting smooth landscaping rocks.  This has produced a rainbow of cute, decorative rocks that we add to our yard landscaping here and there… as our rock-art garden.  If they're hand sized and flat, a keyboard and screen are typically applied and they become rock phones.  Heavy ones.
Water!  For whatever reason, kids don't seem to run through sprinklers anymore?  (I totally don't get that, since we loved doing so when we were kids.)  We found a nice, slightly larger plastic pool at a garage sale that my kids love to cool down in.  But even letting them play with the hose awhile, some squirt guns, or water balloons always goes over amazingly well.  Heck, have them wash your car!
These were my family's ideas, but for even more… I recently reviewed an excellent book called Kids Outdoor Adventure Book which is awesome, and packed with many ideas for outdoor play ("448 great things to do in nature", to be precise).  I believe it was on sale at Amazon for less than $14, and I highly recommend it.
Outdoor Kids Gear
It never hurts to equip your kids with some good gear items, both for outdoor play around the home or any adventures you are able to take.
As for apparel, we've had some success with a few outdoor brands in particular.  Anything kid's North Face apparel or Patagonia gear (we LOVE this "Go Play in the Rain" coat) that we've tried seems to be of good and lasting quality.  I like to buy gender neutral styles and colors, so that eventually both  my daughter and my son can get some use from them.
Watch for my upcoming series on kids gear reviews I have currently in the works.  We've been testing out some sunglasses, bike helmets, hiking boots, kids sized backpacks and more.  Those recommendations coming soon.
Thanks for reading, and enjoy that summer break with your kids!
Please share:  What is your child's favorite thing to play outside in summer?
*o*     *o*     *o*
This post contains a sponsored link.