The new Microsoft Office 365 Home Premium is an essential tool to help you and your family plan and prepare for that next big trip – so you can enjoy more of the things you want to do.
With Office 365 Home Premium and the new features in OneNote, you can access all of your ideas and information even when you're on-the-go.  Plus, you can now put all of your notes, reservations, confirmation numbers, directions, website links, and more into one place and get great travel advice from the new, free travel notebook, with expert tips from Travel + Leisure. Your information will be easier than ever to find with the search and tagging features, plus you can access it from anywhere by saving it to the cloud on SkyDrive.
I have no doubts that this is the wave of the future in personal home (and mobile) computing, and a very handy tool to have for travel planning.
–>  Before your trip, the free OneNote travel notebook offers you a cool template which can help guide you through which details you should be considering, during your travel planning phase.
–> During your trip, it provides a method to access all those confirmation and scheduling details.
Microsoft Office 365 Home Premium ~ The Experience
I confess I hit a couple of road bumps during my initial installation of Microsoft Office 365.  The install appeared to have stalled out, the status bar unmoving, with a message that I had a slow connection.  After several minutes, I "killed" the install and tried to start again.  I don't recommend doing this!  It didn't allow me to re-do and complete the install a second time, even after following the support articles advice on un-installing first.  I didn't have time to struggle further with it, so moved on to a use a different computer instead.
Lesson learned:  Be patient during the install.
You'll need a Microsoft account, since that is how it appears to match you up with all your devices, and keeps track of you and your files you'll be saving to your SkyDrive in the Cloud.  If you don't have one, it allows you to create one for free.  I used my same hotmail account login which I've had for years, and that worked fine.
So once everything is installed, and you're all logged in… it walks you through your settings, "Hello, Tami!  How would you like your Office to look?"   I picked "Spring", and it added a cute leafy design above the top right menu.  Your look is displayed inside any of the apps you have launched, giving your Office 365 a custom feel.  It can also be changed down the road, if you like to mix it up.
I was surprised the installation of the Office software added directly onto your local hard drive is fairly substantial (I thought it may be more web based?).   The upside being, you can easily find and launch anything from the software suite – Word, Excel, PowerPoint, OneNote, Outlook, Publisher and Access.  They should all be found on your Program menu, under "Microsoft Office 2013".
So what is the Office 365 product all about?
Microsoft Office 365 Home Premium comes with one license for your entire household to use and can be installed on up to 5 devices, including Windows tablets and PCs.  Combine that with the fact that you do NOT save things directly to your hard drive, but rather can save everything from your OneNote travel notebook onto SkyDrive (you'll get an additional 20 GB of SkyDrive storage with Office 365).  So what exactly does that mean…? 
It means that no matter which family member found, added, commented, voted on, or saved the travel planning information, you can all see it… anytime, from anywhere!   Save your OneNote notebook to SkyDrive , and access it on your (Windows) mobile phone or in a browser with the OneNote Web App.
Organize Your Travel Planning With OneNote
There are few things I love more than travel, and I relish every moment of travel planning!  For me, it's the "dream stage".  Researching the endless possibilities of where to stay, play, and eat for virtually any destination.  I read the reviews.  I chart the location distances.  I  comb through the hotel pictures.  Fun, fun, fun!   Add given my crazed, ever present desire to document and organize… I've met my lil' Right Hand App in the OneNote travel notebook.
"Start planning your dream vacation with this free OneNote travel notebook. It's packed with tips from Travel + Leisure, a built in expense tracker, remember lists, and everything you need to hit the road."
Even if you are not *that* travel planning mom, using a tool like this is efficient and helpful.  For me, it's not just keeping track of the planning details before your trip.  It's having access to anything you may need to reference during the trip that greatly eases the mind.
To experiment, I planned out a dream trip that I would love to see us take next winter.   I felt there is a bit of a learning curve with using OneNote (it was my first time).  But overall, it's pretty intuitive.
I loved the pre-built pages on each of these travel notebook tabs, containing sample template content (shown in photos).  I found it a little confusing how to generate additional pages from scratch, which looked like the cool sample pages but contained my own content?  You can select a template that is used each time you create a new "page".  None of them seemed to match up exactly with the default, initial Travel + Leisure pages.  It appears that you are just supposed to edit those pages directly in order to preserve that particular formatting.
You can, however add as many additional pages as you like under each tab.  All pages (created under that tab) then appear in a list along the right, and can be easily navigated by a click.
So what features did I enjoy most, when using OneNote for planning a trip?
Favorite tips, on using OneNote for Travel Planning:
I thoroughly scour the web for THE best hotels to stay at!  (I don't mean "5-star" best, I mean "best price, pool, locations, and nice rooms" best.)  I love the 'Research' tab, which features a sheet to build your list of top hotels… noting a price, location, pros and cons for each!  Brilliant!  Along the right, switch to activities or food and track your favorites in those categories, too.
The 'Schedule' tab lays out a clean display of Day 1, Day 2, and so on for your trip.  Briefly note the time, activity, and any reservations here.  So clean, organized, and a great way to see your trip itinerary at a glance.
Did you remember your flight details, the hectic day of your departure?  Check the 'Reserve' tab for the quick and handy low-down, your flight reservations are all here.
Save ALL of your confirmation numbers, website links, and even directions in one place – organized by each day's schedule.
I can store the restaurant and attraction ideas that look fun, for my husband to check out on his own time and let me know which he agrees with.  He can then move those to the "must do" section for me to reserve!
I always have an Excel spreadsheet built, for every trip we've taken.  It's the easiest way to calculate, modify, and track costs involved.  I can import my travel expense spreadsheet right into OneNote, where I'm still allowed to edit or format it however I'd like.  It will sync any changes with my original Excel file.  You can even graph your budget, and monitor your progress in saving for that trip.
They talk about a Clip 'n Save feature, and I'm guessing this was the same thing as selecting "Insert – Screen Cliping" from the top menu bar.  This was super slick.  After selecting that menu option, it prompts you to draw a box around anything on your desktop you'd like to capture.  Then back inside your OneNote notebook, click where you'd like it to appear and it instantly copies a picture of what you selected.   Walla!  No need to print out that hotel reservation confirmation page.
Bloggers, you're going to love this one…  During the trip, when you return to the hotel each night… go to your 'Journal' and 'Photo Appendix' tabs of OneNote and upload any photos, audio notes, or just jot down a few highlights from your day.  Instant blogging material for when you get back home!
You can download OneNote for free here.
Office 365 Home Premium – Giveaway
One of my readers will win a one-year subscription (US $99.99 value) of Office 365 Home Premium!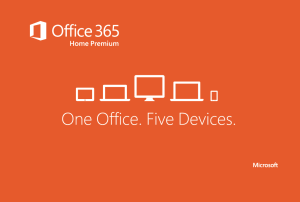 Office 365 Home Premium includes:
The latest and most complete set of Office applications: Word, Excel, PowerPoint, OneNote, Outlook, Publisher and Access.
One license for the entire household to use Office on up to five devices, including Windows tablets, PCs or Macs, and get Office on Demand from any Internet-connected PC.
An additional 20 GB of SkyDrive cloud storage, nearly three times the amount available with a free SkyDrive account.
60 free Skype world calling minutes per month to call mobile phones, landlines or PCs around the world.
Future upgrades, so you always use the latest time-saving technology.
Automatic save to SkyDrive, so your documents — and even your personal settings — are always available from virtually anywhere and on your favorite devices
Giveaway open to all.  Enter using the form below.
*o*     *o*     *o*
This is a sponsored post from One2One Network and Microsoft Office 365. All opinions are my own.