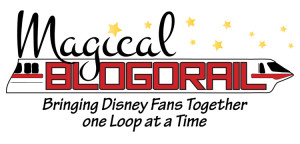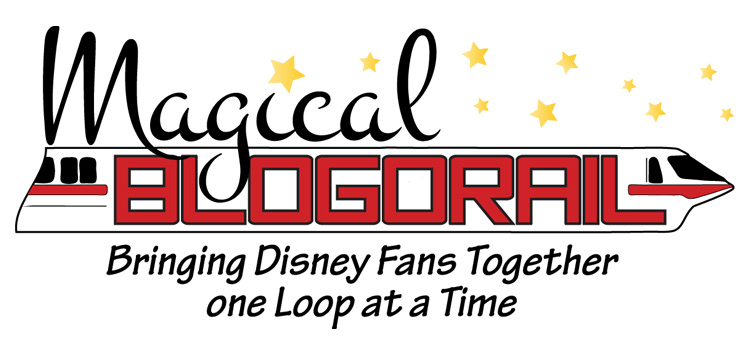 Welcome to those of you joining me from Disney Donna Kay and those of you just hopping aboard. I am the 4th stop on our Magical Blogorail.  Today, it's tips for your first Disney World trip!
This topic is always a fun thing to read about.  Although it can be admittedly daunting to a first timer, hang in there… scoping out and planning your Disney vacation can be half the fun!  And for those who've planned many a Disney trip, you never know when you'll pick up a new idea, right?
Best Tips for your First Disney World Trip
Since I put a Disney face on most of my social media accounts, I receive regular inquiries on this exact topic.  I love to write those emails, excitedly customizing my ideas for the ages of their kids.  But there are definitely some common threads throughout my Disney trip planning advice.
Here are my best tips for your first Disney World trip:
Tip #1:  Order Customized Maps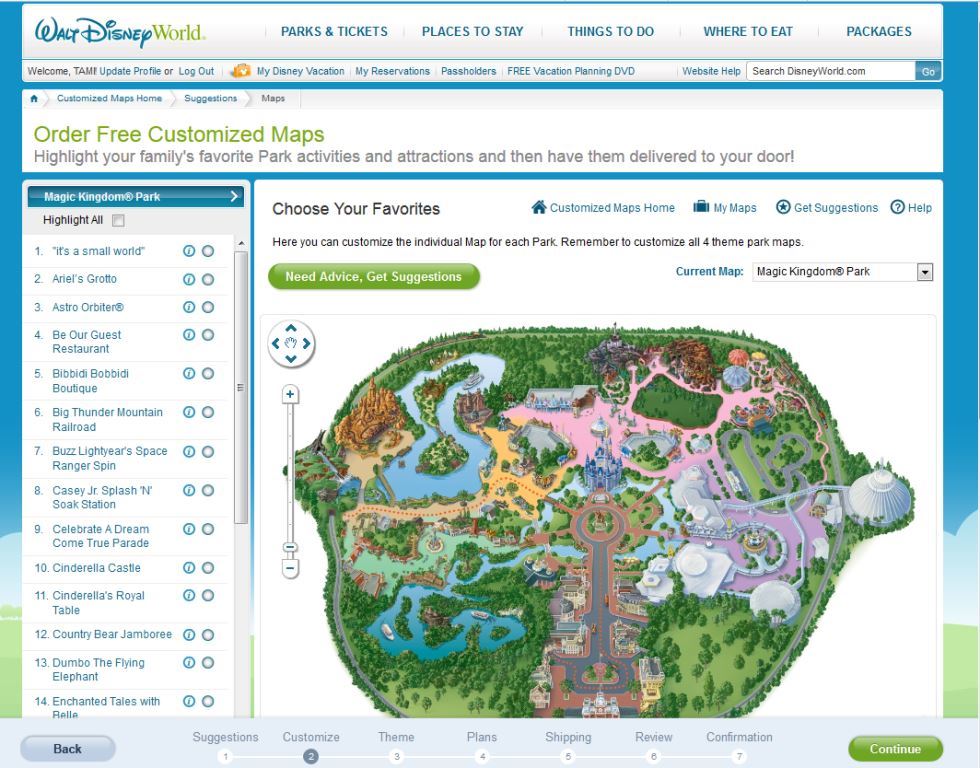 More of an anticipation builder than anything, my daughter and I love Disney's interactive maps, where you can explore all there is to do in the Disney parks!  This site allows you to select the attractions you are most interested in, mark them on the map… and order a free set of your own personal, customized maps to be sent to you.
The maps are large and printed on nice quality paper.  While they probably aren't something you'd take to the parks and navigate with, they are definitely a fun keepsake.
Tip #2:  Disney Planning Website Resources
There's a wealth of Disney World trip planning information online, it's just a matter of finding it.   Being mildly obsessive about this, I'd love to share with you some of my favorites.
Allears.net – I read this one primarily for the user rating and reviews of Disney World Resort Hotels and Disney Dining.  I comb through them prior to every trip, to see how the various eating establishments have been performing lately, and to help me make our final selections!
Mousesavers.com – amazing amount of information here, primarily revolving around prices, finding the deals, and financial aspects of your trip planning.
And of course, you will find your most candid, thorough, and true to life picture-laden information from reading Disney blogs!
Tips #3:  Select Your Dates Carefully
The actual dates when you go to Disney World can have a big affect on your experience overall – be it weather, crowds, or prices.  If you can go during their value seasons, it will cost you less, and the lines you stand in will be much shorter.
Everyone has an opinion on when they feel is "THE best time to go to Disney"!  Personally, our family loves January or February best.  I rely heavily on TouringPlans.com's Crowd Calendar to scope out projected crowds (even months in advance), along with referencing the seasonal room rate charts or even the historical dates of Disney Special Offer promotions on MouseSavers.com.
Tip #4:  Stay on the Disney World Resort Property
This tip is near and dear to my heart, and I feel pretty strongly about all the benefits that staying on the Disney World property brings along with it.  With the Value Resort option, its much more affordable than first timers may realize.
This is something I've written about previously… so if you need further convincing, please check out Why Stay at a Disney Resort.
But in a nutshell, here are the Magical Perk highlights :
Multiple cost savings:  Including free parking at parks, Magical Express bus service from the airport, Disney Special Offers on their website
Disney Dining Plan, available only if staying on-site
Extra Magic Hours
Being Immersed in the Disney Atmosphere your entire trip
KEY TO THE WORLD… a heady feeling indeed, this says it all!!!  Although this is now being phased out, a similar concept should remain.  🙂   UPDATE:  The 'Key to the World' has been replaced by Magic Bands.
Disney site Trip Countdown
Using Disney transportation, and never having to leave the Happiest Place on Earth!
Tip #5:  Consider Pre-purchasing a Disney PhotoPass CD
I have also previously written about whether purchasing a Disney PhotoPass CD is worth the cost?  Feel free to read that for more information on what Disney PhotoPass is, and how the program works.  And if it remotely interests you… pre-purchase a PhotoPass CD!
Why?  Because it saves you $50.
And they state clearly on their website that if after returning from your trip you are not happy with the photos, or perhaps decide you don't have enough shots to make it worth the cost – you can receive a refund of the pre-purchase price you paid.   So there you go… really no reason not to try it!  😉
UPDATE:  This is now called Memory Maker – similar program and price.
Tip #6:  Get ADRs for at Least One Character Meal
"Advance Dining Reservations" (ADR) open up to you 180 days prior to your reservation date – and the popular ones do literally fill up within days (hours?) of that.   I know the idea of making dining reservations so far, far in advance can be overwhelming and frankly a little annoying.  At least now Disney has a robust dining reservation website which you can use to book ADRs online.
When planning our first trip, part of why I found this concept so frustrating was the feeling of commitment, and that I'd have to decide months in advance which park we'd be attending on each day of our trip (which is fairly pivotal to your dining location).  But I did go ahead and make ADRs, for each day of our trip.  And we were very happy to have them.
Admittedly, it takes some time to eat a meal at a table service restaurant, but it's typically a welcome break from the pace of the parks.  And if you are on a Dining Plan with table service credits – you are definitely going to want to have your ADRs in place before your trip.
If you aren't on the Dining Plan, and are still chaffing at the idea of committing to reservations so far ahead of time – here's my best advice:   Make at least 1 ADR, for a character dining experience.  That's a whole other topic in and of itself, but they are generally great fun and give your vacationing party a chance to interact with characters without standing in lines, wasting park time.
The character dining description on Disney's website will let you know which characters will be in attendance, and they will each visit your table during your meal.  A couple of our favorites are Chef Mickey's (for breakfast), and Akershus Princess Storybook Dining.
Tip #7:  Grab a FastPass for your Favorite Attraction
This a tip for once you're in the parks.  My coworker told me they spent their entire Disney World vacation annoyed with the "rich people who bought their way out of standing in line, by purchasing those Fast Passes"… only to discover after their trip that Fast Passes are free!
This system is in the process of being updated.  My understanding is that the end goal is being able to reserve FastPasses online or via a mobile app, then have your RFID bracelet be used to check you in at the appropriate time.
But until this is fully implemented, in the past, FP machine stations were set up outside the most popular rides.  You feed in your park ticket (or Key to the World), and it spits out a printed FastPass with a return time.  You come back in that time range, and blissfully avoid an hour long wait, zooming right up to the boarding-the-ride queue!
Have a Magical Trip!
I could go on for days, but I'll leave you with those pixie-dusted tips for now.  Enjoy your trip to the Happiest Place on Earth!
Thank you for joining me today. Your next stop on the Magical Blogorail Loop is A World View.
*o*    *o*     *o*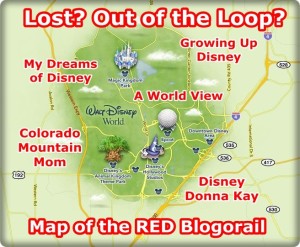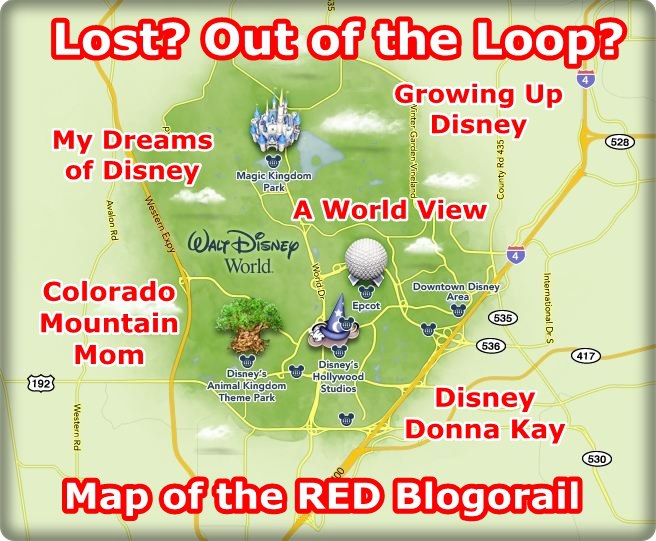 Here is the map of our Magical Blogorail should you happen to have to make a stop along the way and want to reboard:
1st Stop ~ Growing Up Disney
2nd Stop ~ My Dreams of Disney
3rd Stop ~ Disney Donna Kay
4th Stop ~ Colorado Mountain Mom (you are here)
Final Stop ~ A World View