As an adult, I chose to move to a state which housed the majestic Rocky Mountains.  But I still miss my true Midwestern roots in South Dakota from time to time.  So when my now retired South Dakotan parents recently sold their house, in order to move closer to us here in Western Colorado… I knew it was last call for a nostalgic trip to my home state.
At its best, this is a grueling journey through "Does this state EVER end?" Wyoming.  With greatly varying degrees of length, depending on things like:
The dog's whining, growing to an intolerable level
Dad the Driver's caffeinization-to-rest-stop ratio, and
Antsy kids restrained in car seats, with escalating senses of frustration and stir craziness
… we could be looking at anywhere from a 9 hour (all time best) to 13 hour journey.  Ugg.
I recently wrote about my trepidation to take on this trip alone with my 2 kids (in When Did I Become Such a Road Trip Wuss?).   But thanks in no small part to the encouragement received by you guys – I decided to tackle the trip.  And I'm so glad I did.
And I must say Wyoming has never looked more beautiful.  This was likely a result of my sentimentality kicking in (*sniff* "I'll never get to buy cheap Wyoming gas again…") combined with a recent winter of particularly heavy snows which made the landscape seem, if you can believe this:   lush and green.
If you've never road tripped through Wyoming, then I'm not sure if you've ever truly experienced the Wild West.  Now, I've seen wide open spaces my whole life.  (They filmed the majority of "Dances With Wolves" at my home town, Pierre, SD.   That's some seriously wide open prairie.)  But still, it's almost hard to fathom that the vastness of this seemingly untouched land of Wyoming still exists, in our modern day and age.
Here you will spot as many antelope grazing in the fields, as you will cattle or sheep.  Probably more.  It's awesome.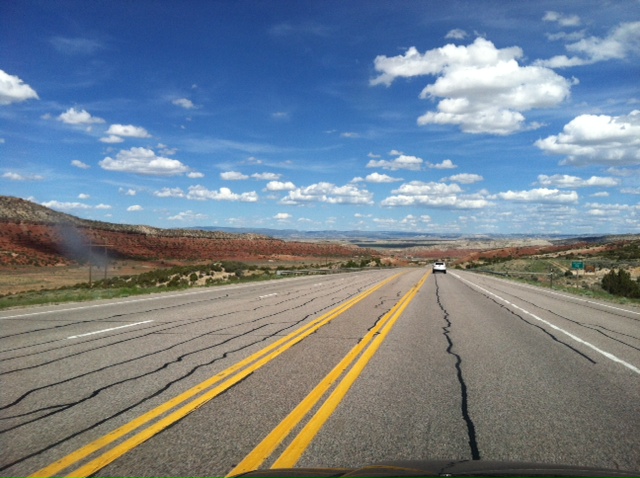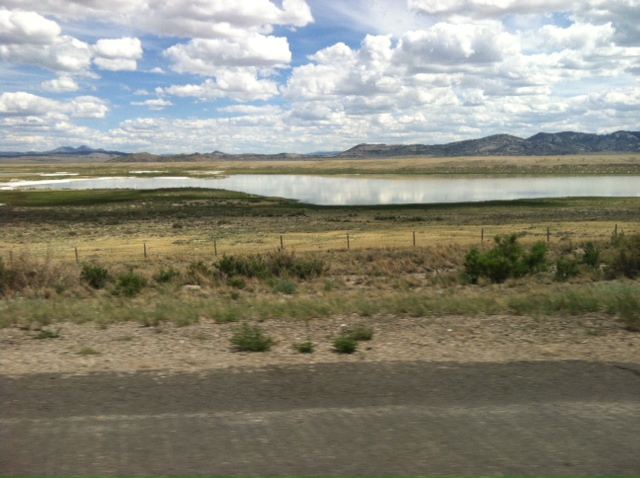 So at last we arrive in South Dakota.  Thank you, book-on-CD!  Talk about a life saver.  As a side note, I was able to pull off listening to this by turning the car speakers to the front, while the kids watched the movie player in back.  This proved to be an excellent diversion, which helped me pass the time quite enjoyably, while I soaked in the scenery and conquered those hundreds and hundreds of miles.
Fortunately our destination was in western South Dakota – the Black Hills.  This forested, rocky hilled part of the state is absolutely gorgeous and is a fantastic vacation destination.
People seem to be either familiar with the Black Hills from seeing pictures of Mount Rushmore, or are completely unaware that an *unexciting* little state contains such a beautiful, forested area.  I say "hills", but in fact the Black Hills' Harney Peak, with an altitude of 7,242 ft, is the highest point between the Rockies and the Alps.  That's a fantastic 3 hour hike, by the way, with it's most popular trailhead being found at the definitely-worth-seeing Sylvan Lake.
We had a wonderful mini summer vacation, including train rides, horse rides, and multiple waterfall viewings.  I will write about that soon!
I'd love to hear from you… is your family taking any fun trips this summer?
*o*     *o*     *o*