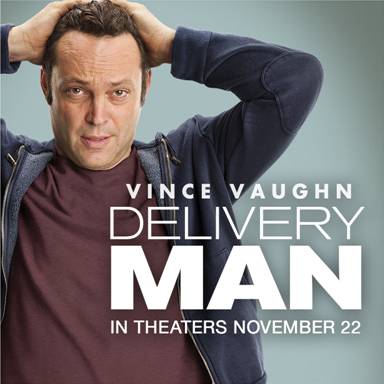 Each Fall the entertainment lineup is stacked with great options, the film companies all competing to offer some great family choices for your movie-going holiday weekend.  Walt Disney Studios will be right there at the top of the heap this year with a heartwarming comedy bound to be a hit:   "Delivery Man" starring  Vince Vaughn, opens November 22nd.  As a clever tie in to this amusing story line, which unfolds when the underachieving delivery man discovers he has fathered 533 children (wha??)…  today the debut of the official movie trailer is being exclusively released ONLY on the sites of 533 bloggers!  [One's ME!  Yaaaay!]
"In the film, Vince Vaughn plays an affable underachiever looking for his purpose in life, when he finds out he's fathered 533 children through anonymous donations to a fertility clinic 20 years ago. Now he must decide whether or not to come forward when 142 of them want to meet their biological father."
HA!  Get it?  We 533 bloggers are like Vince's long lost children.   At least for today, this group of bloggers is bound together almost like a huge family… enjoying this joint entertainment venture of debuting the "Delivery Man" trailer to the world.
Or perhaps a different analogy.  Hey, if Vince Vaughn wanted to take us all under his wing and be our adopted, mildly screwed-up but definitely funny dad… I'm pretty sure we'd all welcome the opportunity to let him jump right in to our lives and mix things up a bit.   Am I right?
I'm a fan of any lighthearted film that helps poke fun at the crazy, at times overwhelming challenges which parenting brings.   Making we parents feel a little less crazy and overwhelmed ourselves, when we see that our daily struggles with our kids are actually so commonplace they can provide humorous fodder for movies.   Delivery Man looks like it fits that bill, and I'm looking forward to seeing this film with my family.
The following is my favorite scene from the trailer, when having a heart to heart with his friend who appears to be somewhat more traditionally married father of four…
"Vince:  It is IMPOSSIBLE to be the father of 533 children.
Friend:  It is impossible to be the father of 4 children."
Oh my, there are most certainly days when it feels like that, aren't there…?!
What follows appears to be a series of somewhat bungled, yet ultimately helpful, attempts at meeting some of his children in person.  He tries to intervene in some of the struggles they are facing in their lives, and in hilarious Vince fashion (he tends to really nail those "lovable loser" roles) – things don't appear to always go smoothly.
Disney's "Delivery Man" ~ Trailer Debut
Enjoy!  Let me know what you think…

DELIVERY MAN releases in theaters on November 22nd!
Do you think you'll go see this movie…?
*o*     *o*     *o*
You can follow DELIVERY MAN here: