Lazer Sport has been in the business of making bike helmets for 90 years, and describes itself as "the most experienced helmet manufacturer in the world".  Their objective is to to find synergy between design, comfort and technology.  Although they also make eyewear and snow helmets, I was interested in trying out some of their kids bike helmets.
I think most parents would agree that it's a good idea to have your kids wear bike helmets when riding.  Keys to the success of pulling this off include finding them a properly fitting helmet that's comfortable… and setting a good example by wearing one yourself!
My two kids currently fall in the toddler and gradeschool age ranges.  One of the really cool things about Lazer's kid helmets is their unisize feature.  More on this below, but in essence it means both of my kids are now wearing the Lazer Skoot helmet, which will provide them with protection for years to come.  And I also tested out a similar style, but for women – the Laser Kiss helmet.
We've been very happy with these helmets.  As an introduction, check out this short video which gives you a quick and informative overview of these two (similar) helmet styles.
Lazer Sport "Skoot" Bike Helmet for Kids
The Lazer Sport Skoot Bike Helmet for kids is nicely padded inside, and both of my kids find it very comfortable.  It has a visor in front, and comes with a soft fabric bag to use as a protective case when they are being stored in that [not-always-tidy] garage.
My toddler son has no fear whatsoever, and is definitely a child we are going to want wearing head protection!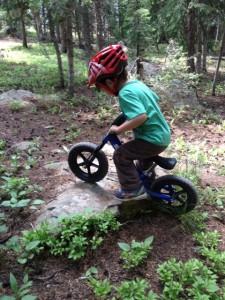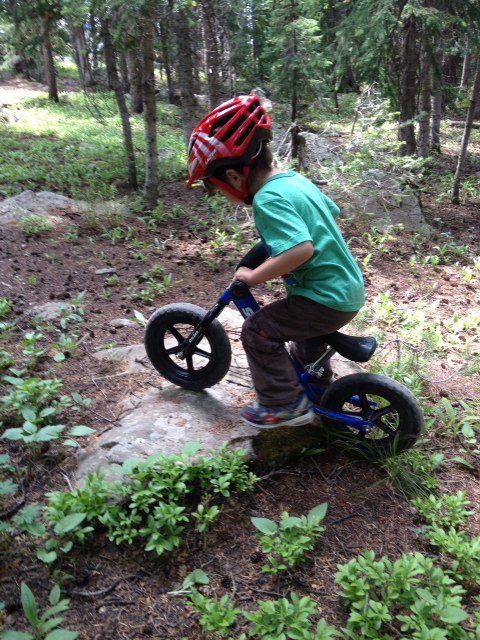 We've tried other bike helmets on him, but the Lazer Skoot is the first one that he completely left alone and continued to wear, once it was adjusted correctly and placed on his head.  It's like he forgets he's wearing it.  Which is perfect.
This helmet is very light, and stays cool with the help of 16 vents.  Because they are designed to be adjustable and used by kids with anywhere from a 50-57 cm head size, the straps are also highly adjustable.
You can easily unsnap the side adjustors clips, which rest below each ear, to pull the straps into the proper length and position.  Then snap securely back closed to hold them in place (pictured in lower right of photo collage).
So how is one bike helmet model able to fit such a range in kid head sizes?  Enter the impressive Rollsys® system.  The Skoot helmet uses Rollsys® to easily control the size and the comfort by turning a wheel on the top of the helmet.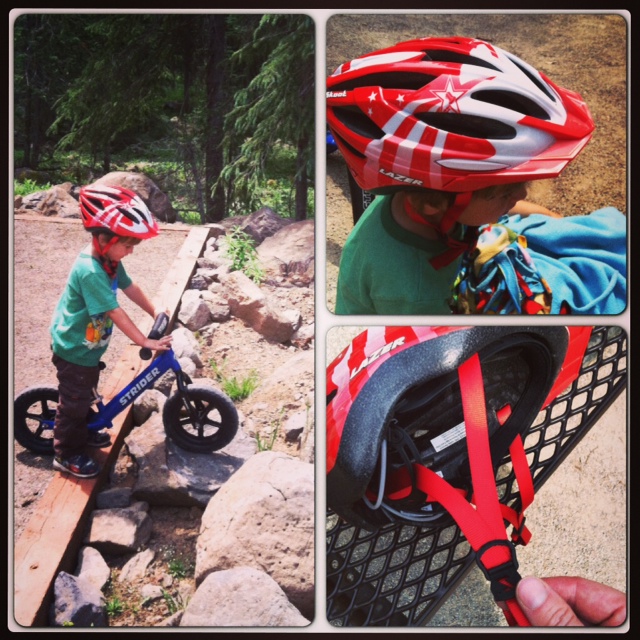 Because of how important the fitting of a helmet is to safety and comfort, the Lazer Sport R & D Department put a lot of care and innovation into developing this Rollsys® system, and it works amazingly well.
Perhaps I'm just strap-challenged, but it did take me awhile fiddling with the straps before the first wear of the Skoot helmets, to get each child's just right.   Sometimes this is a work in progress, but once you've got it right they do stay in place and don't have to be altered again (until your child grows).  The Rollsys adjustment, however, is extremely easy and slick – no struggles there.
Once each child's Skoot was adjusted properly, they both had a customized helmet that fit them perfectly.   A kids bike helmet will obviously be much safer if it's securely fit to their heads.  Plus your child will then be much more likely to wear it, especially when it's so comfortable.  It's a great feeling when you find a product like this which will truly fit the bill for outdoor play like this!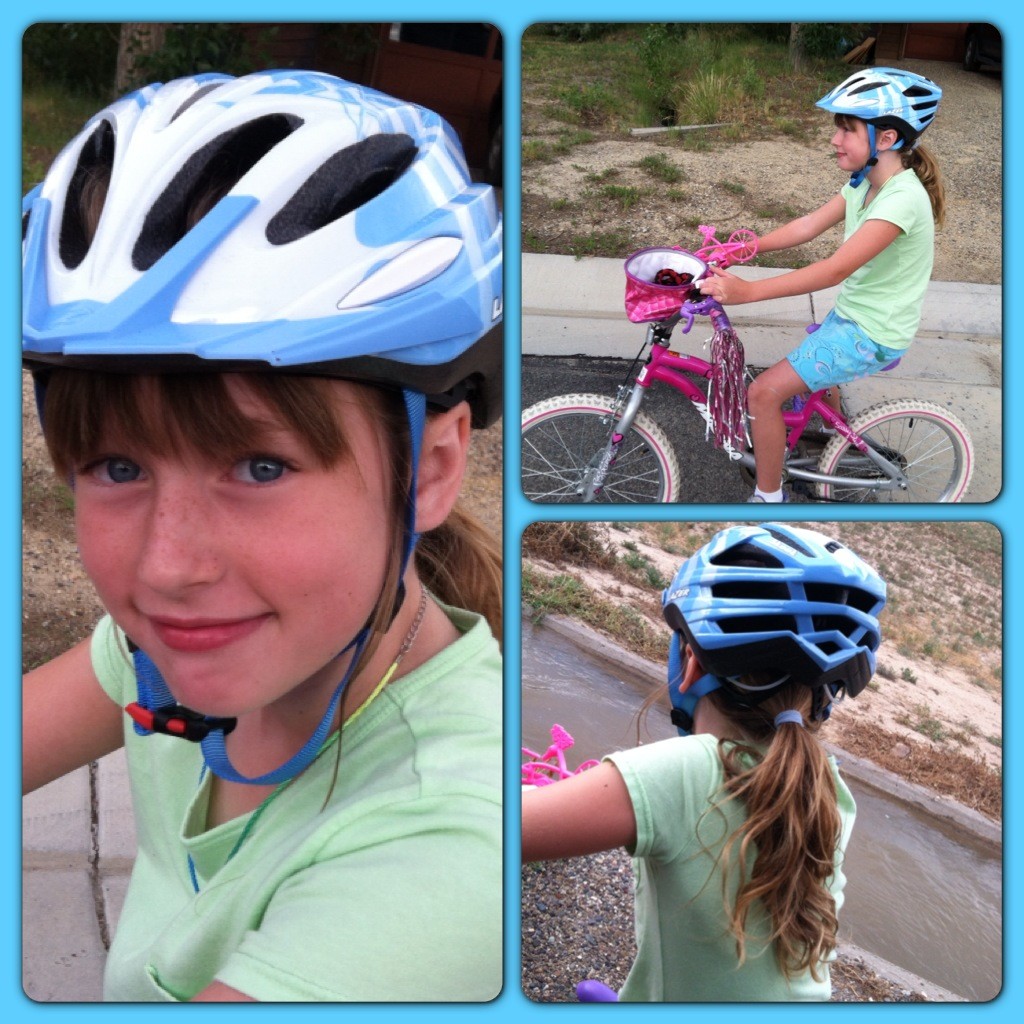 We are very excited about the Lazer Sport Skoot helmets, and feel confident that they are giving our kids top-of-the-line head protection on their bike rides.
Lazer Sport "Kiss" Bike Helmet for Women
Remember that talk about parents setting a good example for their kids, by wearing a biking helmet themselves?   Yeah.  I haven't been doing that.  Partly because I've never owned a comfortable biking helmet that I liked (and partly because I had no idea where mine was).  But we've been riding bikes more lately, and it's been bothering me more lately.
The Lazer Sport Kiss bike helmet for women is very similar is style and design to the Skoot.  I'm so glad I was able to test one out, if for no other reason than to experience how well that Rollsys® system works.
I slid the helmet on, and easily adjusted the wheel on top with my finger, until it felt like the right amount of tension.  I've never worn anything quite like it.   The best way I can describe it is that it feels like two hands gently grasping my entire skull.  It moves with you, no sliding whatsoever… you know, like a biking helmet is supposed to.  I kept telling my husband, "This is amazing!  I feel like I'm wearing a comfortable hat!"
And listen up, you ladies (and girls!) – here's another cool thing about this design, and it's true of both the Kiss and Skoot:  it's ponytail friendly!   The use of the Rollsys® system for fitting takes away the retention system at the back, so it leaves a perfect gap for your ponytail.  Brilliant!
I'm really excited about this Lazer Sport Kiss biking helmet.  I'll have no troubles wearing it and setting a good example for my kids.  🙂
Lazer Sport Biking Helmets
Now my family will be biking safely, in both style and comfort.
Again, since my children ages 2 and 8 are both wearing a Skoot helmet (Note: my toddler has a big noggin for his age, you'd want to measure their head before ordering)… I'd say this is an excellent gear investment that will be used for years.  I highly recommend Lazer Sport Biking helmets to your family, as well.
So go have some fun outside, and bike safely!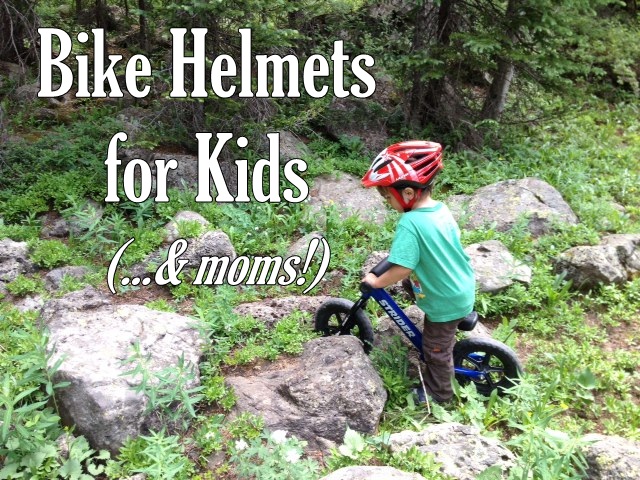 *o*     *o*    *o*
Lazer Sport provided us with the biking helmets described here at no cost, for the purposes of performing this review.  All opinions are my own.