First, please allow me to tell you about Mighty Nest, because they are an amazing site and central resource for finding healthy, eco-friendly, natural products for your home and family.  And then we'll move on quickly to the Back to School reusable lunch gear giveaway they are sponsoring, because it includes some fantastic products!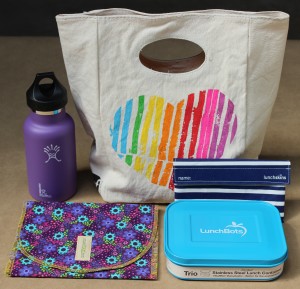 Mighty Nest has waded through all the marketing claims for you, tested these items on their own loved ones, and brought together the best of the best when it comes to high quality, healthy products.  I've become quite a fan of theirs over the past few months.
They have helped me discover healthy home products that I didn't even know existed, which were quickly and pleasantly assimilated into our everyday life.  And I'm convinced from my experience with the products I've purchased from them, that the brands they are featuring (and hence recommending) are all ones you are going to be very happy with.
So save yourself the time consuming, no guarantees search… and go straight to Mighty Nest for your natural, non-toxic product needs, and you'll stray no more!  🙂
Let's get to the back to school reusable lunch gear items we reviewed, and you can see for yourself the kinds of great ideas and items they have to offer.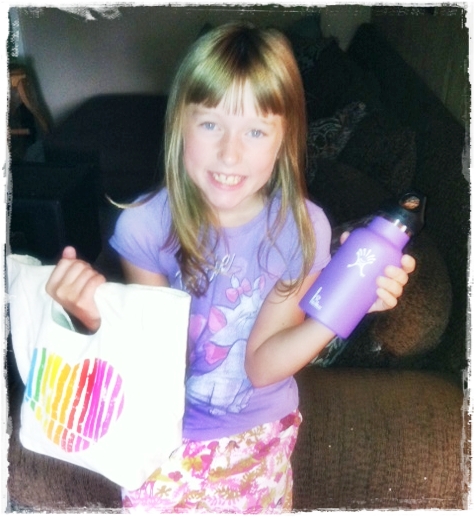 "I Heart You" Fluf Reusable Lunch Bag
I ask you… how can you go wrong with a rainbow colored heart design?  The "I Heart You" Fluf Reusable Lunch Bag was love at first sight, for both my daughter and me.  I had a hard time giving this up to the Back to School stash, since I really wanted to keep it for myself!
This is an organic cotton, tote style lunch bag with a snap closure and nylon lining for easy cleaning.   The gorgeous heart design is printed on both sides, and there's a special spot on the inside to label it with your name.  It's soft, yet very sturdy with double thickness fabric that promises to last a very long time.
I did actually snag it a couple of days and use it to take my lunch to work.  I love how earthy and unique it is.  My favorite aspect is that it's so malleable, and very roomy to even hold your water bottle or drink.  Only downside that I can see is that it's not insulated, but when I tried it out with an ice pack tucked inside, it had no trouble keep my contents cool until lunchtime.
Snack Taxi Reusable Snack or Sandwich Bag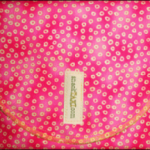 We are recent converts to the Snack Taxi reusable snack (or sandwich) bag around our house, and have a few of them in a couple different sizes.  Going through what feels like thousands of plastic baggies (especially for my daughter's daily packed school lunch) was driving me crazy.  Wasteful.  And expensive.
These clever little snack taxis solve that problem quite nicely, and come in two sizes.  One works perfectly for sandwiches, and one is smaller for a chips, fruit, or veggies snack.  They come in numerous fun patterns and colors, close easily with a Velcro strip, and are cotton lined with nylon for easy cleaning (machine washable, or turn them inside out and dip them right in your dishwater – then rinse & dry!).
The best part:  reuse them hundreds of times!
Hydro Flask 12 oz. Stainless Steel Insulated Water Bottle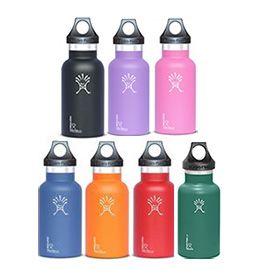 Wow.  Let me first say we've got a plethora of sizes, shapes, and types of water bottles around our house.   We tote water with us *literally* every time we go somewhere.
Well, this bottle's a new favorite!  You would be hard pressed to beat the quality and capabilities of the amazing Hydro Flask 12 oz. stainless steel insulated water bottle.
The double wall vacuum insulated food grade 18/8 stainless steel construction, along with their great design, means these awesome bottles:
Are BPA-Free
Resistant to bacteria and odors
Can be used for hot or cold liquids (hot up to 12 hours, cold 24 hours)
No sweating, leaving wet rings on surfaces or inside bags
Prevents ice from melting for hours & hours!
Completely leak proof
Have a wide enough opening to easily add ice
(Are you sensing we're all about ice water, in my family…?)
My daughter has been getting a real kick out of checking her Hydro Flask ice water contents on Day Two.  There is always still ice left in the bottle.   However, we have discovered that even though it's exciting that there's still icy cold water left… it's best to pour it out and replace with fresh contents for the next use.  When left for a couple of days, the water did have a slight metallic taste.
This 12 oz. Hydro Flask is a perfect size for kids, and comes with a lifetime warranty.  I highly recommend this for both back to school kids gear, and just general adventuring gear.
Lunchskins Reusable Snack Bag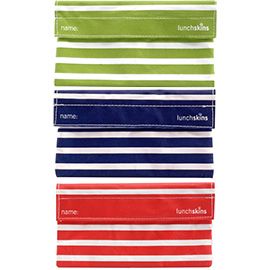 Lunchskins reusable snack bags, featured by Mighty Nest, are another great alternative to wasteful overuse of plastic baggies.  Similar to the Snack Taxi, but with different dimensions and it seems to be of a slightly stiffer material.
This one seemed just a titch long and skinny to me, but it still does the job nicely and the Lunchskins style actually features a longer and hence more complete seal from the top Velcro strip.
Hand sewn in the USA, and includes a place to label with your child's name.   Lunchskins states you can throw them into the dishwasher to clean, which is pretty cool.    Comes in colored striped and some other neat designs – also available in a sandwich size.
Another great reusable lunch gear option to eliminate waste!
Lunchbots Reusable Trio Stainless Steel Container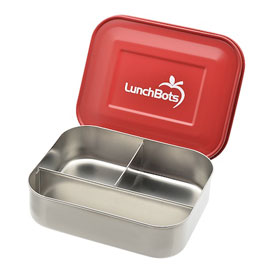 Lunchbots reusable trio stainless steel container is a plastic-free lunch and snack container alternative, made from the highest quality 18/8 stainless steel.  The "trio" shown here has 3 divided sections, but Lunchbot also offers single, duo (2 section), and quad (4 section) options.
My daughter loves bento-style divided lunches, so we will definitely be getting a lot of use form this Lunchbot trio.  The lid seems to seal nicely, although the website cautions it's not intended to be watertight.
I noticed the dividers inside don't completely seal off each of those 3 sections (ie liquid in one section can seep under the steel divider into an adjacent section) but that's not a show stopper – just an FYI, so you can keep it in mind depending on your intended use.
It appears somewhat small for an entire lunch, but it actually holds more than I expected and it's slimness makes it nice and compact.  True be told, it's probably the perfect size for my daughter's lunch (or a snack).   As a family, I've been trying to have us move away from using plastic for food storage, so I'm pleased to have this new container for her reusable lunch gear.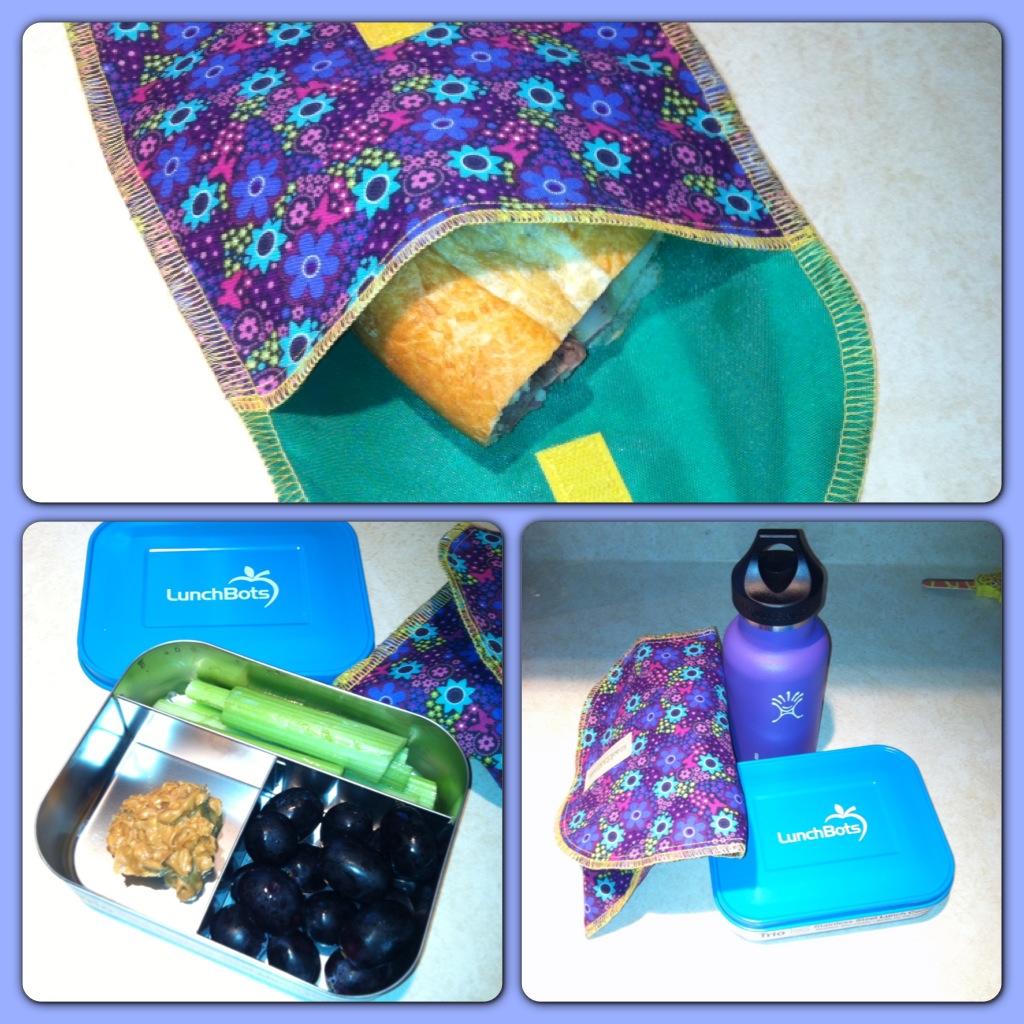 The Mighty Nest Reusable Lunch Gear Giveaway
Mighty Nest has offered to contribute to your family's reusable lunch gear collection, by giving away a kit including one of each of the items featured in this review to one of my readers – a retail value over $75!
Hurray, and huzzah!
Open to US Resident. Entries will be verified.  Please enter using the form below.
Mighty Nest provided me with the items described here, at no cost, for the purposes of performing this review.  All opinions are my own.