Whether you long for it, or dread it (or a little bit of both), it's that time of year again to get kids geared up to head back to school!  Ahhh… and along with that comes the big SHOE decision.  My daughter has been trying out a pair of Keen Harvest MJ [Mary Janes] – so take a look at this adorable and durable option.
My family has had good experience with the quality of Keen products in the past.  An outdoor brand by nature, I love that their footwear is sturdy and intrinsically built for outdoor adventures, at any given time.
Keen Harvest MJ

Keen has had the Harvest MJ style available for women for awhile now, in various fun colors and prints.  Now for back to school 2013, they also have two Harvest Mary Jane options in girls sizes: in Black Iris (shown above left), and Hot Coral (shown above right).
From the product site:
"Crafted of beautiful patterns and natural canvas, the adorable Harvest MJ is perfect for back to school or weekend outings. The easily adjustable hook and loop closure straps make it a cinch for little hands."
That description made me go back and examine the shoes more carefully, because we didn't notice the top strap being adjustable?  I'm not sure if some pairs feature this… but on my daughter's pair of Harvest MJs, the top strap is permanently attached, with no adjustment option.
The Harvest MJ is so easy to slip on and off, and yet stays on nicely.  It really is a good design, and makes them very active child friendly.
They are just a wee bit wide for my daughter, but it hasn't been a problem.   This style comes in full sizes, so they are about 1/2 size too big for her right now (which is perfect – we want them to last for the school year), so that may be a contributing factor.  But even the slightly wide-for-her width hasn't been an issue, she runs in them easily.
"Colorful" is all the rage with grade school girls right now!  This is even true down to their shoes, and we think both of the Harvest MJ color options are super cute.   The day they arrived, she just happened to have a nicely coordinated outfit… so we had our photo shoot right away.  🙂
The Harvest MJ are made of a sturdy canvas fabric, with a non-marking rubber outsole.  Kids are hard on shoes, and Keen builds them to last.  I'm confident these will last my daughter nicely throughout the upcoming year.
An easy slip on shoe style like this is my daughter's absolute favorite.  Not big on tying her shoes, the previous two years she has had a cheap pair of slip on canvas shoes (not Keen brand).   She loved, loved, loved them until they *literally* wore a hole completely through the bottom.  (And she then continued wearing them until mom snuck in her room in the middle of the night, and took them out to the dumpster.)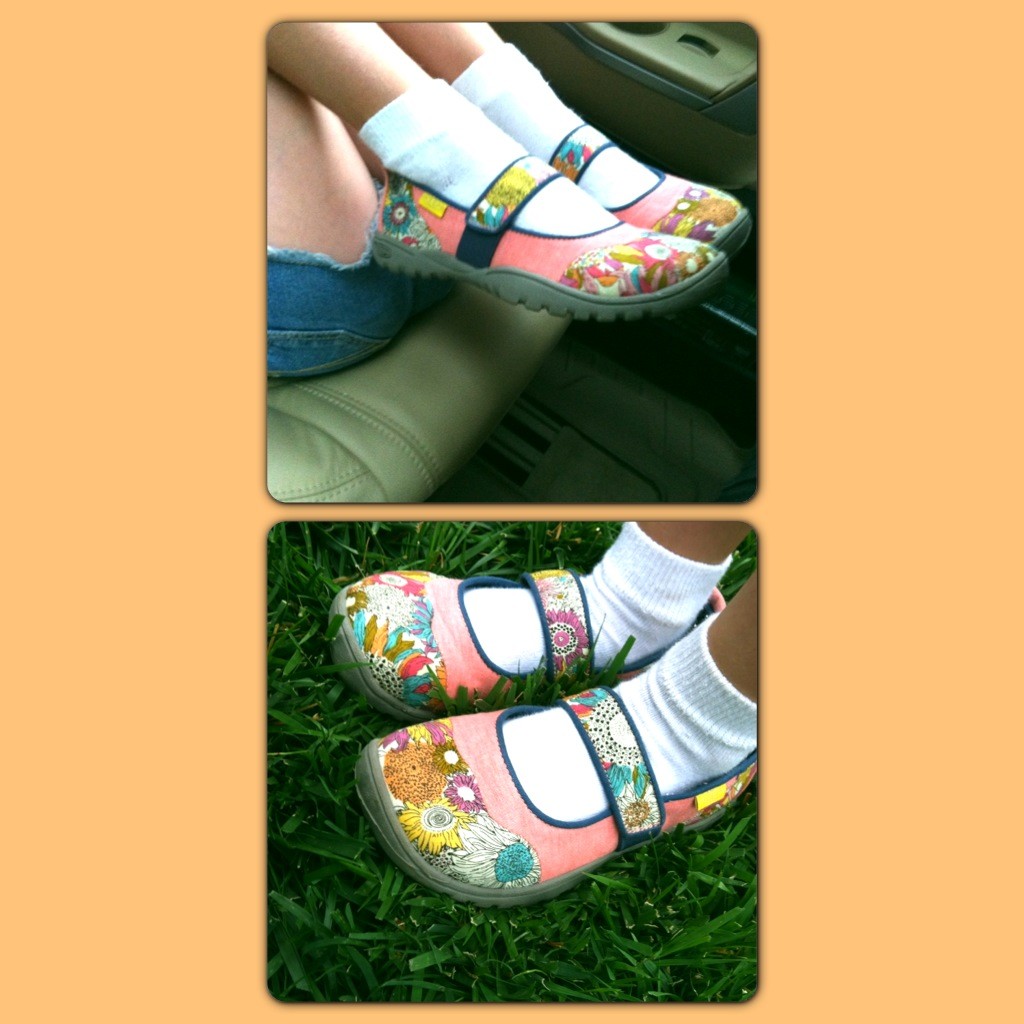 I'm happy to report that she has the same feelings about her Keen Harvest MJs.   Yes, that kinda shoe love!  Which leaves mom thrilled, because these are high quality, sturdy shoes that are going to protect her feet better, and keep up with her better, than any non-Keen version she's worn in the past.
And there's no wearing through this Keen sole!  She'll have excellent tread, and could handle anything from recess, to shopping, to honestly even taking a hike in them.
I definitely recommend Keen.  Check out all their awesome back to school shoe options for kids (boys and girls!), happy shopping, and have a great school year!
*o*     *o*     *o*
I worked with JAM Media Collective on this post, and received a pair of Keen Harvest MJ at no cost for the purposes of performing this review.  All opinions are my own.