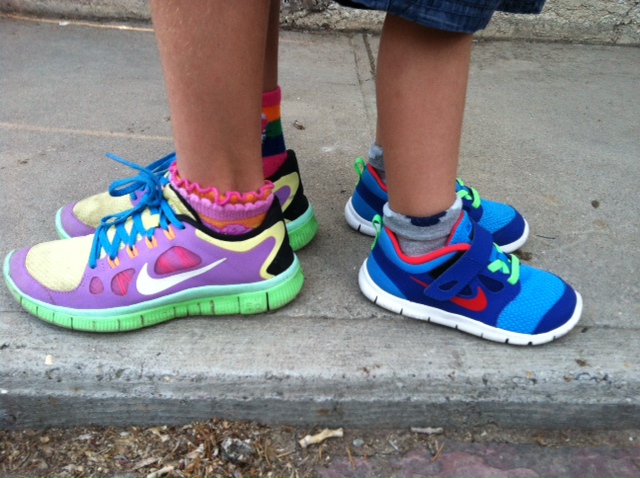 Have you heard about Nike's current #FreeYourMoves campaign, inspiring kids to be active? Initiated last summer with the thought of promoting lots of healthy active play during summer break, it's something worth striving for year round. And with Nike Free 5.0 iD, kids can literally design their own athletic shoes to help them #FreeYourMoves.
After wearing a pair of Nike Free 5.0 iDs for a few days, I knew my 8 year old daughter found them really comfortable.  But I asked her if they felt any different from "regular" tennis shoes?  Here is her reply:
"Yes!  They are so comfy, and it almost feels like you are barefoot.  But not really.  I can run alot faster, because I can 'feel' when I'm wearing other tennis shoes… but I can't really feel these on my feet when I'm playing."
More on this awesome, flexible design below.  But first let's get to the most fun aspect of Nike Free iD 5.0 – your kids get to design their very own pair online.
Nike Free 5.0 iD ~ Design Your Own Shoes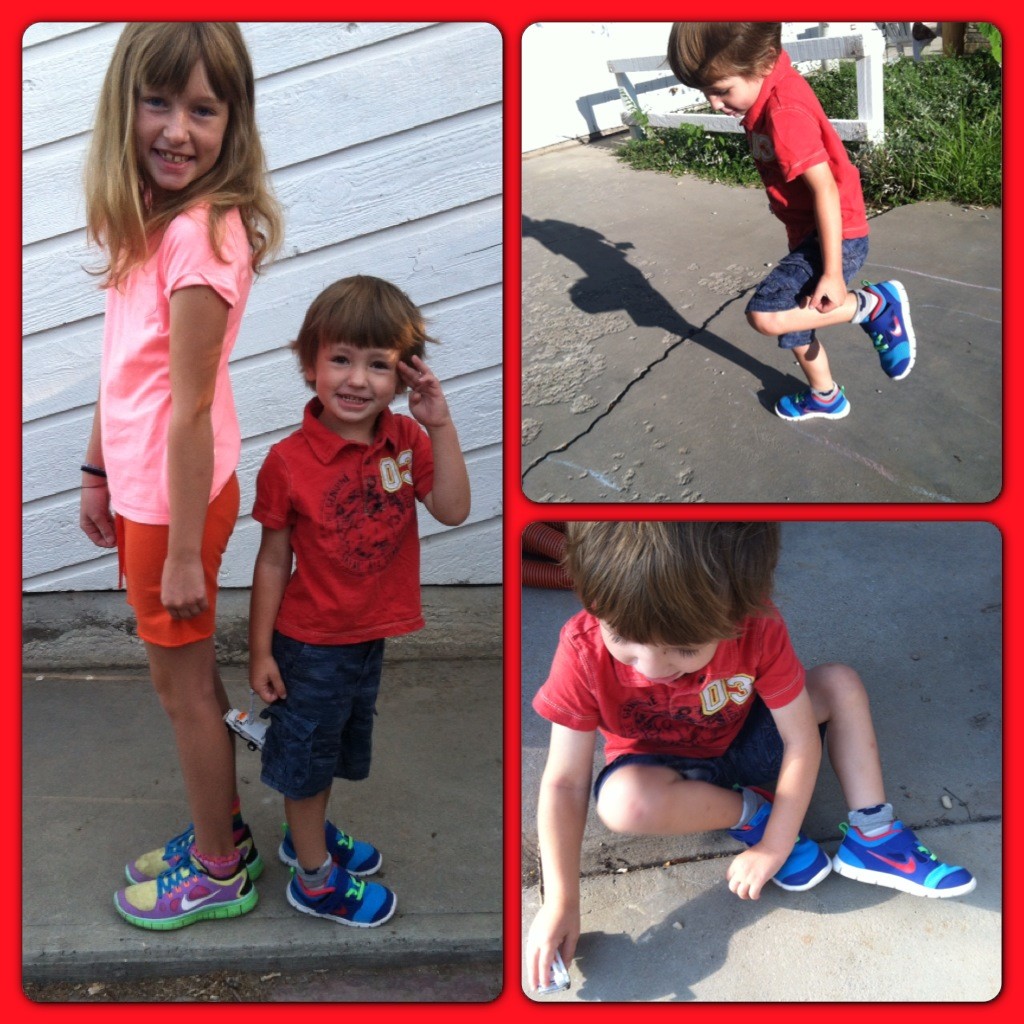 Nike has an easy, interactive website which allows your kids to logon and play with their very own custom shoe design. Tabs are provided for each part of the shoe, and an available color grid allows them to select their favorite combinations for each portion.
It's very dynamic, and simple to navigate. Designs can be saved in "My Locker", so you can shop and compare which is your favorite creation.
When I described this concept to my soon-to-be 3rd grade daughter, she was so excited that she found it a little too good to be true. Although she's inherited my tendency towards indecisiveness, I found it interesting that she hammered out a design she fell completely in love with in under 10 minutes flat.
A rainbow lover at heart, my daughter went for it big and bold!
Of course she continued to play with the Nike iD Free page, and design multiple other shoes to add to her locker. In the end, we went with that original winner.
And don't forget to add that final customization touch: selecting (brief) personalized text to add to each shoe, as a tongue top ID. Sadly "AWESOME" is too long of a word to fit on a youth size 3 shoe. But "SUPER" zoomed in to save the day, as an acceptable substitute…
I think these turned out adorable, and she's been enjoying making her own statement with her Nike Free 5.0 iD shoes this school year.  And she loves being active in them.  This includes, but is not limited to, wearing them to a party and dancing.
Mom got to design little brother's shoes. His were toddler sized, with a slightly different design including a velcro top closure. Although they have laces, you do not need to tie/untie them. These are easy on, easy off, so flexible and soft, and fit him great.
They are *almost* too cute for me to let him wear. 🙂
Nike Young Athletes #FreeYourMoves
Nike's Free your Moves campaign aims to inspire young athlete's to dream big. Sounds good, but what defines a young athlete?
As a mom with two young kids, attempting to raise them to enjoy active play more than sitting in front of a video game or tv… to me, a young athlete is just that! A child who loves active play. And the more we can give them opportunities and encouragement to be that child, the healthier and happier they will be.
Nike Free 5.0 iD ~ Flexible Fit
Nike's line of "Free" footwear is based on core concept of ultimate flexibility for young feet. Though durable, the soles are remarkably pliable.
I've included the image below because I think it's an informative graphic.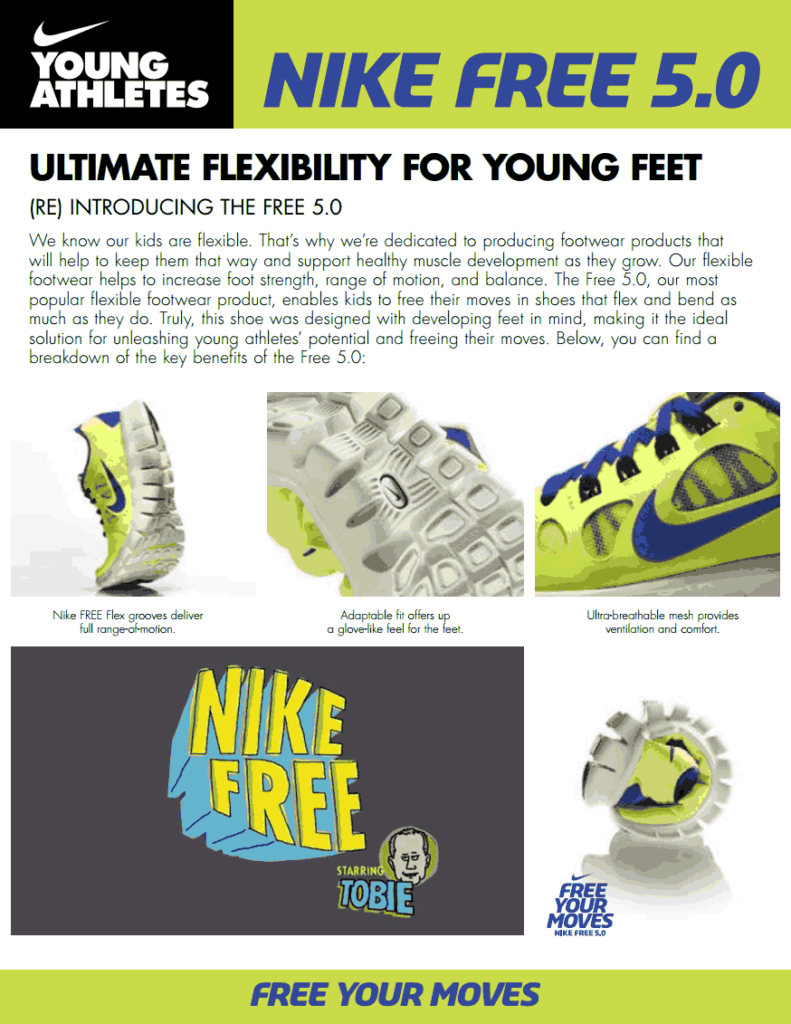 If it's too small for you to read, the highlights state…
Key Benefits of Nike Free 5.0:
Flex grooves deliver full range of motion
Adaptable fit offers a glove-like feel for the feet (my daughter says they are incredibly comfortable and light)
Ultra-breathable mesh provides ventilation & comfort
Unleashing a young athlete's potential, and freeing their moves.  Also leaving mom feeling good about having their kids wear comfortable footwear.
We've been very pleased with these shoes, both of my kids now reach for them first on a daily basis!  Check out the Nike Free iD site, and see what kind of design you can create to #FreeYourMoves.
 *o*     *o*    *o*
In participation with Nike's Free Your Moves campaign, I received two pairs of kids Nike Free iD 5.0 shoes at no charge.  All opinions are my own.