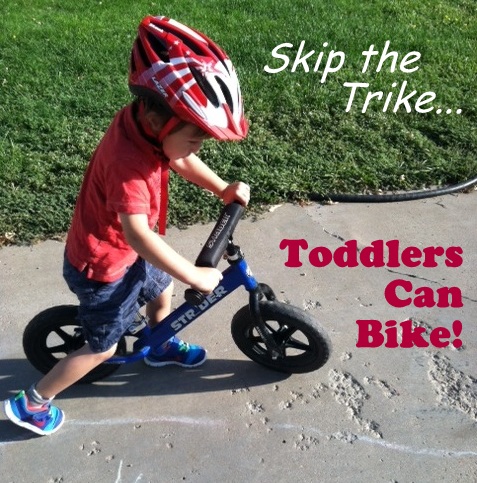 Have you ever seen a tiny tyke dashing along on a two-wheeled bike, looking barely old enough to have left the baby stroller behind?  Behold the power of the toddler balance bike, a new outdoor play phenomenon that delivers some easy, worthwhile, and exciting benefits.
My son just turned 3, has truly found his stride on his balance bike, and loves every minute that he spends on it.  Frankly, he sheds almost daily tears whenever we need to remove him from it and head back indoors.  But that's a good thing.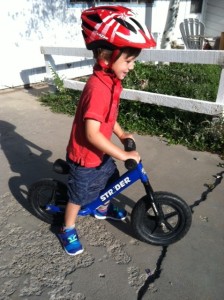 I can't take credit for the initial discovery of balance bikes.  It was my parents who had admired wee riders from afar, in their local parks, watching them impressively darting along on their Strider bikes.
Grandpa thought this was a very cool trick, indeed, and had the balance bike purchase all planned out.  (I'm pretty sure this occurred a few  hours after my son's birth.)
Toddlers Can Balance Bike!
I won't get into the engineering details here, I primarily wanted to encourage you to give them a try if you have any toddlers in your house.  There are no pedals, and they are very low to the ground.  My son has occasionally tumbled off, but has never been hurt.
Being the type of kid he is (wild – thrill seeking – fearless – unending amounts of energy) I have felt strongly about him wearing a helmet whenever he rides.  If for no other reason, to establish the habit.  This is a kid who will definitely need to protect his noggin during play, throughout his life!
Learning to Ride a Toddler Balance Bike
Admittedly, for the first few month my son didn't completely "get" the balance bike riding concept.  I'd say this lasted starting around age 18 months – up to about age 2 1/2 yrs.  Every kid is different… I've seen adorable pictures of 2 year olds coasting along likka breeze on their balance bikes.
So at first, he'd just walk along with the bike between his legs, not sitting in the seat.  Which he found fun, but I knew the full effect hadn't kicked in yet, and he had no idea what he was missing.
The turning point seemed to be when we took his Strider along camping, and he got to try it off road.  And BAM!  Just like that, it clicked.  He sat in the seat, "pedaled" with his feet pushing along on the ground, and then there was no stopping him.  Trees, holes, stumps, rocks, logs.  You name it, he either navigated around it or rode right over it.  It was so fun to watch!  That smile was priceless.  He was hooked.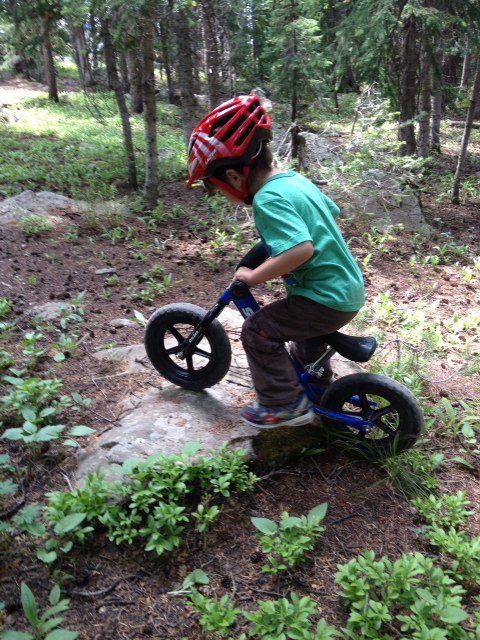 Now the whole family is enjoying getting to ride bikes together.  I will warn you, with these smallest models – by design, there are no brakes.  The intent is to keep them simple, I mean… we're talking tiny toddlers, here.
So on occasion we run into some hills that can be tricky, since he gets some pretty serious momentum going.  My best advice:  be aware of the route you're taking, and have good protective shoes on your child.  Cause they're going to drag their toes to stop, if needed.  (Incidentally, I've been very impressed with how his Keen sandals have withstood this abuse!)
Give Your Child the Gift of Bike Riding
One of the primary benefits of toddler balance bikes is teaching them balance at such a young age.  This gives them a huge advantage, allowing them to graduate naturally and with ease to riding a real, big kid, 2 wheeled bike.
Skip the trike!  Skip the training wheels!  Ta-daaaah!  Once they master their balance bike… they ARE riding bike!  Very cool.
I thought learning to ride a bike was a given for every child, but have found in visiting with other parents that's sadly not always the case.  One friend has a 9 year old son, who never learned to ride a bike and is now hesitant to do so.
Anything you can do to help your kids be active outside, and ENJOY playing outside, is giving them a life long gift.  We've thoroughly enjoyed our experience with our toddler balance bike, and highly recommend them to your family, too.
Please feel free to ask me any questions, I'd be happy to visit with anyone considering this option for their child.
*o*     *o*     *o*
Has anyone in your family tried a balance bike, and what was your experience?