Mom is on the final, exciting stretches of Disney World vacation planning!  It's finally time to wrap up those last few details, and execute the ideas I've been dreaming up for months. For the first time, this trip is a SURPRISE to my kids!  Another first:  I'm putting together some Disney Trip surprise bags for my kids.
Here is what I've put together thus far, and I'd love to hear from you on any other tips to add or consider.  Have you done something similar?
Disney Trip Surprise Bags
On our last trip, I had a fun Mickey themed tote bag full of Disney World snacks and goodies delivered to our room by Disney Floral and Gifts.  My family loved having this magical surprise waiting for us in our Disney resort room.  They do an amazing job, but I thought I'd save some money this go-round and do something a little different.
So I've put together two Disney Trip surprise bags for my kids!  (Ok, so I considered making one for myself, but didn't want to steal their thunder.  ;)  )  I'm going to bring them along in my carry on luggage, and when we arrive at our room I'll just sneak in first and place one on each bed… "waiting" for them.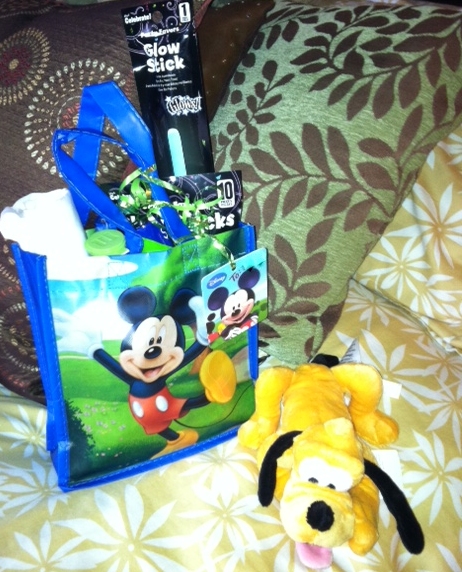 I found the little tote bags at Walmart for $1.50 each.  The online Disney Store received my order a few short hours (it may have been minutes?) after booking our trip – HA!  So I already had some hidden items ready to go from there.
Here's what I've stuffed in my Disney Trip Surprise Bags:
2 Disney character t-shirts
Mini candy bars
Variety of glow sticks, necklaces, bracelets, & crowns – for evenings in the Parks
Small Disney character plush
Mini M&M container, decorated, and filled with pressed penny money
These lil' suckers filled up in a hurry.   And I was torn on the "just get everything exactly the same for both kids" principal, which is typically my rule of thumb to prevent any fights.   So I'm hoping my 3 yr old son is distracted enough by everything else, that he isn't jealous of his sister's Princess crown made of glow sticks.  It was a calculated risk.  We shall see.
I got the pressed penny money idea from a Disney forum years ago.   Instead of having your kids ask for change every time they spot one of these machines (let's face it, this can be annoying… even on a Disney vacation when anything goes!), it's pretty slick to have them just manage that on their own.  In the scheme of things, it's a pretty cheap souvenir.   My daughter has loved having hers, and the case displaying her Disney pressed pennies was her first choice to take to school for Show-n-Tell.
Well, that's about it!  I'm just so excited, I wanted to tell someone… 

The jury is still out on how we will tell the kids.  I'd love to keep them in the dark up until we arrive at the Orlando airport… you know, a classical "WE'RE AT DISNEY" surprise.  And although my toddler will be clueless, my 8 year old is pretty sharp, and remembers previous trips.  I'd love to video tape that moment of realization.  I'm thinking her Magic Band will enter into the equation somehow.   SO FUN!!
If you've surprised your kids with a Disney trip before… please share!  How did you tell them?  Any suggestions for what to include in Disney Trip Surprise bags?