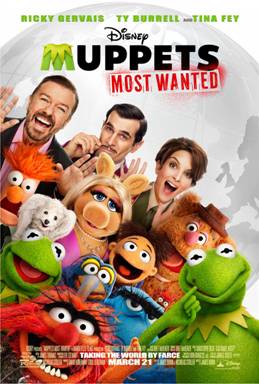 The new trailer for Disney's MUPPETS MOST WANTED is now available!  Take a peek at this movie which promises fun and a lot of laughs for the entire family.  I'm a big fan of the classic Muppets characters, and they are always at their best when combined with hysterical real life comedians… which will certainly be the case as they are joined in this caper by Ricky Gervais, Ty Burrell and Tina Fey.  (Ty Burrell is the "Modern Family" guy, BTW.  Love him.)
"Muppets Most Wanted" takes the entire Muppets gang on a global tour, selling out grand theaters in some of Europe's most exciting destinations, including Berlin, Madrid and London. But mayhem follows the Muppets overseas, as they find themselves unwittingly entangled in an international crime caper headed by Constantine—the World's Number One Criminal and a dead ringer for Kermit—and his dastardly sidekick Dominic, aka Number Two, portrayed by Ricky Gervais.
The film opens in theatres everywhere on March 21th.
Muppets Most Wanted ~ New Trailer
Follow along at #MuppetsMostWanted
*o*    *o*    *o*
Like The Muppets on Facebook: https://www.facebook.com/Muppets
Follow The Muppets on Twitter: https://twitter.com/muppetsstudio