Originating in the United Kingdom, and now recently available in the US, comes a cool waterproof product line from a company called SealSkinz. Whether it's your head, hands, or feet you're trying to keep dry – SealSkinz has you covered with their unique, patented technology. I was intrigued by this concept of waterproof hats, socks, and gloves. SealSkinz waterproof technology includes 3 layers:
Inner Layer – worn next to your skin, a blend of Merino Wool and other materials
Middle Layer – the membrane barrier, your waterproof protection, which is also breathable
Outer Layer – outer protection layer (material varies with product)
Their products also offer a thermal benefit, designed to keep you not only dry but also warm in wet, cold conditions. This impressive video demonstrates nicely exactly how the socks work, during the very appropriate use activity of cycling… through puddles, of course!
SealSkinz Waterproof Mid Weight Mid Length Socks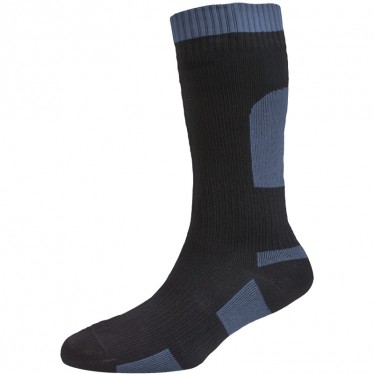 I reviewed a pair of SealSkinz Waterproof Mid Weight Mid Length Socks.  These socks are considered a 3 on their thermal rating scale of 1-4 (4 being the warmest). They feature a merino wool blend in the inner layer, and do feel warm and nice against your skin.
They utilize the breathable waterproof inner membrane to keep your feet completely dry, no matter what your outdoor adventures bring your way.  Each and every pair is tested for this, before shipping to a customer.
They are described as close fitting, and this is somewhat the case.  However, because of the unique nature of this sock, they do have a certain shape and form to them that is unlike a typical sock.  Perhaps because of the unisizing (and my lower leg being slightly narrower than a man's probably would be), there is a tiny bit of gapping for me in the lower calf [see photo below].  But the top cuff elasticity is the perfect amount, not too tight or loose, and I did not experience any trouble with the socks slipping down.
You can see (and somewhat feel, I noticed it mostly in the toe area) the membrane seam down the center of sock.  They are comfortable, but just have slightly more rigidity than a pair of "non-waterproof-membrane" socks would be.   I simply point it out because I wasn't expecting this.  It makes perfect sense, though.  Think wetsuit-type balance of structure, yet pliability.
Although they are not the kind of socks you would likely slip on for casual everyday wear, the SealSkinz waterproof, breathable mid weight socks are a highly technical piece of outdoor gear – intended and well suited for a very specific purpose.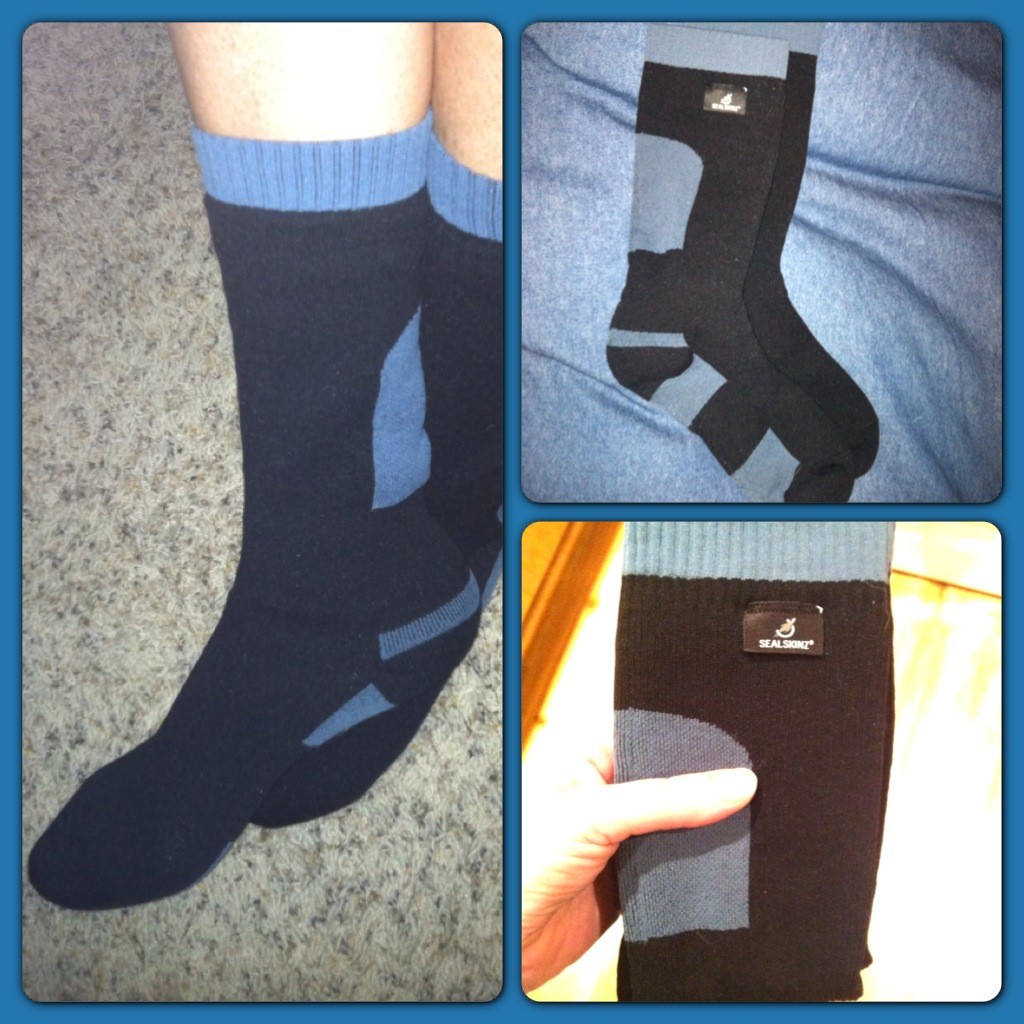 SealSkinz offers a sizing chart to determine what you should order.  Sizing seemed very accurate when using this – I'm a women's size 9, ordered a Medium, and the heel hits me in just the right place.
I think this technology is very impressive, and is an exciting, fantastic option to have!  Particularly if you've struggled with the challenge of keeping your feet or hands dry during an activity you enjoy, such as cycling, running, hiking or water sports – I'd definitely say it's worth looking into a SealSkinz gear investment.
You can find them on Facebook, Twitter, or check out their product line on their SealSkinz website.
*o*     *o*    *o*
I received a pair of SealSkinz Mid Weight Socks described here at no cost, for the purposes of performing this review.  All opinions are my own.