I simply had to post this "March Events at Denver Botanical Gardens" release below, because several of these sound so creative and fun!  What a great way to welcome Spring… I know I'm already starting to feel ready.  Check it out if you're in the Denver area. Raising dwarf dairy goats in your backyard?!  Hmm… interesting…. verrrry interesting!  🙂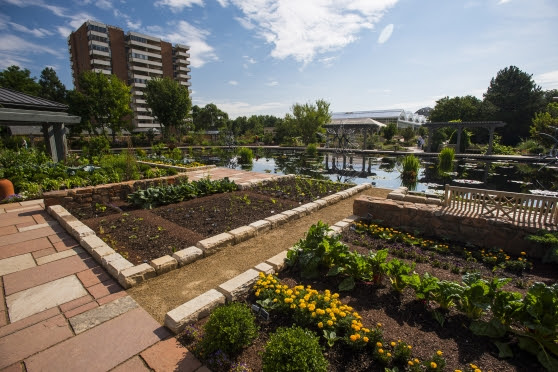 March Events at Denver Botanical Gardens
March is filled with garden preparation at Denver Botanic Gardens, with offerings and events for all ages and interests – from families, foodies and crafters to urban homesteaders and fitness buffs. Select events are featured below. Programs are subject to change; visit www.botanicgardens.org for the complete calendar.
Denver Botanical Gardens ~ GARDENING
NEW GARDENER BOOT CAMP Saturday, March 1, 9 a.m. – 4 p.m. $80, $60 member (materials included) This comprehensive, full-day event will present a comprehensive overview of the Gardens best beginner gardening classes, including "Beginning Vegetable Gardening," "Annuals and Perennials for Color in the Garden," "Garden Planning 101" and "Soils 101." Lunch from Chipotle is included. If taken individually, these four classes would cost more than $200.
TOTALLY TOMATO Tuesday, March 18, 6 – 8:30 p.m. $33, $30 members (materials included) This class will present an in-depth study of the most popular home garden vegetable. It will cover varieties of heirloom and hybrid tomatoes, and the best for each type of gardener, as well as seed starting, growing challenges, pests and diseases. The class will conclude with a demonstration on starting tomato seeds; each student will receive seeds to begin their own tomato plants at home.
VEGATABLES ARE COOL Saturday, March 22, 9 – 10:30 a.m. $21, $19 members This class will cover a variety of topics pertaining to managing a cool weather vegetable garden, including plant selection, the use of transplants, seeding and thinning techniques, cut-and-come-again crops, succession planting and more.
Denver Botanical Gardens ~ CREATE
PHOTOGRAPHY ON THE MOVE Tuesday, March 11, 6 – 8 p.m. $34, $29 member In this class, participants will explore the world of active, fast-paced photography for hikers, travelers and anyone interested in capturing moments on the move.
Denver Botanical Gardens ~ FOODIES
DELICIOUS VEGETARIAN COOKING CLASS Tuesday, March 4, 6 – 8 p.m. $47, $42 member (materials included) In this class, participants will learn to make a savory salad, followed by a butternut squash curry, a spicy cashew veggie stir-fry, a pesto and roasted veggie pizza and more. Dinner, featuring these dishes, will follow.
ONE POT MEALS Tuesday, March 11, 6 – 8 p.m. $47, $42 member (materials included) Participants will learn to make easy, healthy meals with no fuss, including New Orleans shrimp jambalaya; Thai ground pork with noodles and vegetables; and Taos chicken casserole with cheese, corn, zucchini and spinach. Recipes, pantry list and dinner are included.
THE COOK'S HERB GARDEN: THE MAGNIFICENT SEVEN Thursday, March 27, 6 – 8 p.m. $47, $42 member (materials included) This class will address growing, harvesting and the culinary uses of seven of the most popular culinary herbs:  marjoram, parsley, sage, rosemary, thyme, chives and basil. Participants will create an all-purpose garden seasoning blend, enjoy a gourmet herbal dinner and receive an herb blend to take home.
SEEDLINGS CLASSES Tuesdays: 18-24 month old, 9:30 and 10:45 a.m.; Wednesdays: 3-6 year old, 9:30 and 11 a.m.; Thursdays: 24-36 month old, 9:30 and 10:45 a.m. $11 for 18-36 month old, $9 member; $13 for 3-6 year old, $11 member Seedlings classes offer a fun, hands-on way for young children to explore the plant world, while developing an understanding and appreciation for plants. March classes include "Suds, Bubbles & Soap," the week of March 4; "Cool Season Veggies," the week of March 11; "Curious Clover," the week of March 18; and "Signs of Spring," the week of March 25.
HOMESCHOOL DAY AT DENVER BOTANIC GARDENS: BE A BOTANIST Monday, March 10, 10 a.m. – 2 p.m. $10 per child ages two and over. Children two and under free. One adult free per family; additional adults $6.50 Homeschool Days offer families the opportunity to explore plant-based themes through a variety of hands-on activities, tours and take-home projects that families can do together.
FAMILY WORKSHOP: COOL SEASON VEGGIES Monday, March 31, 1:30 – 4 p.m. $29 for child/adult combo, $26 child/adult combo member March's Family Workshop, focused on cool season veggies, allows children ages 4-10 and parents the opportunity to warm up with family fun at the Gardens, while exploring plants with games, activities and food experiments.
SPRING BREAK CAMP: GREEN THUMBS Monday, March 31 – Friday, April 4, 9 a.m. – 4 p.m. $259, $239 members Children ages 6-12 are invited to spend spring break at Denver Botanic Gardens, with activities including garden exploration, crafts and culinary arts. Work with a horticulturist and spend time planting and working in Mordecai Children's Garden.
Denver Botanical Gardens ~ HEALTH & FITNESS
CLASS: KUNDALINI YOGA Mondays, 6 – 7:30 p.m. $10, $8 member Instructor Chris Anne Coviello teaches Kundalini, the oldest form of yoga. All levels welcome. Participants are asked to bring water and a yoga mat.
Denver Botanical Gardens ~ URBAN HOMESTEADERS
FRONT RANGE BEGINNING FARMERS CONFERENCE Sunday, March 9, 9:30 a.m. – 5:30 p.m. (Denver Botanic Gardens at Chatfield) $42 for members and non-members This full-day conference will features instructional workshops from regional experts, as well as discussions with agricultural leaders about land access, farm design, food safety and farm justice. A locally-sourced lunch and post-conference social hour is also included.
ALL NATURAL SKIN CARE Saturday, March 15, 9:30 – 11:30 a.m. $63, $58 member (materials included) Instructor Christina Blume will demonstrate methods to create moisturizers, facial steams, cleansing creams, masques, herbal toners and more. Participants receive recipes, steaming herbs, a jar of moisturizer and a pot of lip balm.
BACKYARD GOAT KEEPING Saturday, March 29, 9 a.m. – Noon $35 for members and non-members In this class, Sundari Kraft of Heirloom Gardens will offer a comprehensive introduction to raising backyard dwarf dairy goats in an urban setting.
*o*    *o*   *o*