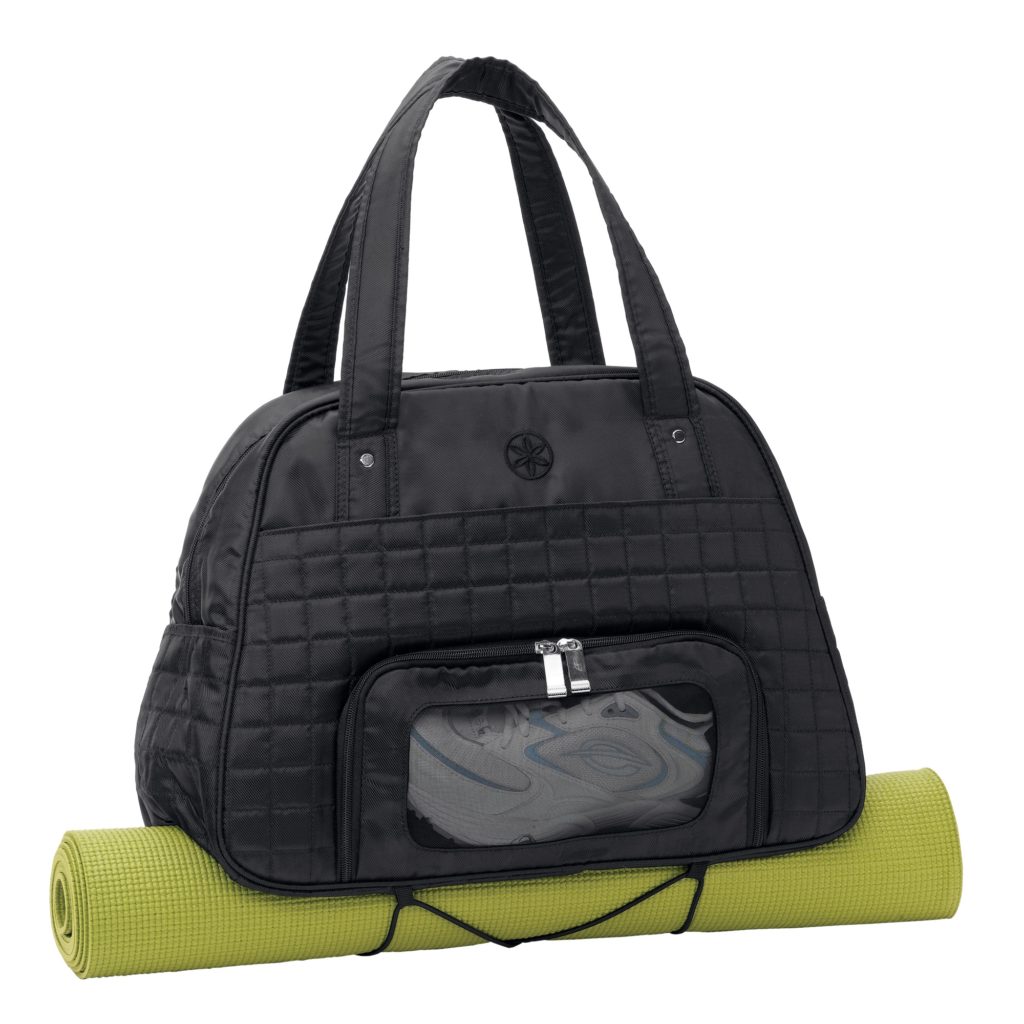 Frustrated with my cumbersome, bulky gym duffel bag… I went on a quest to replace it with something more helpful, cute, and appropriate.  Take a look at the Gaiam Everything Fits Gym Bag I've been trying out for the past few weeks.  I love it's size and features, and think you will, too.
Gaiam Everything Fits Gym Bag ~ Price & Features.
Well designed for the specific purpose of toting a woman's things to and from the gym, I was excited to see the size and check out the utility factor of the Gaiam Everything Fits Gym Bag.
First, the reasonable price.  I've shopped around online a fair bit for gym bags lately.  At $60, I feel Gaiam's "Everything Fits Gym Bag" is a comparatively well-priced gym bag option.
Here's what Gaiam has to say about this bag:
"This eco-chic bag keeps you organized. Its roomy interior features a zippered pocket, an elastic pocket, and a key tether. A vented outside compartment can hold shoes, wet clothes or towel. It also includes an easy-reach outside pocket for a water bottle, inside and outside holsters for a cell phone, and bottom adjustable straps for your yoga mat."
I loved this concept of a separated, ventilated compartment for your shoes, or other stinky and/or wet stuff.  So that was an important feature I was looking for, and really enjoy in the Everything Fits Gym Bag.  Although this ends up projecting into the interior of the bag (if it has contents), taking up a little real estate, it's worth it.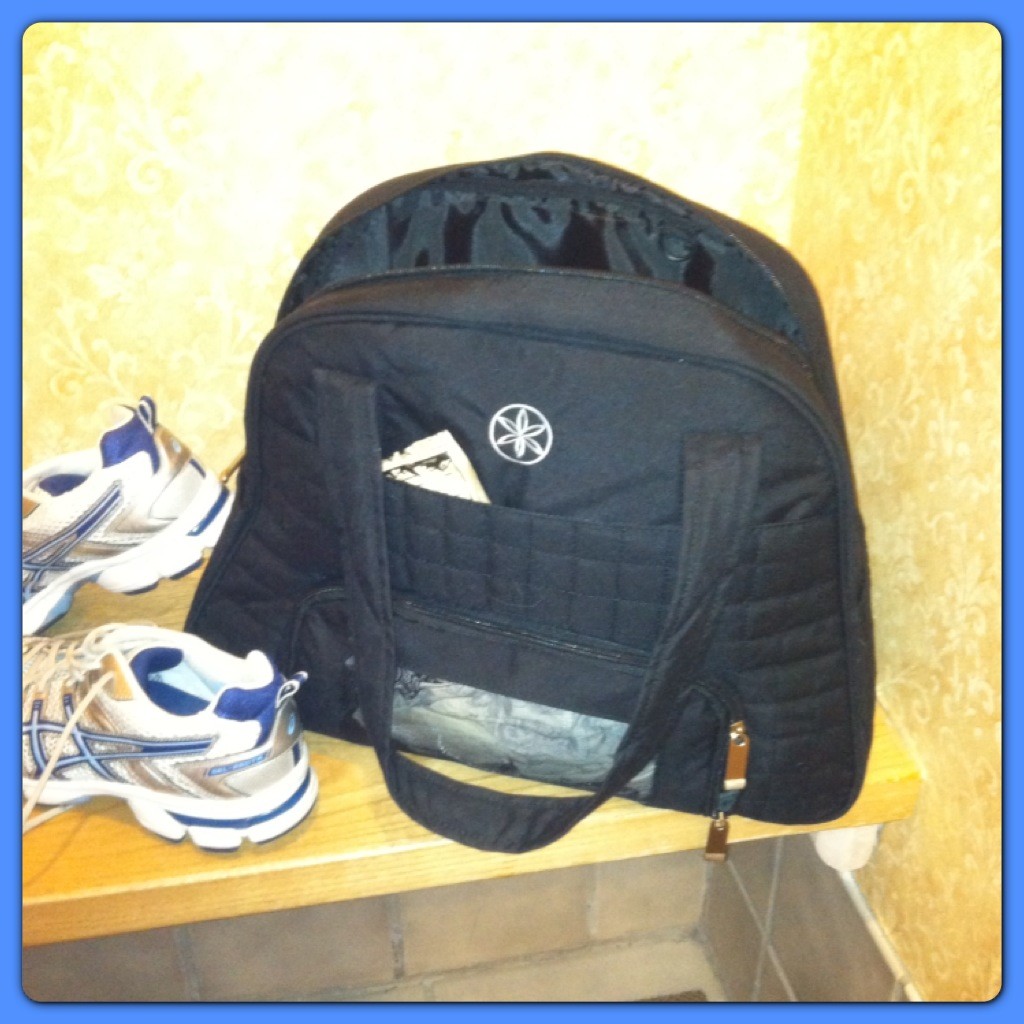 The bag has two longer handles which make for very comfortably carrying it over your shoulder.  Yet they are still short enough to carry the bag by the straps in your hand (like a duffel) or slung over your forearm, if you prefer.
Bottom adjustable straps offer to carry your yoga mat.  I don't use this feature, but the straps do not get in the way at all.
One feature I wanted was a water bottle pocket.  Although described as having an "end holster for water bottles", it appears they are sized for a 12 oz bottled water.   They weren't quite roomy or deep enough for my trusty .75L refillable water bottle I always tote to the gym, but this is no show stopper, since my water bottle fits very nicely in the inside of the bag.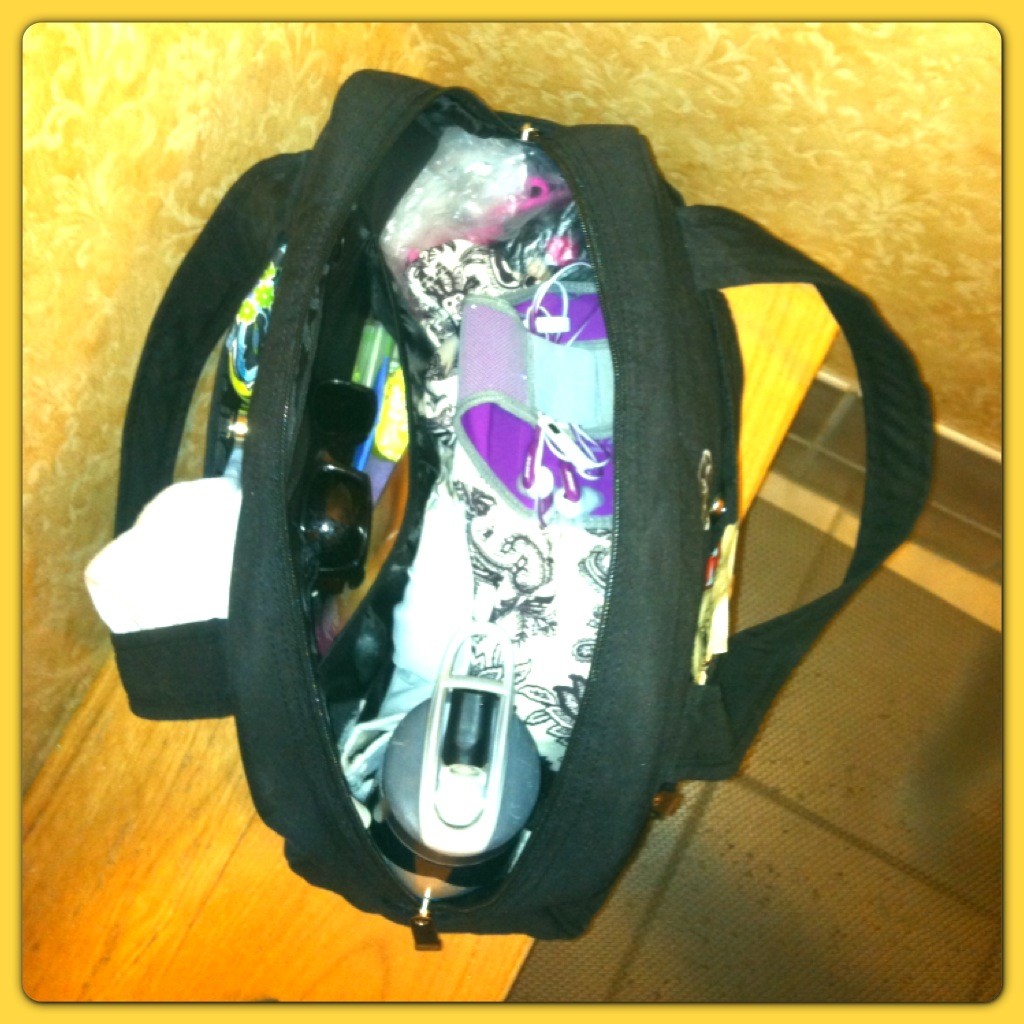 Instead I use the exterior end pockets for slipping in my phone or keys, often the first (and last) items I grab on my way to the gym and when headed home.
So while perhaps slightly mis-billed as a water bottle holder, these pockets are a very handy feature.  They close with a little patch of velcro, and it's always nice to have an exterior, protected storage for your phone.
Gaiam Everything Fits Gym Bag ~ Size & Organization
But it gets even better.  The organization offered by this bag needed it's own subheading…
The massive, open duffel bag concept that I previously struggled with has long ceased being something I enjoy.   The lack of smaller compartment and pocket options left me frustrated with digging through an unorganized mess.
I also felt like my old gym duffel bag weighed about 50 lbs, and for the life of me I didn't understand why?  If nothing else, I wanted a more compact and efficient bag design to *force* me to downsize and take along only what I needed.
Enter the lovely Gaiam Everything Fits Gym bag to nicely solve this dilemma!
So let's talk about the well designed pockets:
Inside there's a roomy pocket with an elastic top, that works very nicely for keeping things separated from your clothing – such as lotion, sunglasses, iPod, lock, etc.  I didn't think much of it at first glance, but find it's one of my favorite parts of the bag and works really well.
There's a generous slip pocket along the outside with a snap closure, which is somewhat hard to see in photos, but which is almost the same height as the bag.  I really like this, and keep things like my energy bars or headbands here for quick and easy retrieval.
Then inside you have a small zippered pocket, for your jewelry or anything else delicate and tiny that you don't want to lose track of.
It's a whole new world, and I've been enjoying the lighter overall weight and increased organization of this bag immensely.  And one of the best parts?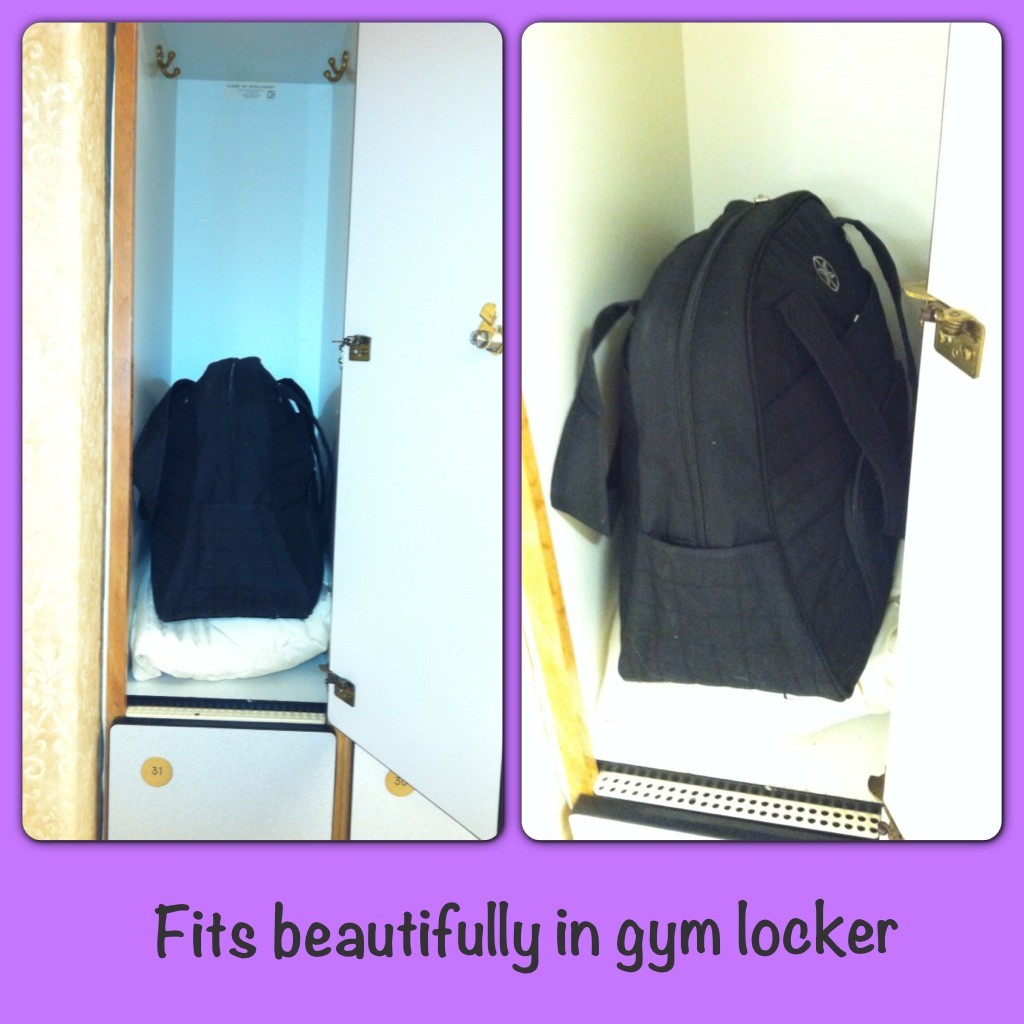 Ta-daaaah!
Rather than awkwardly shoving my duffel bag into my gym locker verically on it's end… you can gracefully slide the Gaiam Everything Fits Gym bag UPRIGHT right into the floor of your locker.  In a standard sized locker, it fits the exact depth.  Awesome!
The only down side to the bag that I've found, is that dog hair does cling to the cloth-like exterior fabric of the bag.  This would not be a non-issue for some people, but you know… we have a Golden Retriever.  🙂
In addition to workout clothes, power bars and water bottle, I also take a swimsuit, towel, and flip flops to the gym.  In other words:  I still take a lot of stuff to the gym.  It's a snug fit… but I can officially say that "Everything Fits" in my Gaiam Everything Fits Gym Bag!
I love using this bag for the gym, and definitely recommend trying one out to spruce up your women's gym bag game.  It comes in black and purple, and can be found on Gaiam's website.
*o*    *o*    *o*
I received the bag described here from Gaiam at no cost, for the purposes of performing this review.  All opinions are my own.