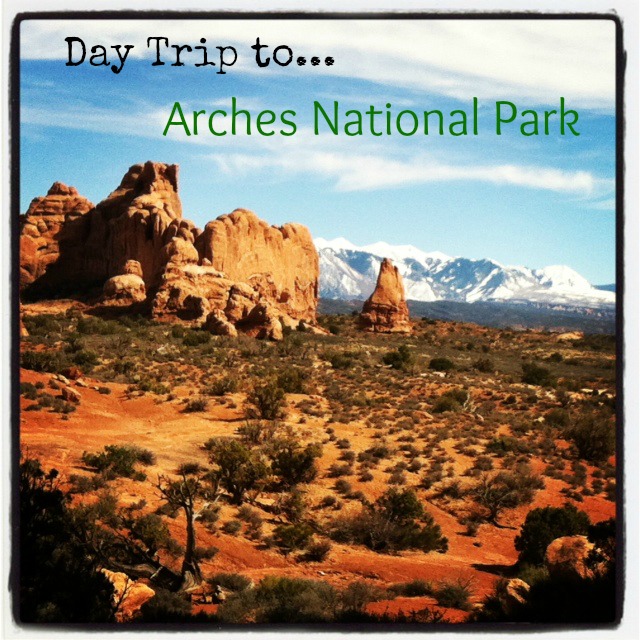 Just outside of the charming town of Radiator Springs… er… I mean Moab, Utah… sits the majestic Arches National Park.   Being an easy drive away from our home, my family likes to day trip here.  Especially during the Spring months, before that desert climate starts to really heat up those lovely red rocks, and the temperatures effortlessly soar above 100 degrees.
Wait…is this the real Radiator Springs?
I can't help but think of Disney's Cars every time we are in this area.   Here you'll find the Southwest's grand open vistas decorated with red rock formations, which were clearly the inspiration for the movie's setting.  This is the REAL Radiator Springs, people!  As proof of my theory, we spotted this on our way there – at the Crescent Junction, turnoff.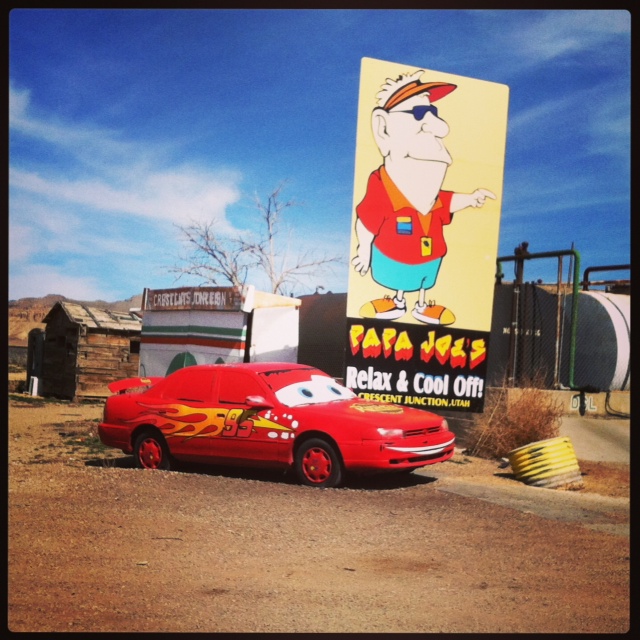 After posting this to instagram, my Utah outdoor blogger friend Melissa (Adventure Tykes) let me know that Mater is often nearby, too.  Shoot, we missed him.  He musta been out tractor tippin'.
Our Day Trip to Arches National Park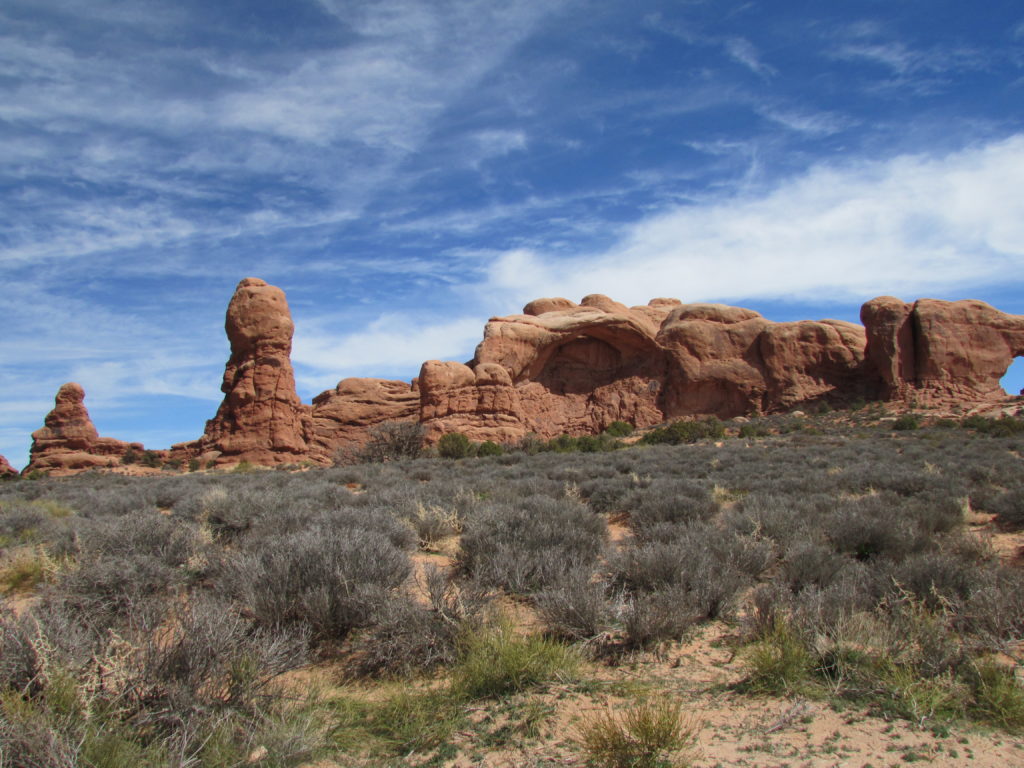 Although we arrived slightly hungry, we wanted to head right into the park to stretch our legs and hike a bit first, before going in to town for some "urban" exploring.  Hey, that's what the snack bag is for.  So we snacked in the car, and headed straight into Arches National Park first thing.
Fun Fact:  Bring along the grandparents, and you can coast in to this National Park for FREE, by using their $10 Lifetime Senior National Parks Pass!  Perfectly legit, if they are your passenger.  That's a heckuva deal, for you AND them.
As soon as you enter the park, you'll instantly be treated to some spectacular scenery.  Those rocks are SO RED, it's truly breathtaking.  And if that isn't enough natural beauty for you, let's add in the snow crested La Sal mountain range in the background for a gorgeous contrast (opening photo above).
We like to take the drive about half way into the park before stopping to hike.  We have small kids, so our hikes on these day trips are short and casual.  This park offers some very short trails, with high yields.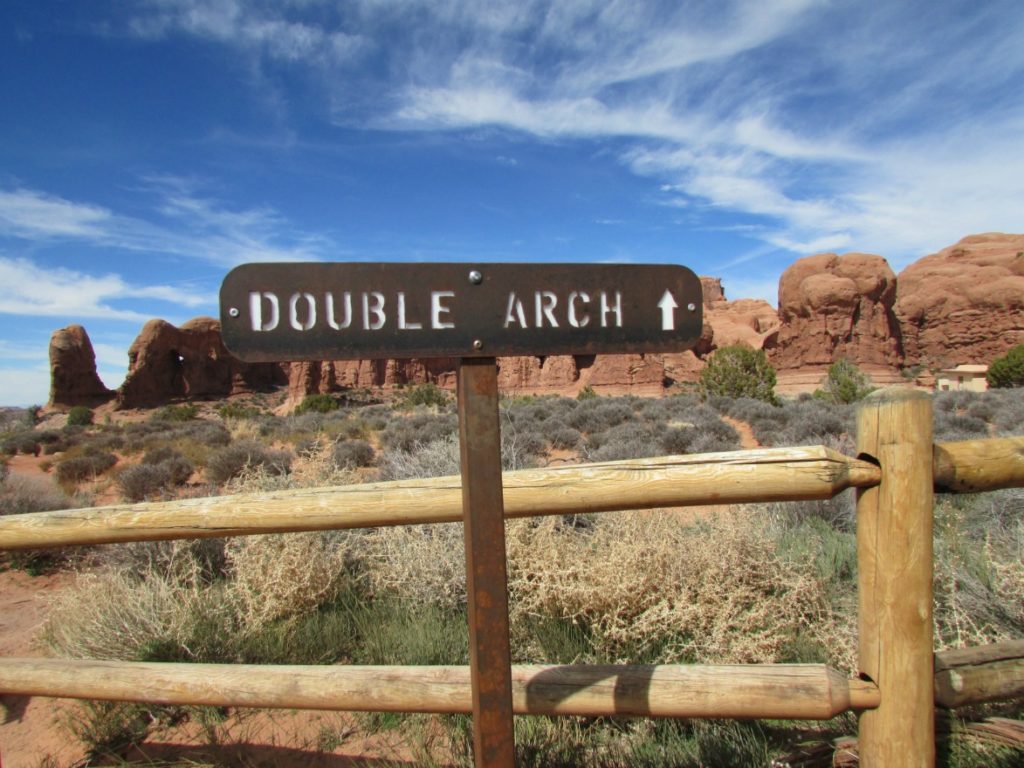 Check out this Arches National Park map for a lay of the land.  Our favorite area to stop is near Double Arch – take that first red squiggle road right, to the loop at the road's end.  Here you can park, access a pit toilet (if you're desperate), and head in two different directions:  the North/South Window and Turret Arch area, or the Double Arch area.
These particular trails are so short, in fact, that you can spot the beautiful arch formations at the trail's end while still in the parking lot, if it helps decide which way you'd like to go.  Both are definitely worth seeing.
We headed to North Window first.  Much of the appeal is that you can go right up, under, and all over the base of the arch itself.
I hope you thoroughly enjoy this next shot I took, while laying down on the rocks, underneath the North Window arch.  Because it totally gave me vertigo.  Eeesh!  I think it was the briskly moving clouds behind it.
I wish I were a fearless rock climber.  But I'm not.
And if any moms who've experienced increased fear of heights with the onset of age, combined with having a completely fearless toddler who loves to climb to precarious locations, has any tips for me… I'm open to any suggestions on how to cope with this stressful combination.
Needless to say, there are limitless opportunities for bouldering and scrambling over rocks to your chosen comfort level and little heart's content here.   Kids absolutely love it, it really is an awesome nature's playground.
Next we headed over to the South Window arch.  Notice the steps.  This is very easy terrain to navigate.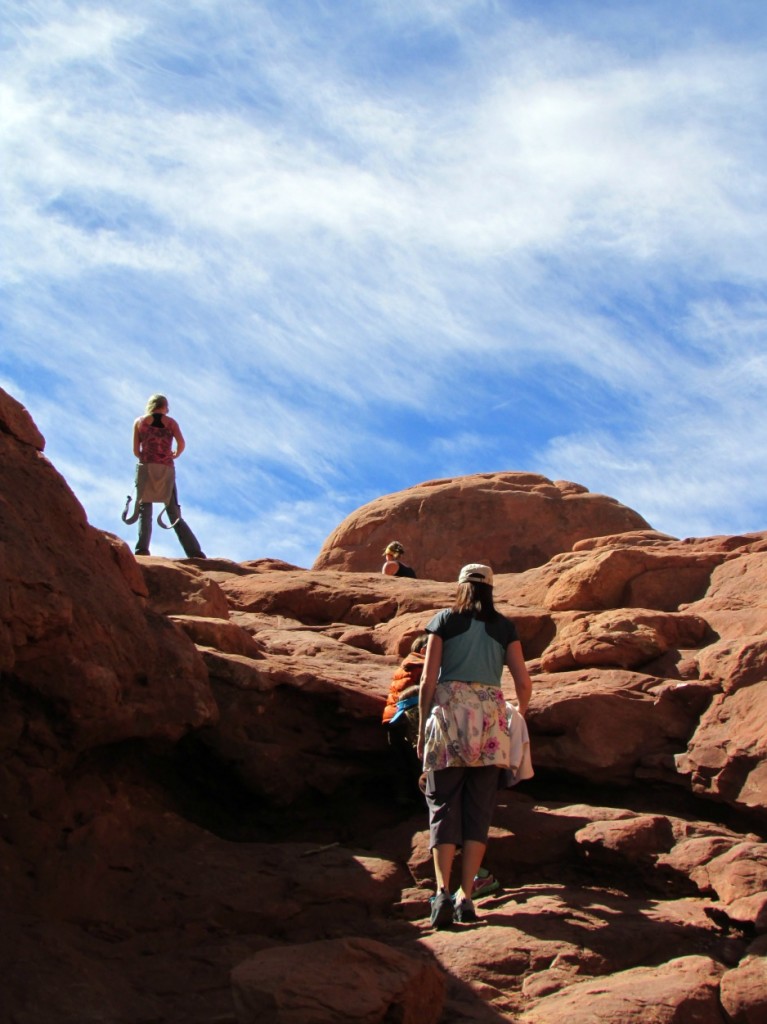 Even in early March, you're going to be treated to that soul-soothing feeling of the sun warming your skin. Visiting in Spring is such an ideal time to experience the Moab area, when the temperatures are in the 60s, instead of 100+ degrees.
Between the easy access and breathtaking beauty, this is a popular park. So you probably won't have that peaceful, remote wilderness experience here. There were plenty of people sharing the area with us, but it was still well worth the visit.
Next we headed into town.  Nearby Moab, Utah, is about 5 miles away from the Arches National Park entrance, and is a typical outfitter town.  A great headquarters for your outdoor adventures, with recreational tour and rental options galore.  As such, they've also got lots of fun tourist shops and restaurants to complete the package.
We ate at The Moab Brewery.  Fun atmosphere, average food.  They do make their own fresh gelato, in a bunch of flavors, on display right inside the front door.  That's worth a visit, right there.
There's a nice Moab Information Center which is conveniently located right on main street.   You can stop by and use the restroom facilities, grab some maps, or just ask questions on how best to spend your day.  They have a small theatre where they'll fire up a short movie for you on the "painted canyons", giving a nice overview of the area.
Overall, it was a grand day!  Every time we come to the Moab and Arches National Park, we wish we were staying for more than just a day.  If you get a chance to check it out, I'm certain you'll enjoy your time there.
*o*    *o*    *o*
I'd love to hear from you:  What's your favorite National Park?