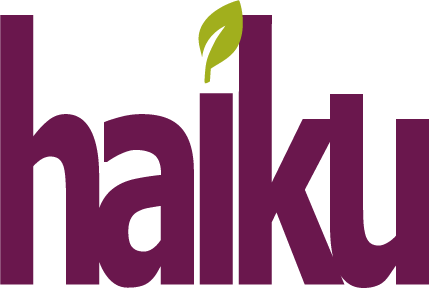 If you are new to Haiku bags, you are in for a treat.  This is one of those discoveries which will quickly work its way into your heart.  Outdoorsy truly meets chic in the Haiku Bucket Bag.
Since the onset of motherhood, and as part of our fairly active Colorado lifestyle, I bring quite a few practical items along with me when I leave home.  Ok, sometimes I use a backpack.
So I'm just not a small, shiny, "Glam" purse kinda gal (those never look right with my trail shoes?)  Haiku bags have caught my eye on more than one occasion, offering a fantastic option which combines practical with exceptionally artsy and chic.
But don't be fooled by me describing them as "outdoorsy", or a great travel bag (which they also are).  Haiku bags are not plain utilitarian styles, made of boring backpack-type fabric.  You'll instantly notice their winning combination of interesting and practical designs, along with fun patterns and colors which make them stand out from the crowd.
I was very excited to receive a Haiku Bucket Bag for review, and have used mine for a few weeks now.  Here are some of the features you'll find in this great bag.
Haiku Bucket Bag ~ Perfect Size, Great Features
I always struggle with the size of bag to chose.  I'd love to get away with a slim, small cross-body bag… they're so darn cute!  Sorry, but that's just not happening.   I find once I start to pack all of my stuff in, a small bag is simply not practical for me.  I selected the Haiku Bucket Bag because it's the perfect medium sized bag.
However, before ordering, I still second guessed myself.  Knowing my sister-in-law already owned a Haiku Bucket bag, I called to ask her if she was happy with that size and style?  She told me that her coworker always copies her choice in purse, purchasing the exact same one.  They are both now currently using the Haiku Bucket bag.   She describes:
"We both agree, the Haiku Bucket bag is the absolute perfect size and design.  It's the best bag we've owned, out of the last 3 or 4 [brands] we've tried."
I thought that was a pretty good recommendation.  Bucket bag, it is!
Haiku bags are vibrant fun colors, and often feature a cute exterior design (my Indigo features clouds) with lovely contrasting fabric inside.  If you've not experienced this before, there really is something to be said for lighter colored interior fabric in a bag facilitating easier location of your goods.
Take a look – you'll see that my 7″ Nook eReader easily fits inside my Haiku Bucket Bag, along with my wallet and other contents.  Yet still roomy.  I really love this bag!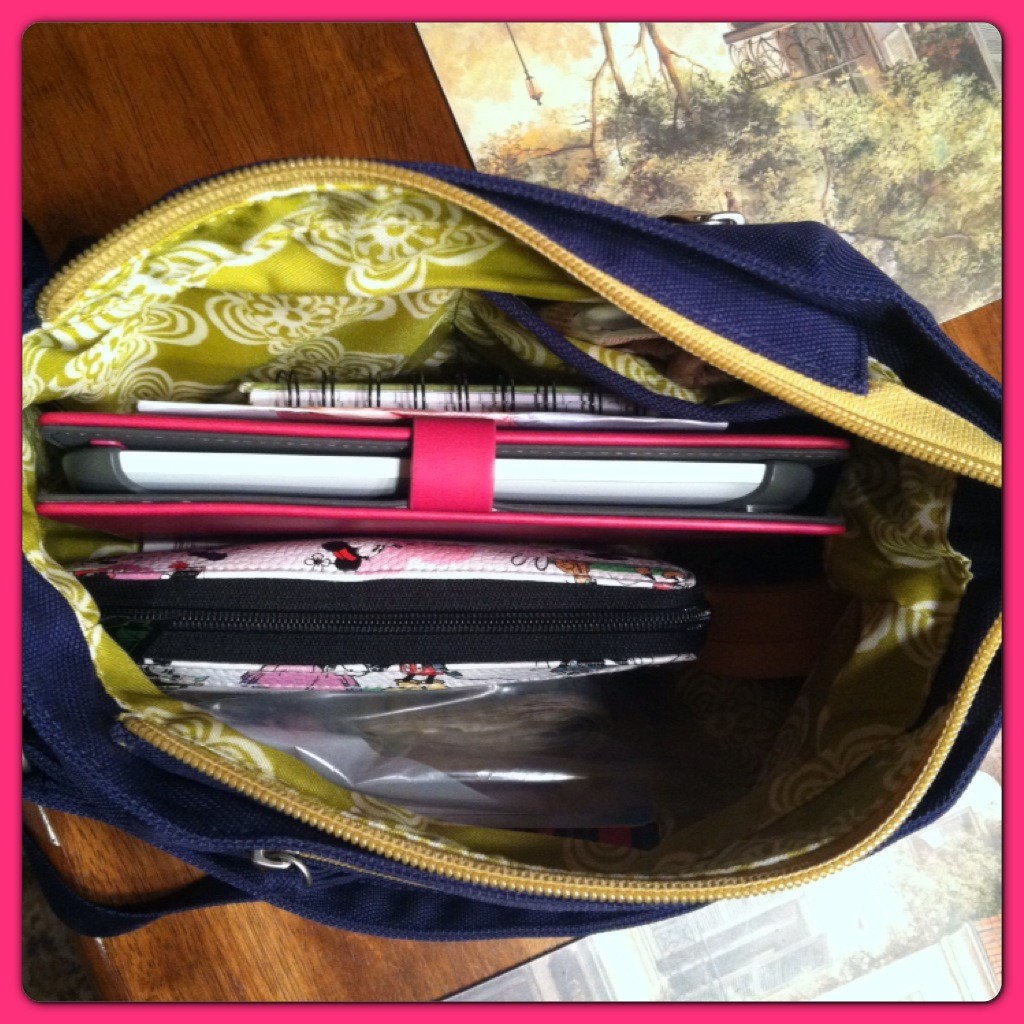 While they have many fantastic styles, I particularly loved the shape of the Haiku Bucket bag.  It doesn't look like a typical, rectangle shaped cross body bag.  It doesn't look like a backpack.  It's an adorable shape, making it seem more chic than the style of bags I typically wear.
It includes two handles, for two carrying options – either cross body, or as a shoulder bag.  I find I use both in almost equal measure.  You can remove one, if you prefer.  But I don't think it is cumbersome to leave them both attached, and it's really nice to be able to either sling it over your shoulder on the short strap… or slip it over your head and wear it as a cross body on the longer strap.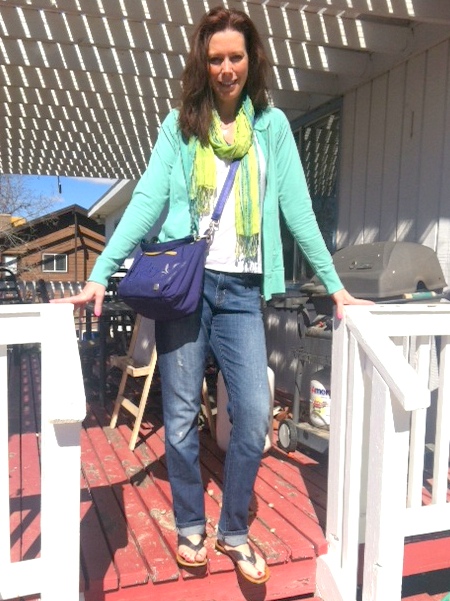 This bag is so well apportioned, there are generous sections to keep things organized and separated… yet still very easy to retrieve.  There is a nice zipper pocket on one side of the bag's interior, and two open-topped "pouch" pockets along the other interior side of the bag.  These provide great places to stash the smaller things, leaving the main compartment for larger items.
I never have trouble quickly finding what I'm looking for – which is a big complement!
With all my normal purse contents loaded into the Haiku Bucket Bag, it still leaves some room for expansion.  I love this, since it gives you the option to throw in your eReader, bottle of water (if it's a shorter height, a 24oz refillable size wouldn't fit vertically), or any other small extras you need to tote throughout your day.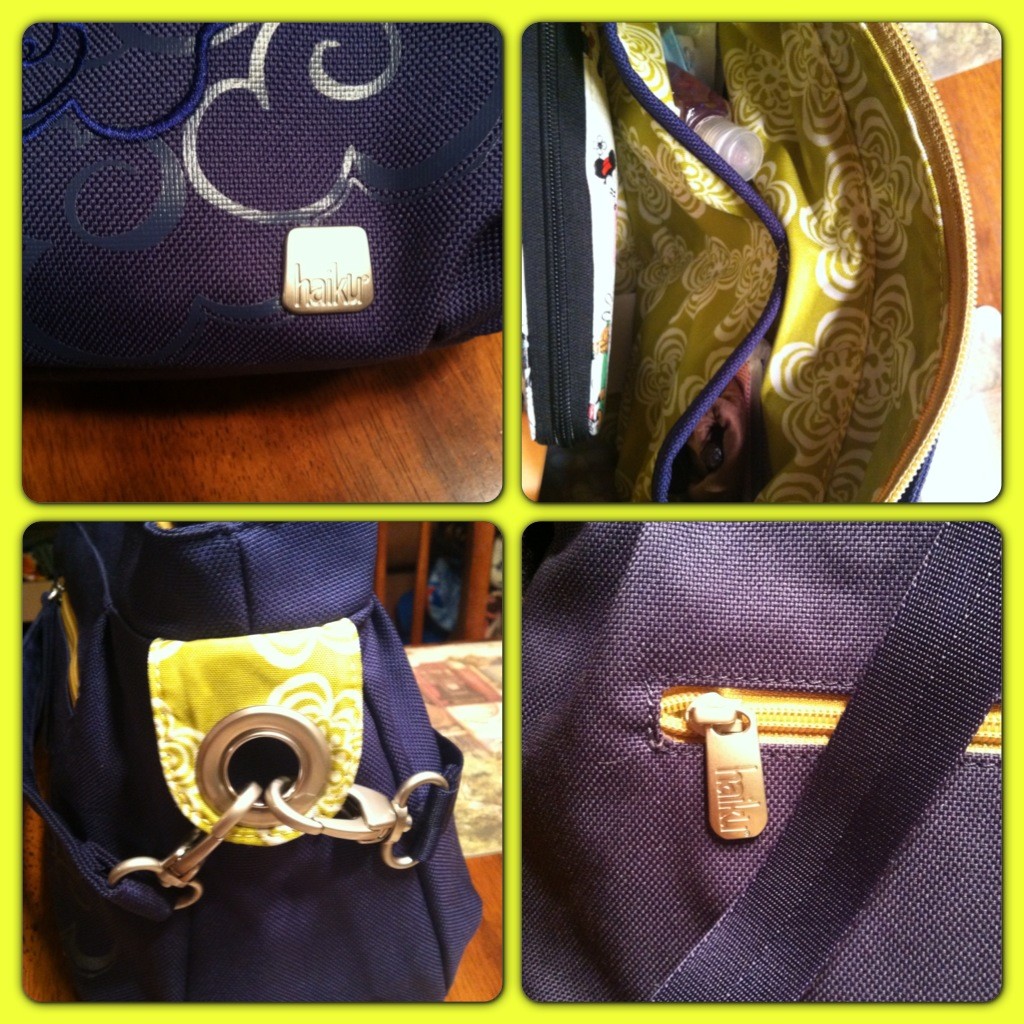 I really love the hardwear, and cute details like the large end grommets to attach the carrying straps to.
There are two exterior zipper pulls, one for each exterior pocket.  One has a fabric pull tab, works likka champ, and is perfect.  The other is a shorter metal pull, which I think just needs to have a slightly larger loop where it attaches to the zipper, so that it could flip more easily and be pulled in both directions (very minor issue).
My only other suggestion would be to perhaps make the longer cross body strap just a bit wider.  I find that when I do load my Bucket Bag up to it's wonderful, scrumptious, full capacity… it can end up being a tad heavy for that width of strap to still be comfortable on my shoulder.  This is not usually an issue though, with my typical bag contents.  Only when I've truly stuffed it!
But wait… it gets ever better.  By selecting  a Haiku Bag, you're also supporting a company that uses only eco-friendly fabrics.
Haiku's Use of cyclePET – Eco-Friendly Fabric
Kudos to Haiku for using such environmentally friendly materials.  Haiku bags are made from cyclePET – eco-friendly fabric!  CyclePET is a fabric created from 100-percent post-consumer PET beverage bottles. On average, each bag that Haiku creates is keeping 22 bottles out of the landfill.
How else does this make a difference?  Well, it saves:
20% waste water
50% of energy, and
60% of air pollution
…compared with the raw material from petroleum!  Nice.
CyclePET proves to be a gorgeous, durable, non-pilling fabric to make bags from, too. I've used my Haiku Bucket Bag daily for 2 months now, and it looks brand spanking new.  Excellent quality.
Haiku Bags ~ A New Fan
Mildly obsessed with bags, I've tried many, many brands in the outdoor and travel industry.  I'd say the Haiku is easily one of my favorites, I'm already eyeing their other styles, and I have no doubt I'll be adding to my Haiku collection in the future.
Excellent workmanship, quality materials, gorgeous and whimsical designs, and liberatingly practical styles… what more can a girl ask for?
Haiku Bags do change their colors, fabric colors/designs, and occasionally styles with the new seasons.  You'll notice on their site, they've just released their Spring 2014 designs, head over there and check out all of their amazing bags!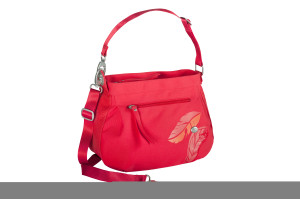 *o*   *o*   *o*
 I received the Haiku bag described here at no cost, for the purposes of performing this review.  All opinions are my own.