Did you know today is the International Day of Happiness?  Coca-Cola is joining the celebration by releasing the Happiness Remix, a new track designed to bring out the happy in all who hear it. The track can be downloaded for free on Coca-Cola Journey.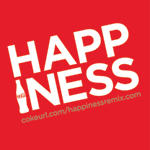 Acclaimed pop music 'super producers,' Rock Mafia,  produced Happiness Remix – an upbeat, infectious pop song that fuses rhythms and melodies from songs created by 17 different independent artists. Each of the artists from around the globe was invited to create a song inspired by a place that makes them happy.
So get your happy on today!  🙂  And enjoy the #HappinessRemix …
#HappinessRemix
This fun video is a montage of happy moments featuring the artists, as well as footage from Coca-Cola ads from around the world. 


Coca-Cola shared its #HappyDay campaign with me, but I was, in no way, obligated or compensated to write this post. All opinions are my own.