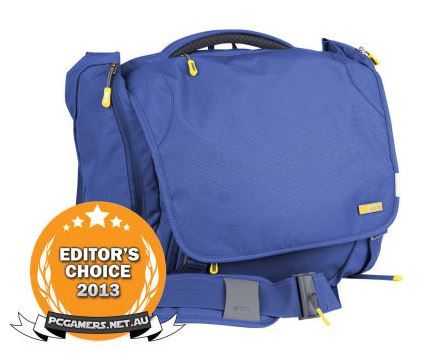 When I found out I was headed for a week in LA on a work trip, I decided it was high time to up my laptop bag game.  I searched for the best laptop travel bag, and I believe I found it:  the STM Velo 2.
It needed to be able to securely house my beefy 15″ Dell work laptop.  And it also needed to be a slick travel companion in the airport, efficiently toting all my needed carry on items as my primary travel bag.  It did both, and it did it in style.
Best Laptop Travel Bag ~ STM Velo 2
After it arrived, the STM Velo 2 instantly impressed me with it's quality construction.  I'm fairly obsessed with bags, and own quite a few brands and styles.  Quality-wise, this is one of the best I've seen.
Sturdy, smooth release buckles
Easy gliding zippers with handy pull tabs
Nicely cushioned shoulder pad
Generously padded and soft-lined compartments for both your laptop and tablet
Durable material and overall solid construction.
Impressive.  This picture gives you a nice introduction to this bag's capabilities (photos like this make me drool… is that weird?)
It's those giant water bottle pockets on each end that really get me going.  My favorite feature in a bag!
This bag I reviewed is called a "medium shoulder bag", which fits up to a 15″ laptop.   The Velo 2 is also available in a "small" size, which fits most 13″ screens.  The size of your laptop will be the most likely driver of your bag size decision.
My first instinct is to call the Velo 2 a messenger bag, although STM seems to avoid that description.  I think it's probably because the Velo 2 is actually much more flexible and robust in design than a traditional messenger bag.
The bulk of your main contents can remain completely enclosed, and under the flap, while still allowing you to open and access the smaller front compartments.  (See photo to right.)  A pretty clever design, if you ask me.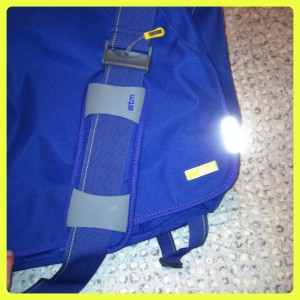 If you are a commuter, or even a bike commuter, they've added little touches you will appreciate.  There are reflective tabs along the edge, and a waist strap to stabilize your load.
That's a nice segue to the travel friendly features this great bag has, leading me to qualify it not just as any ordinary laptop bag… but as the Best Laptop Travel Bag.
STM Velo 2 Travel Features
Completely separate padded compartment for your laptop, along the back flat side of the bag, accessed easily via a side zipper. Great when going through security!
Nicely padded shoulder strap
Unzip the bottom of the sleeve style pocket, to slip over retractable pull handle and secure on top of your carry-on luggage
External slip pocket to house your boarding passes.
Generous end pockets can separate and store your water bottles or beverage containers for easy access.
Leave the bulk of your valuables secured and zipped close, while using the front organizer pockets to access any incidentals needed along the way.  I love this feature, and found it very handy.
I was also impressed at how the design balances the bag perfectly, so it won't topple over when you set it down.  Even when you have a laptop loaded in the back pocket section, and don't have any contents in the main bag compartment, the bag stays upright when placed on the ground.  I appreciate this aspect, I hate bags that flop over.
STM Velo 2 Design & Features
The STM Velo 2 is a well thought out, well designed laptop bag.  It has fantastic capacity, and although some reviews I read described it as "too big"… I didn't think the size was overwhelming at all.  Especially if this is your primary go-to bag for the entire day (or trip).
I found that in addition to slipping my laptop into the dedicated compartment, I still had an entire roomy bag with capacity for my other needs.  Both on my travel days, and throughout my week on business, I was able to tote my purse, eReader, snacks, water bottle, and a hoodie easily inside the Velo 2.
Not only that, but there are a number of awesome pockets and options to keep those small items organized, like your sunglasses, keys, USB flash drives, power cords, Blistex… you know, those tons of little things you need to grab quickly, and don't want to dig through a gigantic bag for.
You won't need to go fruitlessly digging through the STM Velo 2.  There are plenty of perfect spots for everything, making them easy to find and retrieve in a second.
There's a mesh pocket so you can see the contents, and a couple of soft lined pockets for items you don't want scratched.  Even a dedicated, soft lined tablet pocket – shown below holding an iPad (still in it's beefy case, but it fits).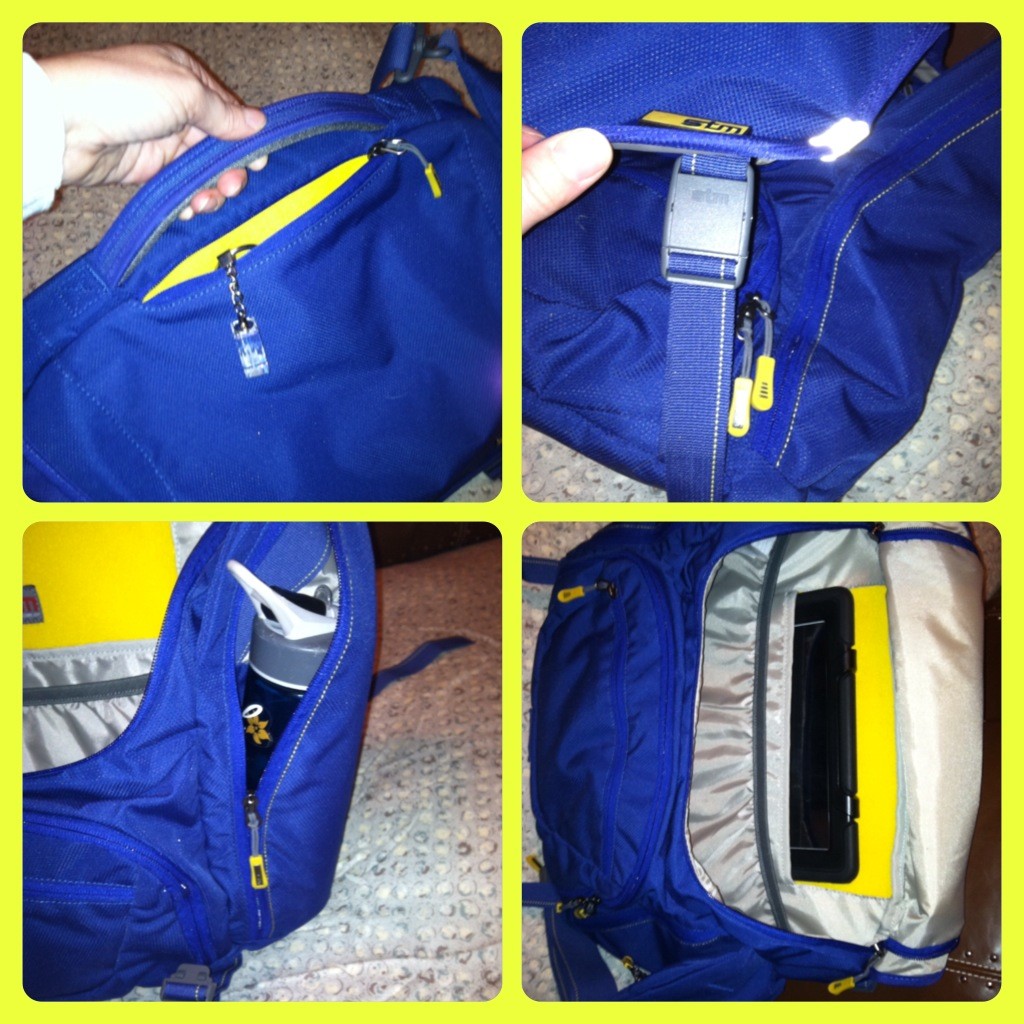 Buckles add a second method and layer of secure closure to the top flap.  The sturdy top handle is a nice option to quickly grab and go.  I love that top soft lined pocket for storing my phone.
You can adjust the carrying strap length in order to carry the Velo  either on your shoulder, or wear it as a cross body bag.  The shoulder pad is so nice and thick, that I was surprised at how comfortable it was to wear on my shoulder even when I had it loaded down to almost maximum capacity in the airport.
I have nothing but good things to say about the STM Velo 2 bag, and definitely give it my recommendation as the "Best Laptop Travel Bag"!  I enjoy it so much, that I've also started using daily for my commute to work.
More STM Bag Options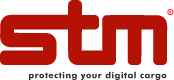 It's very clear to me that STM knows what they're doing, in the world of protecting and carrying your digital cargo.  They've got some great looking bags, with a wide range of size and design options.
It doesn't stop with just offering you cases to tote around your laptop, either.  They also feature laptop sleeves, tablet cases, phone cases, accessories and cases built specifically for MacBooks.
Check them out on the STM Website, or follow along on Facebook.
*o*    *o*    *o*
I received the STM Velo 2 bag described here at no cost, for the purposes of performing this review.  All opinions are my own.