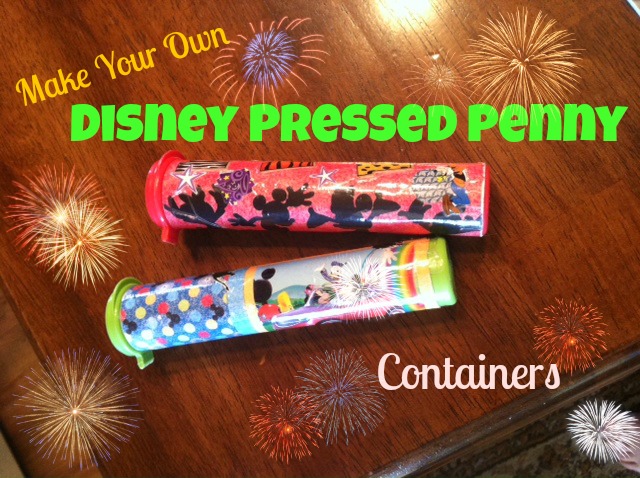 Sprinkled throughout the Disney Parks are pressed penny machines, adored by children of all ages.  Each typically features 3 designs to choose from, often themed to the attraction or land they are near.
And kids are drawn to them like moths to a flame.
Disney Pressed Penny Machines ~ The 51 Cent Souvenir
At first, we resisted.  There's so much to see, and do, (and spend money on) at Disney… surely this tiny thing can't be that big of deal?  After awhile it occurred to me, that the resulting pressed penny is actually a pretty neat souvenir.
They're also cheap.  And small.  Both good things on vacation.
Most machines currently take 51 cents:  2 quarters and 1 *shiny!* penny.  (There are a few pressed quarter machines, which cost a little more, but they are more rare.)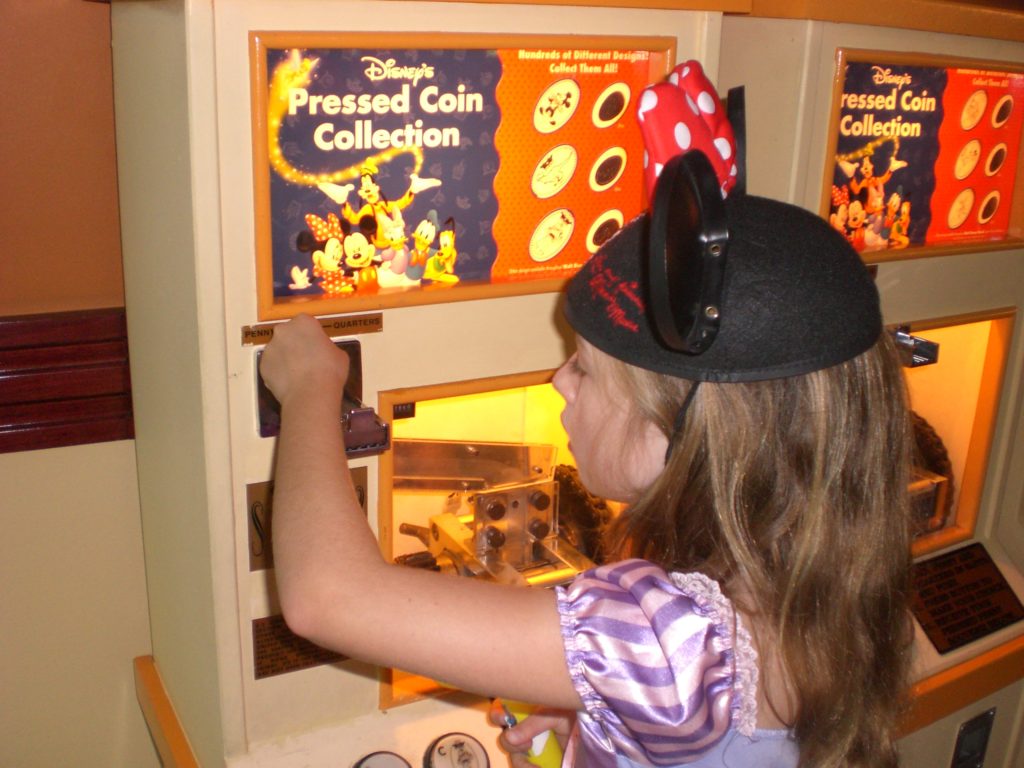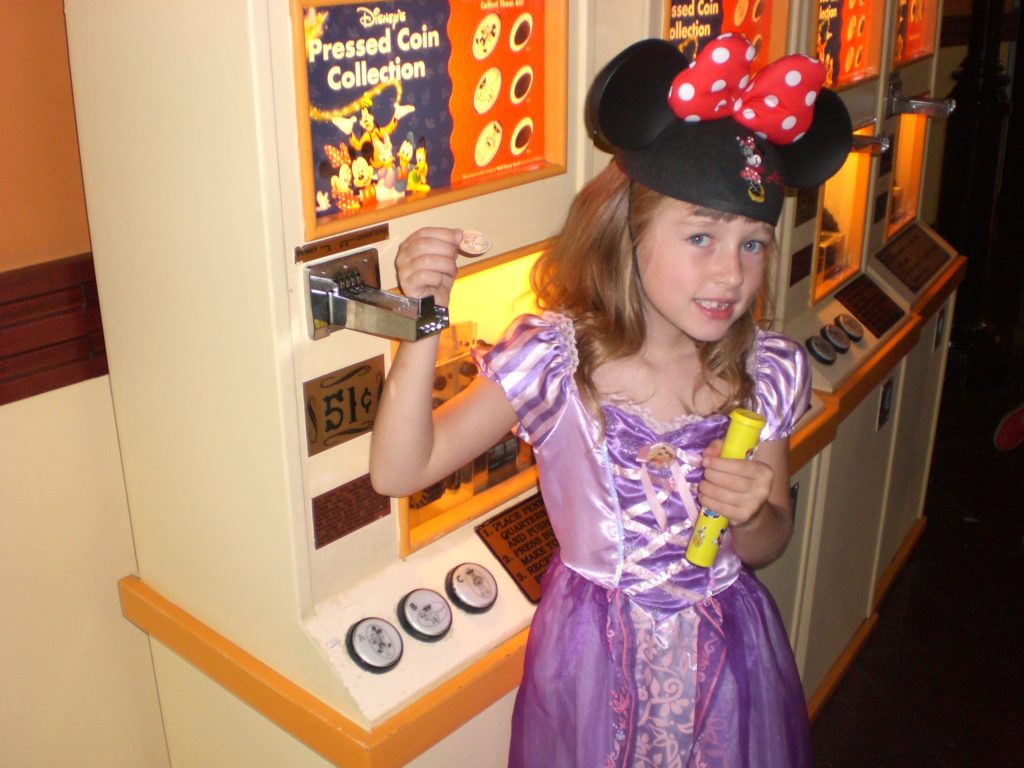 But let's face it, having your child pester you for change every time they spot a Disney pressed penny machine can be annoying… even on a vacation when anything goes!  So when I heard about this plan-ahead Disney trip idea to make the process even more seamless for mom and dad, I bought in.
Disney Pressed Penny Money Holders
I can't take full credit, because I got this cool pressed penny money holder idea from a friend in a Disney forum a few years ago.   Instead of having your kids ask for change every time they spot a Disney pressed penny machine, which are scattered throughout the parks (believe me… they won't miss one), it's pretty slick to have them just manage that on their own.
A mini M & M container proves to be the perfect size for a pressed penny money holder.   I like to decorate them ahead of time for my kids, sometimes including them in a Disney Trip surprise bag.
Or if it's not a surprise… let them help decorate!  This can be a fun pre-trip anticipation builder.  I've used stickers, scrapbook paper, and letters to spell out their name.   As a final step, I wrap the tube in a top coat of clear packing tape so nothing peels off.
TIP:  Some lids seem to stay closed tighter than others, make sure you have one that does so before investing in your decorations.
Then I stock them fully with the right ratio of quarters and newest, shiniest pennies I can find.  The shiny pennies definitely turn out best, and display the designs the brightest.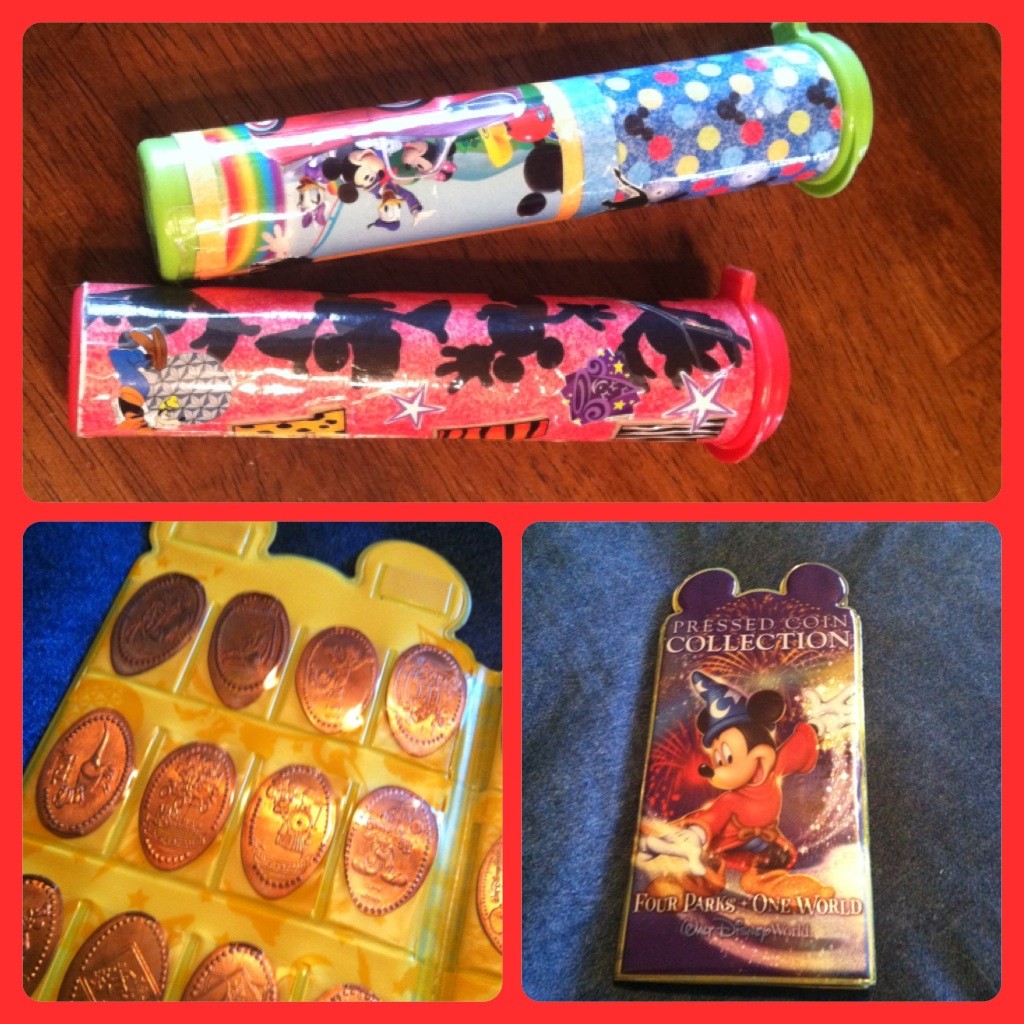 And from there, once we are in the Disney Parks they get to have at it!  I'm telling you, my children get surprisingly excited when they spot a machine, get to run right over with their own money, and select a design.
They sell nice pressed coin display folders at most of the Disney gift shops to showcase all of your pressed pennies (seen in photo above).  Or you can keep them in your pressed penny money container!
If you want to get all serious about it, I found this cool Disney pressed penny map, outlining where you can find the machines in each park, and the character designs they feature.
Again, in the big scheme of things, this is a pretty cheap souvenir.   My daughter has loved having hers, and the case displaying her Disney pressed pennies was her first choice to take to school for Show-n-Tell.
So don't forget to buy some mini M & M's before your next Disney trip, save the container, and fill it with pressed penny money!
*o*    *o*    *o*